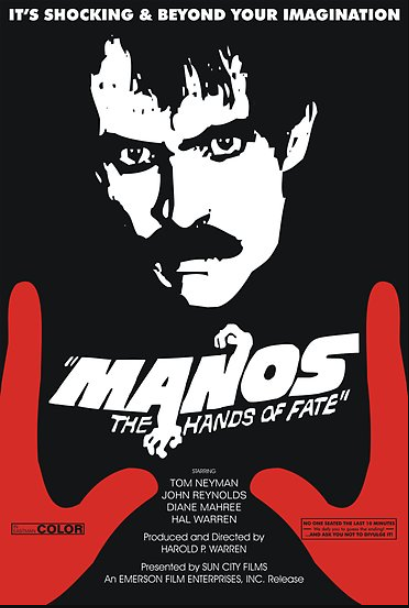 Sve u svemu: 1 / 5

Više o filmu: Imdb.com
Video

Otac, majka i kćer izgube se i zalutaju putem na ljetovanje. Zalaze u neobičnu kuću kojom se ispostavlja da upravlja nitko drugi nego vođa misterioznog kulta...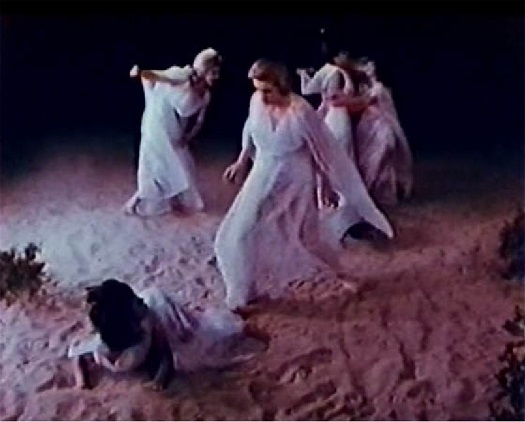 Za početak godine, jedan film beyond vaših imaginacija! Kolega i ja nismo mogli odoljeti a da ne pogledamo uspješnicu iz sredine šezdesetih godina - Manos: The Hands of Fate, prevedeno sa španjolskog - Hands: The Hands of Fate. Vi koji pratite filmsku kulturu sigurno ste u jednom trenuku naišli na "Bottom rated" filmove, uratke koji jednostavno nisu uspjeli ostvariti ni najosnovnije standarde normalnog filma, već su u svojoj slabosti, nekvaliteti i trešeraju postali eponimni upravo zbog manjka svega sto treba imati snimljeni projekt koji se jednom pusti u javnost. E, Manos je drugi najgori film na svijetu po toj listi, odnosno prvi horor, makar bih nadodao tu još neke opskurnije hororce poput već komentiranih Alien Dead (1980.) ili Granny (1999.) itd. More trešeraja, smeća i nižerazredne filmske postave, a navodno je Manos nastao na temelju izgubljene oklade s producentom filma. Da skratim priču: radnja filma je ovdje apsolutno najnebitnija, ići ćete gledati ovaj film s ciljem da vidite koliko nešto može biti loše, gotovo na granici namjernog i apsurdnog, doslovno, amaterski srednjoškolski filmovi od tri minute posjeduju više balansa i smislenosti nego ovaj uradak. Htjedoh Manosu dati i veću ocjenu, budući da smo se frend i ja iskreno ismijali, no ne bi bilo u redu prema ostalim filmovima na blogu koji su, ako ništa drugo, barem filmovi.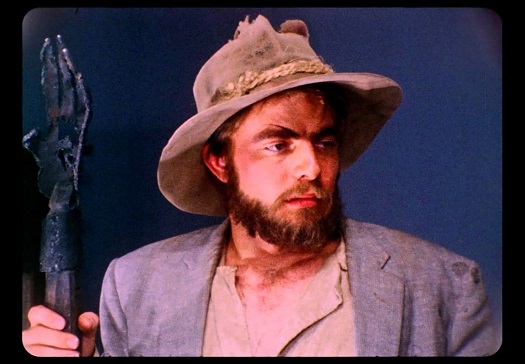 Ne znam čak ni odakle početi, pa ćemo probati kronološki obraditi sve što smo mogli vidjeti. Dakle, od beskrajno lošeg scenarija i dijaloga, popraćenih tolikim rupama u priči da bismo se dobro trebali potruditi da pronađemo neki zakrpani dio radnje, pa sve do katastrofalne, ali stvarno katastrofalne glume. Gledamo li na ovaj film iz perspektive da je sve to odrađeno namjerno i s ciljem da bude uber loše, vidjet ćemo kako je filmska ekipa ustvari bila nevjerojatno vizionarska i inteligentna, no nažalost, to ovdje nije slučaj. Nadalje, film je sniman kamerom koja je mogla snimati u komadu samo 32 sekunde, a zvuk atmosfere i dijaloga naknadno se "nalijepio", stoga sve, ali apsolutno sve od početka do kraja izgleda prefušerski, čak i za moj ukus. Svjetlost je također bila limitirana u filmu, pa mnoge scene ispadaju stvarno smiješno, čak spadavši u D kategoriju, omotavajući se apsurdom i besmislicama, samo kako bi se film nastavio snimati i kako bi od njega ispalo nešto, bilo što. Gotovo se nitko od članova filmske postave kasnije nije okušavao niti u jednom filmu, a od glumaca pogotovo. Možda najmitskija persona u cijelom filmu svakako je čuvar Torgo, kojega glumi John Reynolds, a za kojeg se govori kako je za vrijeme snimanja bio na LSD-u, pa može li bolje? Scary scena, očekujete, naravno nema, ovo je horor samo na papiru i to na užasno zgužvanom, poderanom i isprolijevanom papiru. Okultne scene, rituali, pokušaji magije, neustrašivi Gospodar - sve to mačku o rep, ali ako ništa drugo, svjesni da idete gledati mega šitstorm od spektakla, moći ćete se dobro nasmijati, a film traje samo 70-ak minuta te ga naravno uvijek možete i ubrzati. Redatelj Harold P. Warren (koji glumi oca) toliko je bio ponosan na ovaj film, iako svjestan da je utter crap, da je svaki naredni Halloween do kraja svog života odijevao gospodarov kostim, a tijekom filma kad god bi došlo do neke greške u snimanju, obećavao je glumcima da će se sve to riješiti u post-montaži. Kakav lik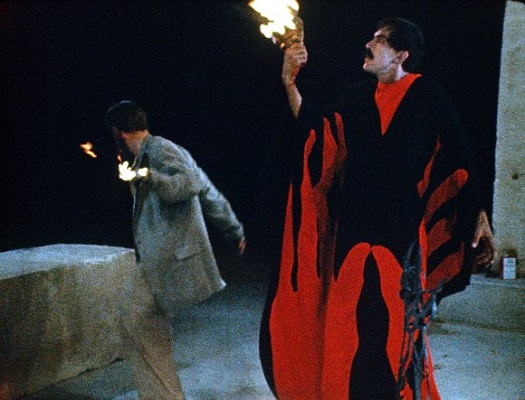 Manos: The Hands of Fate je apsolutni sumrak filmske industrije, najveće dno najvećih dna, ali opet, tko kaže da upravo takvi filmovi ne mogu biti ultra zabavni? Valjda nešto znači kad je ovo jedan od najdražih Tarantinovih filmova, ne?