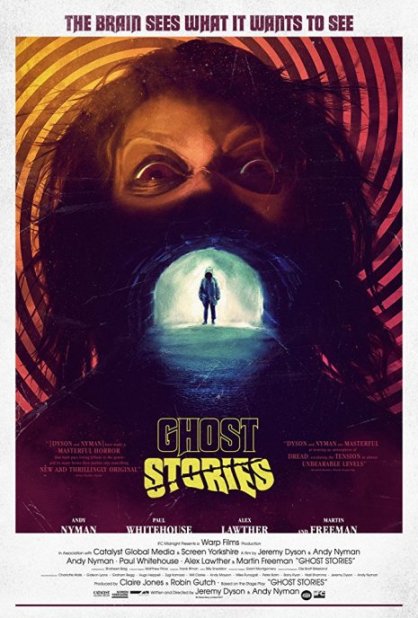 Sve u svemu: 4 / 5

Više o filmu: Imdb.com
Video

Nakon što mu se stari i iskusni istražitelj obrati za pomoć, skeptični profesor i istraživač paranormalnoga Phillip Goodman kreće sa suočavanjem s tri neobjašnjiva slučaja o prikazanjima...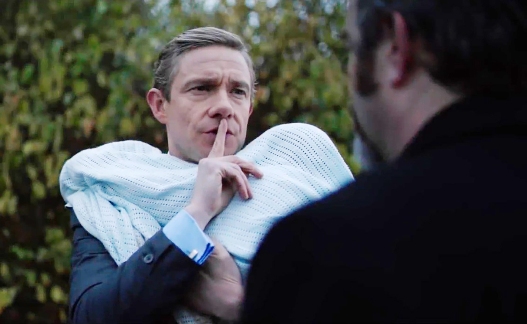 Napravljen prema istoimenoj predstavi, Ghost Stories djelo je Jeremyja Dysona i Andyja Nymana (koji istovremeno tumači glavnu ulogu). Riječ je o nekoj vrsti antologijskog filma u kojemu imamo glavnu radnju uz dodatne tri prepričavane priče, da bi sve to završilo u nekom koktelu neizvjesnosti, mračnih i neobjašnjivih elemenata i čudnih, povremeno kaotično posloženih scena. Ghost Stories psihološki je horor triler koji se snažno referencira na filmove Amicusove produkcije iz šezdesetih godina, daje snažnu atmosferu mračnih britanskih filmova s klasičnim tamnim bojama i spooky glazbom. Ovdje možemo gledati i uvijek rado viđenog Martina Freemana, kao i ostalu plejadu starijih i mlađih britanskih glumaca, od Paula Whitehousea do Alexa Lawthera, koji je u ovom filmu naprosto fenomenalno iznio svoju ulogu. Uvijek volim nabasati na filmove sličnog sadržaja i atmosfere, pogotovo u novijoj eri horor uradaka, a da su iole raznovrsniji, progresivniji i autentičniji od mnogih prethodnika, a u tome je Ghost Stories odnio zaslužene pohvale i moju naklonost. Unatoč nekim over-scenama, povremenom kaotičnom slaganju priče i prebacivanjima radnje, riječ je o vrlo dobrom novom filmu koji vas u nekoliko trenutaka može adekvatno naježiti.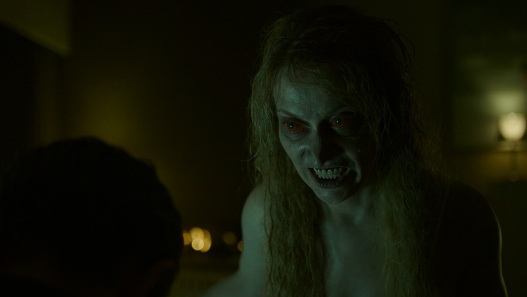 Već na početku možemo primijetiti kako će naracija biti sporija, ali ispunjena svakojakim cimalicama, misterijama u dijalogu i kvalitetnim kadriranjima te scenografijom. prvi slučaj kojega je profesor Goodman dobio bio je Tony Matthews, starta oko dvadesete minute filma, a riječ je o noćnom čuvaru napuštene umobolnice za žene koji počne doživljavati neobične zvukove i prizore. Vrlo napet i jeziv segment koji povlači mnoga pitanja nama koji bi u tim situacijama racionalnije razmišljali, no u svakom slučaju pogođena atmosfera, gluma i efekti. Drugi slučaj vrti se oko dječaka Simona Rifkinda koji se n a povratku autom (ukradenog od roditelja) na mračnoj cesti morao suočavati s misterioznim i jezivim živinama. Sva misterija oko ovog slučaja, oko dječaka, njegovih roditelja, dječakovih crteža i novinskih članaka po zidu njegove sobe, živina u šumi, stvorili su u meni veoma pozitivan doživljaj. Najveći plus ide već spomenutom glumcu Alexu Lawtheru koji je ulogu dječaka odradio vrhunski. Ostale čudne okolnosti i nevolje u šumi realizirane su mistično, jezivo i makar dosta odskaču od kompletne ideje, gledano sve u kompletu riječ je o najboljem segmentu. E, i Evil Dead potez kamere...to je to
Treću priču prepričava Mike Priddle (Freeman), a riječ je o nepoznatoj i nevidljivoj pojavi u njegovoj bogataškoj vili koja se vrzma oko djetetovog kinderbeta. Ovo je prilično začuđujuća, na trenutke zbunjujuća priča koja tek uvodi u ono što slijedi posljednjih 20-ak minuta filma, totalni preokret svega što smo dosad mogli vidjeti, samo ću to najaviti. Ne mogu reći da me psihološki elementi nisu cijelo vrijeme držali zadovoljnim i prikovanim za ekran, no povremeni disonantni trenutci spustili su mi odličan dojam o filmu i napravili ga vrlo dobrim, što je ponovno iznad mojih očekivanja.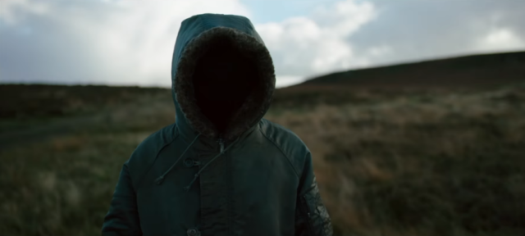 Zanimljivo bi izgledala predstava prema kojoj je film kreiran, koju bi jednom prilikom volio i doživjeti. Ghost Stories je jedan od boljih ghost horora unazad nekoliko godina, govorimo li o nekomercijalnosti i skromnijem budžetu i distribuciji po kinima diljem svijeta.