utorak, 04.10.2011.
HororFilm Playground NEWS #26



Vijesti, vijesti...najnovije vijesti... Imamo svega po malo, od novih trailera do stripova, ali i nekih vrućih informacija o nadolazećim filmovima:

- prije nego se u kinima pojavi prequel Carpenterovog "Stvora" Dark Horse Comics i Universal Pictures su se udružili u strip verziji koja govori o prequelu prequela (?!?), a potom imamo i prequel verziju "Let Me In". Za kraj koga zanima časopis "HorrorHound" je u svom 31 broju napravio malu retrospektivu o "The Thing" :

The Thing #1




SADRŽAJ:
"- Nakon što se stanovnici Grenlanda nisu par mjeseci javljali svojima, grupa Vikinga kreće na putovanje da otkriju što se dogodilo, te se uskoro nađu u neravnopravnoj borbi protiv protiv nezamislivog čudovišta. No, najveću borbu koju će voditi je ona među sobom..."

Izdano: rujan 21, 2011
Scenarist: Steve Niles
Crtać: Patric Reynolds
Bojanje: Dave Stewart
Naslovnica: menton3


Let Me In: Crossroads #4




SADRŽAJ:
"- Abby i Tomas se očajnički bore da zaštite Abbynu tajnu od nekoga tko ju želi vidjeti mrtvu, kako njihov život u Wellsvilleu u Indiani postaje sve nepodnošljiviji. Kako se broj nevinih povećava, a krv sve više boja zemlju, jedna je stvar sigurna...večeras ovu noć maleni gradić neće nikad zaboraviti!"

Izdano: travanj, 26, 2011
Scenarist: Marc Andreyko
Crtać: Patric Reynolds
Bojanje: Dave Stewart
Naslovnica: Artist:Sean Phillips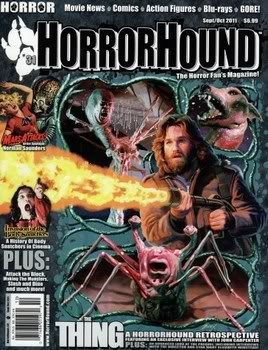 - Za poklonike Lucia Fulcia koji će se naći 20-tog ili 21 studenog ove godine u Sjevernoj Americi (da Sad i Kanada se broje) naša omiljena izdavačka firma će u kina pustiti "digitally restored and remastered" verziju Fulcijevog najboljeg (uz naravno "The Beyond") djela. Svakako će biti lijepo gledati opaj zombi klasik.
Za one koji će tu feštu propustiti (ima nas šmrc!!) nije zgorega spomenuti da će četiri dana (to je 25. 10.) poslije izaći na tržište i dvostruko Blu-ray i DVD izdanje zvano "Blue Underground's Ultimate Edition"...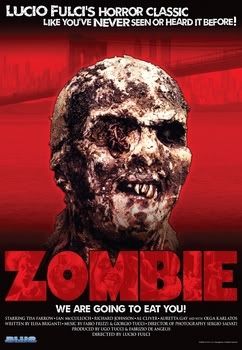 Lucio Fulci's ZOMBIE U.S. Trailer


Filmovi koji nam uskoro stižu u kina:

Battleship (2012)
Trailer
- Borba američke mornarice protiv vanzemaljaca? (WTF?)
- iako je u film ulupano nevjerojatnih 200 mlija $ proglašen je po viđenom foršpanu najgorim filmom za sljedeću godinu, a još gora stvar je da je film rađen po igri ' Potapljanje Brodova'...da dobro ste pročitali (WTF br.2?)
- režiju potpisuje Peter Berg (Hancock, ali ga mi svi znamo kao glumca iz filma "Shocker"), dok od glavnih uloga poznatih lica glume Liam Neeson, Tadanobu Asano i pazi sad Rihanna (bljuv!!!)


Hotel Transylvania 3D (2012)
- 21. rujna. 2012 godine nam dolazi animirani crtić o 'Romeo i Julija' odnosu Van Helsingova sina i Drakulove kćeri. Režije se prihvatio Genndy Tartakovsky (Korgoth of Barbaria), dok će glasove posuđivati Adam Sandler (Dracula), Steve Buscemi i Kevin James (Frankenstein). Za sada bi se ekipi trebao priključiti i Javier Bardem...


Mislio sam još malo napisati nešto, ali za sada je to sve jer me opet hvata znojenje te se moram naliti još čaja...pošto mi viroza još nije prošla... Poslije ovog slijedi opet jedna mala recenzija dobre video igre.... Stay Tuned