subota, 16.06.2012.
The Devil Inside (2012)

Sotona: Razotkrivanje (2012)





Produkcija: Prototype / Room 101
Redatelj: William Brent Bell
Scenarij: William Brent Bell i Matthew Peterman

Uloge:
Fernanda Andrade (Isabella Rossi)............Simon Quarterman (otac Ben Rawlings)
Evan Helmuth (otac David Keane)..............Ionut Grama (Michael Schaefer)

Film je izašao u kina 05. siječnja, 2012 godine
Trajanje: 84 minute
Budžet: oko 1 milijun $
Zarada u prvom vikendu u SAD-u: 33 732 515 $ (u 2 285 kina)
Zarada na kino blagajnama (samo SAD): 53 245 055 $
Foršpan filma...
Nagrade:
2012 godina - osvojio BMI Film Music Award za najbolju filmsku muziku (Ben Romans)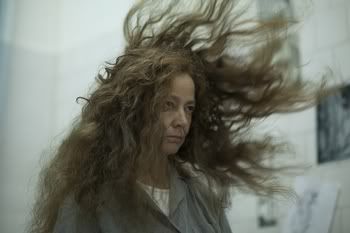 SADRŽAJ:
"- Ovo je film koji Vatikan ne želi da vidite.
Godine 1989, služba 911 prima poziv Marie Rossi koja priznaje brutalna ubojstva tri osobe počinjena tijekom egzorcizma koji se vršio nad njom. 20 godina poslije, njezina kći Isabella pokušava saznati istinu o svemu što se dogodilo te noći. Dolazi u Rim u posjet majci koja se nalazi u psihijatrijskoj bolnici za osuđenike pod kontrolom Katoličke crkve. Istovremeno snima dokumentarac koji otkriva najmračnije strane egzorcizma.
Film je inspiriran stvarnim događajima. Vatikan nije dopustio snimanje egzorcizma i nije odobrio ovaj film."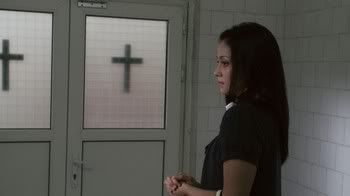 RECENZIJA:
- Evo još jednog horor mućka...tj. filma koji je jako loš no dobra reklamna kampanja i uvijek intrigantna tema ga promaknula u horor hit. Na našu veliku žalost film je jedva gledljiv i potpuno sadržajno nezanimljiv, pa tako 98% filma ne nudi nikakvu vrstu napetosti ili barem donekle pravi horor ugođaj. No idemo mi polako po redu...dobre i loše strane slijede:


Što valja kod filma:
- tema filma (egzorcizam)
- prvi egzorcizam i efekti koji se vrte oko njega
- samoubojstvo svećenika
- scena krštenja djeteta
- kratko traje


Što ne valja kod filma:
- nezanimljivi likovi
- scenarij i dijalozi
- drugi egzorcizam
- radnja
- foršpan bolji od filma




Završna riječ:
- Jeste li kojim slučajem pročitali sadržaj sa kojim se film pojavio u našim kinima? Isuse, Marijo i Josipe... Ovakve me cake uvijek odbiju na gledanje, no moram priznati da sam za malo otišao u kino da ga pogledam i drago mi je što sam bio prelijen za mrdanjem svog dupeta do ugodne fotelje kino dvorane (više sam se odlučio za gledanjem Cravenovog "The Serpent and the Rainbow" i mogu reći da mi je ovo bila ispravna odluka).
Da ne duljim. "Sotona: Razotkrivanje" (
koji lijepi naslov
) je jedan od najgorih filmova koji se tiču egzorcizma i sotone. Zašto tako mislim?
Pa, kako je scenarij nikakav takva je i radnja, dok sami likovi nisu ništa bolji. Nema nikakve karakterizacije, pa se čovjek ne može poistovijetiti sa protagonistima, dok je radnja započela na početku dobro, no nakon relativno zanimljivog uvoda (sve tamo do kraja predavanja o egzorcizmu) film se pretvara u bezglavo vrteljanje glavne junakinje od točke A do točke B da bi na kraju posjetila i točku C, da bi se prva prava stvar dogodila tijekom prvog egzorcizma, koji je najsvijetlija točka samog filma. Većina ljudi koji su gledali film taj dio proglašava najboljim njegovim dijelom i ja se u potpunosti slažem sa tim.




Bilo je lijepo vidjeti CGI efekte i taj ugođaj tijekom egzorcizma. U toj sceni opsjednuta djevojka se savija, te lomi kosti pod nevjerojatnim kutevima, hoda po zidu (nije uspila doć do plafona nažalost) i krvari u međunožju (fini i iznimno uznemirujuć detalj).
Problem nastaje kad se dogodi drugi egzorcizam, koji bi trebao biti intezivniji i bolji od prvog, a to se ne dogodi. To je svakako razočaranje, jer najvažnije točke filma su upravo ta dva događaja gdje se prakticira istjerivanje Sotone iliti nekog od njegovih posilnih, a filmaši ne znaju što u međuvremenu nego ispunjuju vrijeme nekim nedorečenim situacijama koje nisu gledatelju nimalo uvijerljive.
"The Devil Inside" je sve u svemu jedan od onih loših found footage filmova koji nisu iritantni poput "Atrocious" (2010), no ne mogu se nikako uspoređivati sa filmovima poput "The Last Exorcism" (2010) i [REC] jedinicom i dvojkom od kojih ovaj film naveliko kopira/posuđuje najbolje elemente (mocumentary pristup, šetanje po zidovima, opsjednutos koja djeluje poput zaraze) dakako mnogo je posudio i od Friedkinova "Egzorcista" (dva svećenika, krvarenje iz međunožja opsjednute mršave djevojke).

Imamo sreću da film traje samo 84 minute, te da nije posve dosadan (iako sam ja zamalo zaspao dok sam ga gledao). Neću ga preporučavati nikome, dovoljno je da pričekate da ga Nova@ TV ili RTL objavi u kasnim vikend satima, pa da vidite taj čušpajz...a što je najgore čeka nas definitivno nastavak u sljedećih 18 do 24 mjeseca...
Meni je film obična bljuzgavica i sigurno je da ga gledati u reprizi neću više nikada...