subota, 04.06.2011.
Dolly Dearest (1992)

Ubojita Lutka (1992)




Produkcija: Channeler Enterprises / Dolly Dearest Productions
Redateljica i scenarist: Maria Lease

Uloge:
Denise Crosby..............Marilyn Wade
Sam Bottoms................Elliot Wade
Rip Torn........................Karl Resnick
Candace Hutson...........Jessica Wade


Film je imao video premijeru u siječnju, 1992 godine
Trajanje: 93 minute
Nagrade:
1992 godina – nominacija za nagradu Saturn u kategorije najboljeg horor filma i najboljeg mladog glumca (Chris Demetral ) i glumice (Candace Hutson)
Foršpan filma...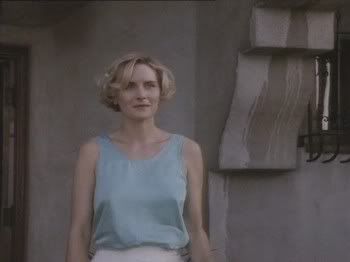 SADRŽAJ:
''- Mlada američka obitelj se sa svoje dvoje malodobne djece seli u Meksiko da bi proizvodili skupocijene rukom rađene lutke. No, njihova mala radionica se nalazi blizu arheološkog nalazišta jednog Majanskog kulta na kojem nepažnjom jedan arheolog oslobodi zlog i krvožednog 900-godišnjeg duha, te taj čin plati svojim životom
Duh slobodan od zarobljeništva ulazi u jednu od lutaka u radionici, koju nedugo nakon toga pronalazi Jessica kćer vlasnika tvornice. Djevojčica se vrlo brzo počinje čudno ponašati što njena majka Marilyn prva primječuje, a kad sazna strašnu istinu da demonsko biće preuzima tijelo njezina djeteta ostaje joj samo borba do zadnjeg daha i kapi krvi...''




RECENZIJA:
- Ima nešto u tim filmovima o demonskim lutkama što ih čini tako privlačnim, a meni osobno od vremena Hooperovog (ćitaj Spielbergovog) ''Poltergeista'' i one oživljene lutke klauna. Iako, znamo da kvalitene filmove takve vrste možemo nabrojati na prste obje ruke. Ipak, nekoliko filmova možemo izdvojiti iz te branše. Kamo spada današnji film vidjet ćemo vrlo brzo, no prije toga bacimo oko na njegove dobre-loše strane:


Što valjda u filmu:
- ovo je film o ubojitoj demonskoj lutki
- osnovica priče
- u filmu glumi legenda Rip Torn, te i Denise Crosby
- specijalni efekti što se tiču facijalnog izraza lutke


Što ne valja u filmu:
- scenarij i povremeno režija
- ovo je ''Child's Play'' klon tj. film u kojoj je negativac feminizirana verzija Chuckyja
- nema krvi i bu scena
- fali atmosfera, napetost i jeza




Završna riječ:
- ''Dolly Dearest'' ili kako naslov ovog ravno na video filma mnogo privlačnije zvuči na brazilskom "Boneca Assassina" (tj."Killer Doll") je osrednji horor film namijenjen prvenstveno da se gleda u obiteljskom okruženju sa maloljetnim gledateljima.
Očigledno je da je po sadržaju, ali i po ovim fotkama koje možete vidjeti da sam film kopira ''Child's Play'' serijal (vidi dolje prvu izjavu u THE SCENA) i gledajući po tome ovo je jako loša kopija koja je na početku obećavala (pogotovo po solidnom traileru). Kao jednu žlicu vegete filmska ekipa je upotrijebila malo i ''Poltergeist'' elementa.

Redateljica i scenaristica je nepoznata Maria Lease, koju malobrojni filmofili poznaju kao glumicu u nekim eksplotacijskim filmićima, je dala svoj maksimum kao autor te gledajući da joj je to bio prvi i jedini film koji je snimila on i nije ispao tako loše kako se čini.
Ali ipak moram zamjeriti da je režija pravocrtna, bez maštovite kreativnosti i inspiracije, te da je scenarij slab u dijalozima, prepun klišej izjava te kao i sama režija ne stvara atmosferu, tenzije ili jezu.
Isto tako imamo par nelogičnih trenutaka i detalja, ali preko kojih možete proći ako film ne uzmate zaozbiljno dok ga gledate. Iako, se radnja ''Dolly Dearest'' događa u Mekisku on je snimljen u kalifornijskoj Santa Clariti.




Gluma je sasvim pristojna (djeca u filmu ne iritiraju), dok ću svakako izdvojiti pojavu meni uvijek odličnog Ripa Torna (''MIB 1 i 2'', ''Dodgeball: A True Underdog Story'') koji i ovdje svojom pojavom daje filmu čar. U filmu majku Marilyn glumi Denise Crosby (''Pet Sematary'', Tasha Yar iz ''ST: The Next Generation''), no ovdje kao da samo statira i uloga brižne majke joj nije baš toliko uvijerljiva. Za ovako mali film onaj malobrojni prikaz specijalnih efekata što se tiču same lutke izgledaju dosta dobro. Jedino što ovom film stvarno fali jeste da ima više krvavijih scena i mnogo više jeze, pa bi se oni minusi samog filma vrlo lako zaboravili.

Ovako je moja preporuka da se film pogleda ali kako sam već gore rekao pod uvijetom da ga ne uzmete preozbiljno, jer ovo je ona vrsta filma koja se sigurno neće svima svidjeti tako da moju preporuku uzmete sa malom zadrškom, jer je konačna odluka na vama...no sigurno je i to da film nije bolji od serijala o najomiljenijem lutku ubojici Chuckyju, ''Dolls'' (1987) Boba Clarka, pa čak i zabavno lulavih ''Puppet Master'' / ''Demonic Toys serijala.
Za one nestrpljive koji nemaju toliko živaca da budu prikovani za neki film 90 minuta, preporučam gledanje 125 epizode iz pete sezone ''Zone Sumraka'' pod naslovom "Living Doll" u kojoj glavnu ulogu igra poznati filmski ćelavac Telly Savalas.


THE SCENA:



Dolly: ''- Jessie, now we can play!
Jimmy Read: [prije nego zapuca na lutku] ''- Play with this, bitch!''

Marilyn: ''- I am not losing my daughter to a God-damned, nine-hundred-year-old goat-head!''