četvrtak, 19.05.2011.
Hambuster (2010)

Čudovišni Hamburger (2010)




Režija: Paul Alexandre, Dara Cazamea, Maxime Cazaux, Romain Delaunay i Bruno Ortolland
Trajanje: 7 minuta
Rađen za 3D stereoscopic tehniku
Službena stranica
Cijeli film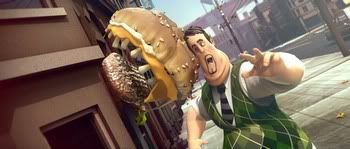 SADRŽAJ:
''- Možete imati dobar ručak na mirnom mjestu kao recimo u malom parku... Ali što ako vaš ručak to ne želi?
Na ulici svatko može čuti vaš vrisak, ipak koga je briga za to?''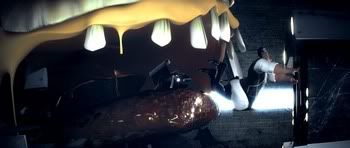 Recenzija:
- U današnje vrijeme imamo sve više prilike vidjeti kratke animirane filmove u kompjuterskoj tehnici koji su mala remek djela filmske umjetnosti. Tako se te već mogli vidjeti na ovom blogu crtiće poput – ''The Passanger'', ''Debil Dead'', ''9'', ''The Ward''...
Današnja recenzija se tiče 7-minutnog diplomskog rada pet marljivih studenata iz Supinfocom Arlesa, koji su ove godine dobili prvu nagradu IMAGINA-e za najbolji studenski uradak.

Ne samo da su napravili zadivljujući animirani film nego ga imamo prilike vidjeti čak u 3D-u, koji iako je rađen sa sigurno skromnim budžetom i ograničenih resursa izgleda kao da je izašao iz nekog profesionalnog studija kao što su Pixar ili DreamWorks, jer nakon što se filmić pogleda može se reći da odiše profesionalnom produkcijom ravnom onom koju smo vidjeli u ''The Incredibles'' ili ''Megamind''.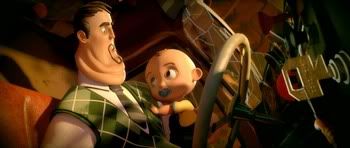 Što se tiče samog filma on je kratak i jasan (kritika na nezdravi prehrambeni život građana SAD-a), te se diči detaljnošću rijetko viđenoj u ovakvim uradcima. Vidi se također da studenti imaju oko za akciju (pogledajte samo kako dobro koriste kutove iz kojih kamera snima...vidi se utjecaj Sama Raimija), te razumiju jako dobro SF i Horor žanr, jer ne samo da je ''Hambuster'' posveta giant monster filmovima (mutirani hamburger jede ljude po gradu i pretvara se u pravo čudovište koje ruši grad) i to prvenstveno onima iz 50-tih i polovice 60-tih, nego su autori uspijeli porazbacati nekoliko mini posveta nekim drugim filmovima iz žanra ZF (recimo scena u podzemnoj željeznici je pljunuta replika one u ''Men in Black 2'') i strave i užasa.
Iako mi se akcija svidjela ipak bih izdvojio onaj trenutak kad gazirano piće napadne ljude u fast food restoranu. Ti kadrovi su pravi melem za oči ljubitelja horora, jer imamo prilike vidjeti jedan pravi pokolj sa litrama krvi i to mislim po prvi put u nekom animiranom filmu rađenom pomoću kompjutera. Druga stvar jako lijepa za horor ljubitelje jest odjavna špica u kojoj glavni antijunak se maklja sa krvožednim mutiranim hamburgerima u pozama iz filmova ''Planet Terror'', ''Army of Darkness'', ''BrainDead'', te također vidimo scenu iz originalnog ''War of the Worlds'' i onu najpoznatiju iz ''Aliena''.




Što reći nego da pogledate čim prije ovaj mali dragulj...