petak, 24.12.2010.
Sve najbolje za Božić!!!

Ljudovi diljem Hrvatske sve vam najbolje za Božić želi vam vaš jedan i jedini dr_gonzo!!




Da ne ostane samo na čestitki evo i prigodnih filmića i malo mjuze da zasladite ovo toplo večer (barem je tako u Šibeniku) koje po mom mišljenju pašu uz ovaj blagdanski dan, pa bez obzira što mjuza ne spada u one tipične blagdanske koje već ionako viđamo po televiziji a pogotovo slušamo na radiju... Zato - "And Now for Something Completely Different":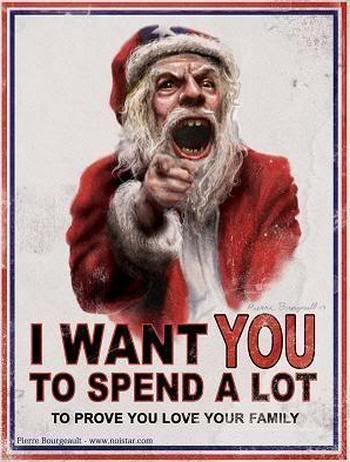 Filmići:
1) Predator's Teenage Son
- obožavam ovakve filmiće koji pogode bit Predatora više nego neki filmovi, a još kad je i dobro nacrtan...što možeš poželjeti više

2) Stormtroopers' 9/11
- odlično podvučena paralela uništenja Tamne Zvijezde i pada američkih Twin Towers, sa predivnim dijalogom...a uz to je kratko i jasno

3) The Injured Stormtrooper
- još jedan dobro napravljen skeč koji ostavlja pitanje...jeste li vidjeli ranjenog Storm Troopera[/URL]

4) Marvel vs. DC - The End of the Summer Movie Season
- sprdancija na temu najbolje zarade filmova iz DC i Marvel produkcije krajem ljeta (obratite pozornost kad se pojavi Joker)

5) Predator: Kako je zapravo trebao završiti...
- odlična baza koja nam postavlja dobru mušicu kako se lako riješiti Predatora




TOP 10 Mjuze za ove prazničke dane:
1) Tales From the Crypt - "Jle Bills"

2) How the Grinch Stole Christmas! - "The Grinch Song"

3) Denis Leary Christmas - "Merry Fu*king Christmas"

4) Tales From the Crypt - "12 Days Of Cryptmas"

5) Weird Al Yankovic - "The Night Santa Went Crazy"

6) South Park - "Merry Fu*king Christmas"

7) The Dagon Tabernacle Choir - "Carol of the Old Ones"

8) Tales From the Crypt - "Have Yourself A Scary Little Christmas"

9) The Pogues & Kirsty McColl - "Fairytale Of New York"

10) Weird Al Yankovic - "Christmas At Ground Zero"