petak, 13.08.2010.
The Sorcerer's Apprentice (2010)

Čarobnjakov učenik (2010)




Produkcija: Walt Disney Pictures / Jerry Bruckheimer Films / Saturn Films / Broken Road Productions / Junction Entertainment
Redatelj: Jon Turteltaub
Scenarij: Matt Lopez, Doug Miro i Carlo Bernard

Uloge:
Nicolas Cage (Balthazar Blake).............Jay Baruchel (David "Dave" Stutler)
Alfred Molina (Maxim Horvath)...........Teresa Palmer (Rebecca "Becky" Barnes)
Toby Kebbell (Drake Stone)................Monica Bellucci (Veronica Gorloisen)
Alice Krige (Morgana le Fay)................ Omar Benson Miller (Bennet)


Film je izašao u kina 14. Srpnja, 2010 godine
Trajanje: 111 minuta
Budžet: oko 150 milijuna $
Zarada: 111 253 000 $ (Svjetska zarada sa SAD-om)
Zarada u SAD-u: 57 053 000 $ (prvog vikenda: 17 619 622 i to u 3 504 kina)
Službena stranica filma
Foršpan filma...




SADRŽAJ:
''- Balthazar Blake je čarobnjak na suvremenom Manhattanu koji pokušava obraniti grad od svog vječnog neprijatelja Maxima Horvatha. No, za tako velik pothvat potrebna mu je pomoć, stoga regrutira Davea Stutlera, na prvi pogled sasvim prosječnog mladića. Iako protiv svoje volje postaje čarobnjakov štićenik, Dave posjeduje veliki skriveni potencijal za čaroliju, a nakon što na brzinu biva upućen u umjetnost i znanost magije, postaje čarobnjakov saveznik u borbi protiv sila tame. Dave će morati skupiti svu svoju hrabrost kako bi preživio obuku, spasio grad i osvojio djevojku dok postaje čarobnjakov učenik.''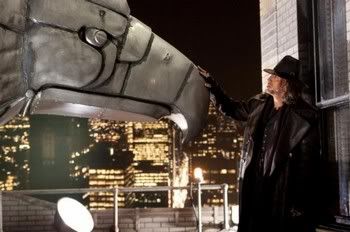 RECENZIJA:
- U zadnje vrijeme mnogo mi je ljudi izrazilo negativno mišljenje o glumi Nicolasa Cagea, te također na raznim portalima mogu vidjeti da njegovo glumačko ime služi ponajviše za sprdnju (''The Wicker Man'' rimejk mu je jedina iskreno loša uloga). Meni osobno Cage je jedan od boljih Hollywoodskih glumaca, a kad je u svom elementu onda to znači i jako dobru glumačku interpretaciju (primjer: Big Daddy u odličnom ''Kick Ass''). Povod ovom malom uvodu i samom spominjanju Coppolinog rođaka jest današnji film koji se našao na meniju – ''Čarobnjakov učenik''.
Guštam gledati foršpane nadolazećih filmova za koje mislim da bi mogli biti dobri, a onda kad vidiš tu reklamu koja ne pokazuje ništa spektakularno...no instikt ti kaže da će to biti iznenađenje. I stvarno nakon što sam ga prošli četvrtak odgledao u kinu mogu slobodno reći da je ovaj film jedan od najboljih ove godine koje sam gledao.

Iako film ima jako malo likova, to mu nimalo ne umanjuje ugodnu fantasy atmosferu i odlično ispričanu priču. Upravo me ona sama najviše iznenadila, jer unatoč tome što je nastala prema jednostavnom i danas jako izlizanom fantasy konceptu (loš čarobnjak želi uništiti svijet tako da probudi još močniju čarobnicu, a na putu mu stoje predstavnici svega dobroga čarobnjak i njegov učenik, koji je preodređen da bude najbolji od najboljih u magiji tj. Merlinov nasljednik) izgleda jako dobro. No, priča koja je nastala prema Disneyevom dugometražnom animiranom omnibusu ''Fantasia'' iz 1940 godine i to po najpoznatijom epizodi ''The Sorcerer's Apprentice'' (da to je ona sa Miki Mausom i metlama) ne bi bila ništa da joj scenarij nije napisan sa smislom za scene, dijalogom i dobrim tajmingom kada da se što pojavi ili kaže u narednom kadru.
Scenaristički trio Lopez, Miro i Bernard uspijeli su u potpunosti napisati nešto duhovito, intrigirajuće, sa jednodimenzijanlnim i jednostavnim, ali ipak dragim i zanimljivim likovima. Također nisu CGI-u dopustili da se razmaše. Dobra stvar ovog fantasy filma jest što je uveo neke novotarije u svijet magije, a to je fizika, koja se lijepo uklopila u taj mistični svijet dodajući priči i dodir realnosti.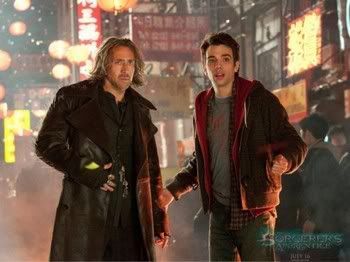 Kako scenaristi nisu dopustili da specijalni efekti u filmu razmašu tako to nije dopustio ni redatelj Jon Turteltaub (jako dobri prvi ''National Treasure'', ali očajno loši drugi dio), nego fino izbalasirao od svačega pomalo. Naravno da su tome uvelike i pridonijeli i glumci svojim dobrim glumačkim ostvarenjima :
Cage – u elementu i stvarno se vidi da je uživao u ovoj ulozi, te se dobrano uživio u ulogu dobrog i iskusnog čarobnjaka Blakea; ovo mu je jedna od boljih uloga u karijeri, pa iako nije među onim njegovim najboljim svakako spada u sam vrh najsimpatičnijih
Baruchel – ako je gledati prema ovoj ulozi (nisam gledao ''She's Out of My League'' nažalost) mladić ima talenta ne samo za ozbiljniju glumu nego i za komediju (u tom se žanru izgleda najbolje snalazi)
Molina – odličan karakterni glumac koji se u zadnje vrijeme specijalizirao za uloge karizmatičnih negativaca (Dr. Otto Octavius iz ''Spider-Mana 2'') ovdje također odličan
Ostali su glumci (uključujući i dalje slatku Bellucci) tu samo da uskoče i upotpune film sa svojim efektivnim epizodnim ulogama (iako mlada i koliko se uspijelo vidjeti dovoljno glumački talentirana Teresa Palmer ipak se može okarakterizirati kao epizodni lik sa malo većom minutažom), a bogme je i lijepo bilo vidjeti Alice Krige (Borg Queen u ''Star Trek: First Contact'') kao Morganu le Fay, koja je bila odličan izbor za gl. Nemesisa filma.




Završna riječ:
- Vidi se da se cijela filmska ekipa potrudila da film funkcionira na svim poljima od odličnih kompjuterskih efekata (ima mnogo borbe u kojoj prednjače upravo one koje vode Blake i Horvath međusobno, a od svega bih istakao trikove sa zrcalima i pojava pravog zmaja...te krajnji fajt sa Morganom koji me je podsjetio na RPG hack & slash videoigre ala ''Diablo'' ili ''Nox'') sa kojima se filmaši ne razmeču nego ih stavljaju da budu u službi priče, pa do ugodne glume i odličnih dijaloga u kojima prednjači pametni humor (skoro svaka druga scena sa Davidom je urnebesno smiješna, ali kad krene obuka za čarobnjaka onda tek počinje pravi piš od smijeha).
Dugo nisam vidio kako se cijelo kino smije i uživa u gledanju filma, još od prve ''Američke Pite'', a ako kažem da je ovo pravi obiteljski film (nije tako zamršen u karakterizaciji likova ili tako mračan kao serijali Harry Potter ili LOTR, a opet nije do zla boga loša karkatura kao ''Eragon'' ili ''Dungeons & Dragons''). Ovako je trebao izgledati ''Percy Jackson & the Olympians: The Lightning Thief'' (2010), no što je tu je ''Čarobnjakov učenik'' je film zbog kojih se i ide u kino – zabava i samo zabava, a toga on ima pregršt. Ako ga niste gledali...još vam igra u kinima, te nemojte propustiti tu filmsku delikatesu nego odite ga pogledati, jer se sigurno nećete razočarati viđenim.




THE SCENA:
- David uči izbaciti plazmeni naboj na način kako je to radio Sub-Zero iz ''Mortal Combata'' sa jako smiješnim dogodovštinama
- svaka scena okršaja Blakea i Horvatha
- borba Davida i Morgane
- film ima odličnu i jako zabavnu posvetu onoj sceni sa Miki Mausem i metlama