ponedjeljak, 25.01.2010.
Najbolja DVD izdanja u 2009 godini...

Evo malih preporuka što nabaviti od DVD-a, a izašlo je tijekom prošle godine. Naravno bilo je mnogo dobrih DVD, a još više (u najmanju ruku) govnariskih DVD izdanja.
I zato izdvojit ću samo pet najboljih:


1) My Bloody Valentine (1981) (Special Edition)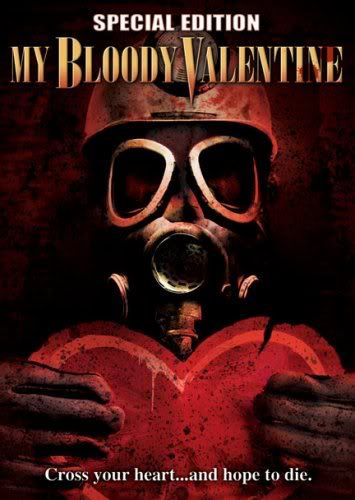 DVD sadrži:
• Uncut Version
• Deleted Footage with intros
• Featurette "Bloodlines: An Interactive Horror Film History"
• Featurette "Bloodlust: My Bloody Valentine and the Rise of the Slasher Film"

DVD reklama filma

Zašto je tako poseban:
- napokon imamo pravu verziju filma sa svim onim predivnim specijalnim efektima koji su morali biti izbačeni jer je MPAA zahtijevala oštre mjere cenzure, te tako najbolje scene filma izbacili iz finalne verzije.
Sad nakon 38 godina smo dobili slasher koji sigurno upada među 5 najbolje ikad snimljenih s tim da sa novim scenama (možda i najbolje ikad viđene u nekom slasheru) svaki pravih horor fan može uživati. Postoje dvije opcije: gledati film u originalu tj. sa R predkatom ili sa izbrisanim scenama koje su sada dio filma (isto tako možete gledati i same izbrisane scene odvojeno od filma). Uz sve to dobijate i dva divna dokumentarca. Jednostavnom riječju rećeno ovo je pravi dragulj o DVd-a.



2) Night of the Creeps (1986) Director's Cut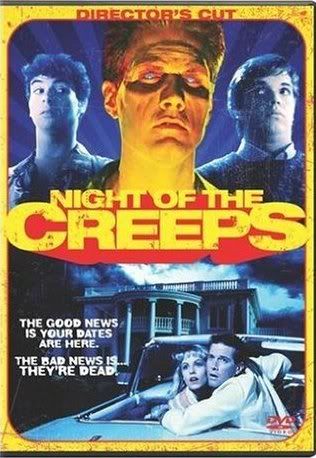 DVD sadrži:
• Birth of the Creeps featurette featuring Dekker talking about the origins of the project
• Cast of the Creeps featurette featuring Jason Lively, Tom Atkins, Steve Marshall, and Jill Whitlow
• Creating the Creeps featurette featuring interviews with SFX creators David B. Miller and Robert Kurtzman
• A special Tom Atkins-centric piece called Tom Atkins: Man of Action
• Escape of the Creeps featurette providing a detailed look at the post-production
• Deleted scenes
• Trivia track
• Fred Dekker solo commentary
• Cast commentary featuring Atkins, Whitlow, Marshall, and Lively
• The original theatrical ending
• And footage from the aforementioned Cast and Crew reunion screening at the Alamo Drafthouse

DVD reklama filma

Zašto je DVD tako poseban:
- zato jer se i ovaj film kao i My Bloody Valentine dugo mučio da bi se napokon pojavio na DVD. Inače tek trebam kupiti ovaj DVD, ali znam i to da baš nema neke posebnosti od sadržaja (ipak izdvajam pojavu originalnog završetka filma i Tom Atkins: Man of Action), no samim time što se pojavio na ovom mediju je veliki korak. Ovo je sigurno jedan od prvih DVD-ova što mislim kupiti ove godine, jer je film odličan (jedino loše kod svega toga je to što DVD ima očajnu naslovnicu.



3) The Gate (1987) Monstruos Special Edition




DVD sadrži:
• Trailer
• Commentary
• Special Effects Featurette
• Retrospective
• More Dorff Than You Can Handle


Zašto je DVD tako poseban:
- Isti slučaj kao i Night of the Creeps, samo što je ovaj film imao više izgleda da izađe na DVD-u. Klasik kojeg bi svaki horor fan trebao imati u svojoj kolekciji, no šteta što sam medij ima siromašnih dodataka. Odličan omot DVD-a (vrlo sličan Monster Squadu).



4) Hardware (1990) (2-Disc Limited Edition)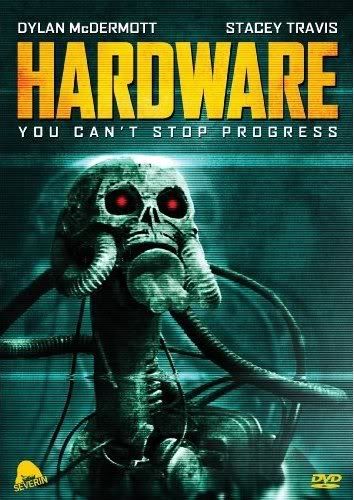 DVD sadrži:
• Audio Commentary with Director Richard Stanley
• Exclusive Making-Of Documentary Featuring All-New Interviews with Cast and Crew
• 'Incidents In An Expanding Universe' – Early Super 8 Version of Hardware
• 'The Sea of Perdition' – 2006 Richard Stanley Short Film
• 'Rites of Passage' – Early Richard Stanley Short Film
• Richard Stanley on Hardware 2
• Theatrical Trailer
• Deleted, Extended & Behind-the-Scenes Footage

DVD reklama filma

Zašto je DVD tako poseban:
- Ovo je jedan od najboljih SF filmova iz 90-tih, ali jako nepoznat i podcijenjivan. Odlično je što je ovo remasterirana verzija i što ćemo imati prilike vidjeti kako se film snimao. Iskreno sam se začudio da je ovakvo izdanje izašlo na DVd-u, ali neka...ovo je još jedan film više koji ću morati nabaviti dok kraja ove godine.



5) Blade Collection: 4 Film Favorites - Horror Classics Collection (Bram Stoker's Dracula / Mary Shelley's Frankenstein / Wolf) - Jason Slasher Collection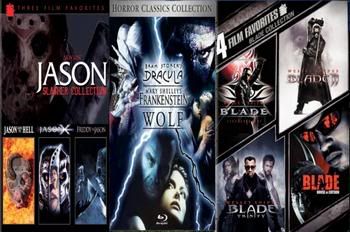 Zašto ova DVD kolekcija:
- svi znamo filmove tako da o njima ne moram ništa govoriti. Sva tri DVD-a su izašla prošle godine i koji god uzmete od ova tri priložena vjerujem ne samo da ćete ih dobiti za dobru cijenu, nego ćete upotpuniti svoju kolekciju. Ja osobno ću nabaviti sva tri DVD-a, a pogotovo se ložim na Jason Slasher Collection.
Koliko vidim posebnih dodataka baš i nemaju, ali k vragu zar ćemo poklonjenom konju gledati u zube?