petak, 27.04.2007.
The Thing from Another World (1951)

Stvor (1951)

Produkcija: RKO Radio Pictures/Winchester Pictures
Redatelj: Christian Nyby
Scenarij: Charles Lederer
Prema kratkoj priči - "Who Goes There?" Dona A. Stuarta [John W. Campbell Jr.]

Glume: Margaret Sheridan........Nikki
Kenneth Tobey............kapetan Patrick Hendry
Robert Cornthwaite......Dr. Carrington
Douglas Spencer..........Scotty
James R. Young...........poručnik Eddie Dykes
Eduard Franz...............Dr. Stern
James Arness..............The Thing

Trajanje: 87 minuta, 81 minuta (uređena verzija)
Film je pušten u kina 06. travnja, 1951 godine
Rental do danas samo u SAD : 2 miliona $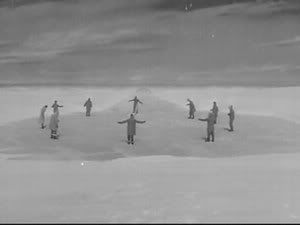 Dr. Arthur Carrington: "- Znanje je važnije od života."

SADRŽAJ:
"- Članovi američke polarne baza na Artiku budu svjedoci meteorskog pada u svojoj neposrednoj blizini. Neki od članova odlaze prvojeriti ostatke, no na njihovo veliko iznenađenje pronalaze svemirski brod. Pokušavaju ga izbaviti iz leda, ali tim pokušajem uništavaju letjelicu. Jedino što uspijevaju spasiti jeste humanoidni lik u debelom bloku leda.
Kad se nesretnim slučajem led otopi humanoidni se Stvor (James Arness) pretvara u ubilačku, neranjivu i skoro nezaustavljivu silu, kojoj je jedini cilj da pobije sve ljude u bazi. No, pitanje je da li uskoro slijedi i invazija drugih Stvorova i hoće li preživjeli članovi uspijeti se othrvati napadima zvjerskog bića i uspijeti ga uništiti?"


RECENZIJA:
"- Do sada su snimljena dva filma prema kratkoj i zasigurnoj jednoj od najupečatljivijih SF priča ikad vrlo plodnog pisca tog posebnog književnog žanra J. W. Campbella Jr.-a (utjecao na veličine kao što su Issac Asimov ili Robert Heinlein, a nekima je poznat i kao urednik časopisa Astounding Science Fiction). Ovo je bio prvi.

Što se tiče jedne stvari volio bih vam ju posebno naglasiti, iako sam to prije tvrdio (bogme se naveliko po netu i tako smtra) ovaj film nema remake u obliku odličnog Carpenterovg "Stvora" iz 82', jer su oba filma rađena prema knjizi, pa zato nikako ne mogu biti relacija original-remake (da predočim to primjerom "Frankenstein" ili "Drakula" imaju mnogo filmskih ostvarenja, ali niti jedan film nije remake onog drugoga nego su slobodne adaptacije knjiga). Ovo me doslovno uvjerilo kad sam nakon 15 godina opet pogledao film (thanks HorrorHR).

Ono najbolje kod ovoga filma i što je njegov najveći adut jeste to što nije mogao biti pod utjecajem drugih filmova ovakve tematike. Kasnije će mnogi filmovi pratiti ovu formulu, sa više ili manje uspjeha, no definitivno je on bio taj koji je bio pokretač SF filmova u 60-tima i kroz to desetljeće će ova vrsta SF-a imati vrlo plodno razdoblje (spomenimo samo "The War of the Worlds" (1953), "Forbidden Planet" (1956), "Invasion of the Body Snatchers" (1956) ili Bavin "Terrore nello spazio" (1965)). A sam film je dobivao i lošije očigledne kopije (poput "It! The Terror from Beyond Space" (1958)). Kulminacija utjecaja "Stvora" iz 51' jeste "Alien" (1979) R. Scotta što i sam scenarist Dan O'Bannon priznaje.


Dr. Arthur Carrington: "- Bez zadovoljstva, bez boli... bez emocije, bez srca. Superiorniji od nas u svakom pogledu."




Sam film je pogodio u žicu, jer samo razdoblje je pogodovalo njegovoj fami (slučaj Roswell 47', te sam naziv za NLO-e 'leteći tanjur' što je smislio američki novinar Kenneth Arnold samo mjesec dana prije nego će se desiti udes u Novom Meksiku). Svijetla točka filma jeste što ima vrlo tečan scenarij (nigdje rupe ili dosadnih momenata, a konverzacija između likova jeste nadasve osvježavajuća i zanimljiva) i nadasve uvjerljive glumce (ne bih nikoga odvajao, jer svi djeluju kao kompaktna cijelina). Ovo je možda i prvi film (valjda i zadnji takve vrste) kojeg se ja sjećam da je snimanje imao u vanjskom prirodnom interijeru, dok su svi kasniji uradci rađeni u studijima. Što se tiče redatelja Nybya mislim da je Hawks (producent i jedan od scenarista) imao najviše zasluga za snimljeni film (dogodilo se isto ono što i Tobe Hooperu kad je snimao "Poltergeista" (1982), jer je za sve kreativne stvari bio zaslužan Spilberg (producnet i scenarist)), pa unatoč izjavi u jednom intervju Jamesa Arnessa (The Thing) da je Nyby redatelj filma, ja sam duboko uvjeren u suprotno. Zašto? Pa, iz više razloga:
- kao prvo film odiše Hawkovštinom ili ugođajem Hawksovih filmova (pogledajte dijaloge, u njegovim filmovima žene su pametne i spretne, a tu je primjer Niki, koja kao da je stidljiva preteča poručnice Ripley)
- Nyby je bio montažer nekih Hawksovih filmova, pa je vjerojatno da mu se oduži Howard dao redateljsku stolicu, ali palicu redatelja je ipak zadržao u svojim rukama
- izjava Jamesa Arnessa ne stoji jer kako svi znamo on je kasnije postao velika TV zvijezda zahvaljujući serijalu "Gunsmoke" (prikazivao se 20 godina od 55'-75) od kojih je nekoliko epizoda režirao Nyby što znači da su se sprijateljili tijekom snimanja "Stvora", a sam Nyby se prebacio na male ekrane režirajući epizode poznatih serija - Zona Sumraka, Ja Špijun, Bjegunac... (odlično za iskusnog montažera)

Što još reći nego da se film jednostavno mora pogledati za sve one koji obožavaju - stare c/b klasike sa odličnom pričom ili jednostavno su fanovi Carpenterovog filma, čak se film može preporučiti i onima koji ne vole SF žanr jer je film ipak izašao iz radionice legende Howarda Hawksa

Zanimljivosti u vezi filma (TRIVIA):
- Film izabran 2001 godine za National Film Registry, a 2003 imao i svoj DVD debi
- Utjecao na mnoge filmaše (ponajviše Carpentera koji je veliki fan što se vidi u njegovoj verziji iz 82'), serije (The Doctor Who - "The Seeds of Doom" S13 E21-26, X-Files: "Ice" S1 E7, Simpsoni...), a spomenut u mnogo filmova (Halloween, The Howlling, The Fog....)
- većina filma snimljeno u Glacier National Park, LA (korištene hladnjače)
- glumac patuljastog rasta Billy Curtis glumio je manju verziju Stvora u finalnoj sceni
- James Arness se žalio da mu kostim izgleda kao divovska mrkva
- Hawks je tražio da mu u filmu pomognu i američke zračne snage ali su vojne glavešine taj prijedlog glatko odbile zbog vladinog službenog stava da NLO-i ne postoje
- u filmu nema na odjavnoj špici popis glumaca nego samo produkcije i tehničara
- traćevi kruže da je u stvaranju scenarija pomoglo nekoliko osoba (nikad potvrđeno) - Ben Hech i William Faulkner (Hawksovi dobri prijatelji), te Orson Wells koji je bio zaslužen za dijalog
- gro kadrovi Stvora su izbačeni zbog toga što bi maska izgledala trivijalno, ali je zato to biću u filmu davalo tajnovitost
- Jamesu Arnessu se toliko nije sviđala uloga Stvora da se nije pojavio na premijeri
- 5 mjeseci i 18 skulptura je bilo potrebno majstoru maske Lee Greenwayu da bi došao do onog što bi odogvaralo Hawksu
- Hawks je želio osigurati svoje biće, ali su ga odbile 5 osiguravajućih kuća a sve zbog toga što je Stvor - bio zaleđen u ledenom bloku, napadan sjekirama, napadan od pasa, zapaljen, i pogubljen elektricitetom
- scena kada ljudi naprave krug oko letećeg tanjura da bi pokazali njegovu vličinu (kasnije napravio i sam Carpenter u svojoj verziji Stvora) je snimljena na RKO Ranch,San Fernando Valley

THE SCENA:
- Jednostavno nisam mogao izbarati koja je bolje između ove dvije jer su obje dojmljive svaka na svoj način:

No.1 - pojava Stvora i fenomenalni obračun vatrom (odlična kordinacija sa glumcima, kaskaderima) i kad vidite tu scenu gdje vatra sve zahvaća zapitate se kako to da nitko nije imao opekotina....





No.2 - kad sam ju vidio nisam mogao vjerovati da su mogli prikazati ovu scenu (manja slika) gdje pronalaze komad ruke (???? shvatite da je to godina 51') od Stvora, nakon što se ovaj dobro pomlatio sa par huskija (mećava + Stvor + podivljali psi = urnebesna bitka)




i za kraj moram spomenuti i legedarnu izjavnu na samom kraju filma:

Ned "Scotty" Scott: "- Watch the skies, everywhere! Keep looking. Keep watching the skies!"