Kylie je jučer tj. danas rano ujutro nastupila u poznatom Londonskom G-A-Y klubu!
U prepunom klubu koji je dočekao, Kylie je predstavila - uz starije hitove - nekoliko pjesama s novog albuma "Aphrodite"!
Rano ujutro, Kylie se na pozornici pojavila u zlatnom kostimu gdje je otvorila nastup s nadolazećim singlom "Get Outta My Way" te nastavila s "Cupid Boy".
Nakon toga objavila je da je njezin album Br. 1 kako je uvod za naslovnu pjesmu "Aphrodite" započeo. Nakon dijela pjesme "Aphrodite" uslijedile su "Wow", novi miks pjesme "In Your Eyes" nakon kojeg također nova trance verzija "I Believe In You". Zadnja u tom nizu bila je "Better The Devil You Know" s kojim su pušteni baloni po cijelom klubu.
Nakon toga Kylie se nakratko otišla presvući u crni kostim dok je trajao produženi uvod za "All The Lovers" kojeg je Kylie izvela kao i na nedavnim nastupima. Prezadnja pjesma bila je "Can't Get You Out Of My Head" nakon koje joj je vlasnik kluba došao čestitati na pozornicu, te je uslijedila i zahvalnica Kylienom menadžeru Terry Blamey-u!
Kylie je svoj nastup zatvorila sa "Love At First Sight"!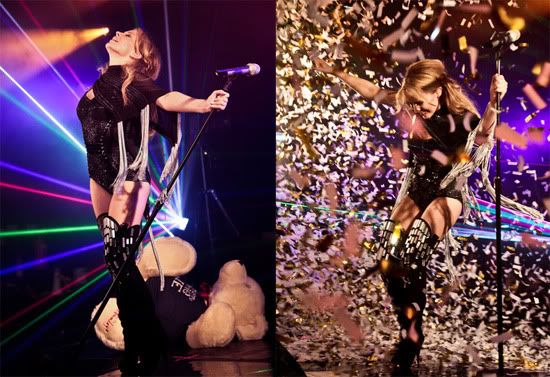 Setlist:
Get Outta My Way
Cupid Boy
Medley: Aphrodite / Wow / In Your Eyes / I Believe In You / Better The Devil You Know
All The Lovers
Can't Get You Out Of My Head
Love At First Sight
Charts update!
"Aphrodite" UK No. 1 album!!!
Davne 1988. g., istog ovog tjedna u srpnju, Kylien prvi album "Kylie" debitirao je na Veliko Britansku top ljestvicu da bi se nekoliko tjedana kasnije popeo do prvog mjesta i postao prvi album neke solo pjevačice koji se prodao u više od 2.000.000 primjeraka, a danas, 22. godine kasnije, Kylie ima svoj peti Br. 1 album, "Aphrodite"!
"Aphrodite" je Kylien 10. top 10 album te 5. br. 1 album u Velikoj Britaniji, jedini studijski album koji nije ušao u top 10 je "Let's Go To It" iz 1991.
Također Kylie je sada postala i jedina solo pjevačica koja ima Br. 1 albume u četiri desetljeća (80's 'Kylie' & 'Enjoy Yourself', 90's 'Greatest Hits', 00's 'Fever', 10's 'Aphrodite') te jedna među rjetkima koja ima Br. 1 albume kroz četiri desetljeća općenito!
Kylies UK album chart history (peaks):
KYLIE! - THE ALBUM (1988)
#1
ENJOY YOURSELF (1989)
#1
RHYTHM OF LOVE
(1990) #9
LET'S GO TO IT (1991)
#15
KYLIE'S GREATEST HITS (1992)
#1
KYLIE MINOGUE (1994)
#4
IMPOSSIBLE PRINCESS (1998)
#10
MIXES (1998) #63
LIGHT YEARS (2000)
#2
HITS PLUS (2000) #41
FEVER (2001)
#1
GREATEST HITS 87-92 (2002) #20
BODY LANGUAGE (2003)
#6
ULTIMATE KYLIE (2004)
#4
SHOWGIRL - HOMECOMING LIVE (2007) #7
X (2007)
#4
BOOMBOX (2008) #28
APHRODITE (2010)
#1
I u ostatku svijeta gdje je "Aphrodite" debitirao za sada, vrlo dobra mjesta.
U Australiji #2 sa zaostakom od samo oko 600 primjeraka iza Eminema, dok u Španjolskoj nakon samo 3 dana prodaje #3 što je najviše mjesto za bilo koji Kylien album u Španjolskoj!
U Nizozemskoj također najviše mjesto za Kylien album do sada, #4, te isto u Belgiji gdje se očekuje da će se još popeti sljedećeg tjedna, #9 Flanders i #11 Wallonia.
U Mexicu nakon samo 2 dana prodaje #48, što ga uz 'Fever' čini jedinim Kylienim albumom koji je ušao na top ljestvicu u Mexicu.
Također predviđanja za SAD govore da će "Aphrodite" ući u top 20 na Billboard Hot 200 ljestvici!
United Kingdom: #1
Australia: #2
Spain: #3
Netherlands: #4
Ireland: #5
Belgium: Flanders #6
Belgium Wallonia: #11
Japan: #28
Mexico: #48
Više na forumu ->
kylie.go-forum.net
!