Najveći Francuski lanac kulturnih i elektroničkih proizvoda
Fnac
u svojim je trgovinama objavio datum izlaska Kylienog 11. studijskog albuma, ako je vjerovati njima album će izaći
24.03.2010.
g.!
Taj datum odgovara i do sada znanim ne službenim informacijama po kojima se govorilo da album izlazi u ožujku. Također i sama Kylie je izjavila kako planira završiti album početkom sljedeće godine za izdanje u prvom dijelu godine!
Candids
Nakon što je sa svojim dečkom Andresom Valencosom provela tjedan dana u Melbourneu, Australija, par je prije Božića doletio u Španjolsku kako bi proveli Božić sa Andresovom obitelji.
Kylie and Andres Velencoso Segura arrive in Barcelona, Spain, December 24, 2009
Kylie with sister of her boyfriend Andres Velencoso going for a walk in Tossa de Mar, Spain, 26.12.2009.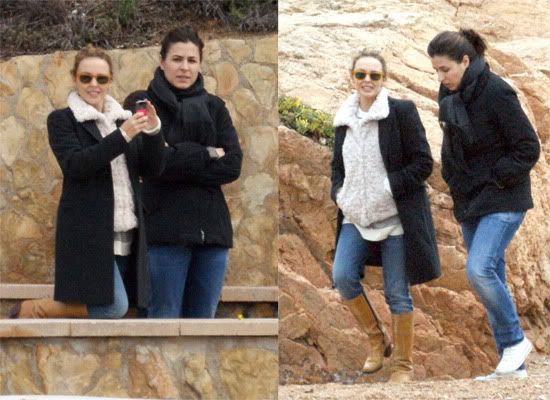 Novi intervju koji je Kylie danas preko telefonske veze dala za Američki 'Sirious' radio. U intervjuu s Larryem Flickom Kylie je pričala o nedavnoj turneji, novom albumu uživo, 'Kylie Live in New York', novom albumu za kojeg je rekla da se nada da će biti završen do ožujka sljedeće godine te već najavila i novu turneju sljedeće godine!
Kylie Minogue interviewed by Larry Flick - New York 12/11/09 by Steve Anderson

Podsjetnik: Večeras od ponoći (tj. sutra od 01:00h u RH), na službenoj Kylienoj YouTube stranici moći će se u roku od 24 sata poslušati prvu polovicu Kylienog novog live albuma 'Kylie Live in New York'!
Digitalni album u većini zemalja izlazi 14. ili 15. prosinca dok je već u nekoliko Europskih zemalja dostupan od danas!
Također Kylie je na svom Twitter pripremila i nagradnu igru za korisnike, 3 najbolje recenzije YouTube streama dobit će potpisane vinyle!
Danas je i službeno najavljeno izdanje Kylienog novog albuma uživo, '
KYLIE LIVE IN NEW YORK
' biti će izdan
14. prosinca
preko Parlophone Recordsa!
Album, snimljen na zadnjim datumima njezine Sjeverno Američke turneje u Hammerstein Ballroom dvorani u New Yorku, biti će ekskluzivno dostupan kao digitalno izdanje.
Samo na iTunes kao ekskluziva uz album biti će objavljene tri studio verzije remixeva sa turneje, '
Light Years
', '
Speakerphone
' i '
Come Into My World
'!
To nije sve, obožavatelji će dobiti priliku poslušati prvu polovicu koncerta iz New Yorka na pre-izdanju, ekskluzivno na YouTube-e u trajanju od 24 sata počevši od ponoći 12. prosinca na
www.youtube.com/kylieminogue
! Kylienoj službenoj YouTube stranici!
Na najavnom videu ispod možete poslušati jednu od studio verzija s turneje, odličan 'Speakerphone (Steve Anderson Remix)'.
Mp3 Speakerphone remixa možete skinuti na forumu - >
kylie.go-forum.net
!
Za još više informacija o albumu uživo pročitajte prethodni post!
twitter.com/kylieminogue
Na Amazonovoj stranici potvrđen je izlazak albuma uživo s Kyliene prve Sjeverno Američke turneje i to već za 14. prosinca!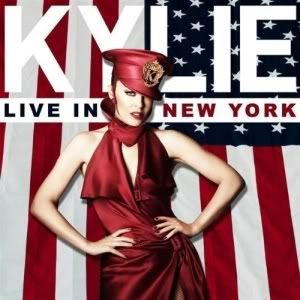 Kylien treći album uživo snimljen je u New Yorku u listopadu. Na albumu se nalazi 25. pjesama, dok jedna koja nedostaje je nova pjesma "Better Than Today" koju je Kylie premijerno izvodila na turneji a koja će biti objavljena na sljedećem studijskom albumu!
Album će biti izdan samo u digitalnom formatu!
Isječke svih pjesama na albumu možete poslušati
ovdje
!
Tracklist:
1. Overture (Live in New York) - 1:39
2. Light Years (Live in New York) - 4:20
3. Speakerphone (Live in New York) - 4:46
4. Come Into My World (Live in New York) - 3:55
5. In Your Eyes (Live in New York) - 3:22
6. Everything Taboo Medley (Live in New York) - 9:18
7. Like A Drug (Live in New York) 4:50
8. Boombox/Can't Get Blue Monday Out Of My Head (Live in New York) - 5:03
9. Slow (Live in New York) - 6:21
10. 2 Hearts (Live in New York) - 4:18
11. Red Blooded Woman/Where The Wild Roses Grow (Live in New York) - 4:44
12. Heartbeat Rock (Live in New York) - 2:13
13. Wow (Live in New York) - 3:02
14. White Diamond Theme (Live in New York) - 2:10
15. White Diamond (Live in New York) - 3:11
16. Confide In Me (Live in New York) - 4:47
17. I Believe In You (Live in New York) - 3:03
18. Burning Up/Vogue (Live in New York) - 3:20
19. The Locomotion (Live in New York) - 4:56
20. Kids (Live in New York) - 5:00
21. In My Arms (Live in New York) - 4:09
22. Better The Devil You Know (Live in New York) -4:42
23. The One (Live in New York) - 4:27
24. I Should Be So Lucky (Live in New York) - 3:55
25. Love At First Sight (Live in New York) - 6:40
Za sada nepotvrđeno ali navodno kao iTunes ekskluziva će biti objavljene 4 studio verzije remixeva s turneje!
#11 album news update
Na svom Twitteru Kylie je potvrdila glasine kako radi sa Stuartom Priceom!
OK!!! It's official...My producer in the studio this week has been....the amazing Stuart Price!!!! Having fun and making magic :)
Stuart Price najpoznatiji je po njegovu radu s Madonnom te drugim umjetnicima kao što su Missy Elliott, The Killers, Gwen Stefani, Seal, Keane, Frankmusik...
twitter.com/kylieminogue