Kylie je danas nastupila i dala intervju na Britanskom TV showu "Paul O'Grady". 'Get Outta My Way' nastup možete pogledati na playeru ispod a intervju će biti dodan kad bude postavljen online!


Kylie je jučer nastupila na izboru za Miss Italije gdje je izvela 'All The Lovers' i 'Get Outta My Way'!




THE SHOWGIRL RETURNS: EXPECT TO BE WOW'ED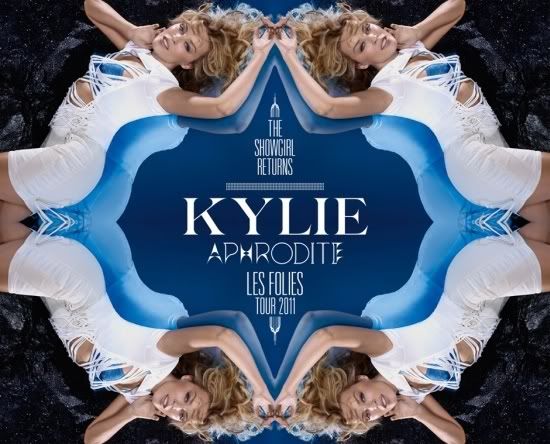 Jučer je i službeno najavljena 'Aphrodite - Les Folies' turneja koja započinje sljedeće godine!
Turneja, kako je objavljeno u priopćenju za medije, obećava da će apsolutno obilježiti Kylienu karijeru. Kylie namjerava stvoriti spektakl uživo koji će nadmašiti njezine prijašnje nevjerojatne turneje.
Za sada su objavljena 22 datuma u Europi te se očekuju novi. Listu najavljenih koncerata turneje možete pogledati ispod.
Pretprodaja ograničenog broja ulaznica za veći dio datuma biti će održana sutra dok za javnu prodaju više informacija potražite na službenoj stranici
kylie.com
!
Saturday 19th February 2011 Herning Arena, Herning, Denmark
Tuesday 22nd February 2011 Hartwall Arena, Helsinki, Finland
Wednesday 23rd February 2011 Saku Arena, Tallin, Estonia
Friday 25th February 2011 Arena Riga, Riga, Latvia
Saturday 26th February 2011 Siemens Arena, Vilnius, Lithuania
Monday 28th February 2011 o2 World, Hamburg, Germany
Tuesday 1st March 2011 o2 World, Berlin, Germany
Friday 4th March, 2011 Arena, Leipzig, Germany
Saturday 5th March 2011 Olympiahalle, Munich, Germany
Sunday 6th March 2011 SAP Arena, Mannheim, Germany
Saturday 12 March Palau Saint Jordi, Spain
Wednesday 9th March 2011 Hallenstadion, Zurich, Switzerland
Friday 18th March 2011 Koenig-Pilsener-Arena, Oberhausen, Germany
Saturday 19th March 2011 Lotto Sportspaleis, Antwerp, Belgium
Tuesday 22nd March 2011 The O2, Dublin, Ireland
Wednesday 23rd March 2011The O2, Dublin, Ireland
Monday 28th March 2011 Glasgow SECC, UK
Tuesday 29th March 2011 Glasgow SECC, UK
Friday 1st April 2011 Manchester Evening News Arena, UK
Saturday 2nd April 2011 Manchester Evening News Arena, UK
Thursday 7th April 2011 London o2 Arena, UK
Friday 8th April 2011 London o2 Arena, UK
Video spot za drugi singl s albuma 'Aphrodite', 'Get Outta My Way' procurio je sinoć, nekoliko sati prije današnje službene premijere.

Video spot kojeg su režirali AlexandLiane koristeći projekcije uživo tvrtke Freider Weiss Head možete pogledati na playeru ispod.
Nažalost, službenu HD verziju video spota koja se nalazi na YouTube-u se ne može gledati iz Hrvatske i ostalih zemalja gdje je video blokiran, ali zato na forumu možete skinuti video u visokoj kvaliteti -> kylie.go-forum.net