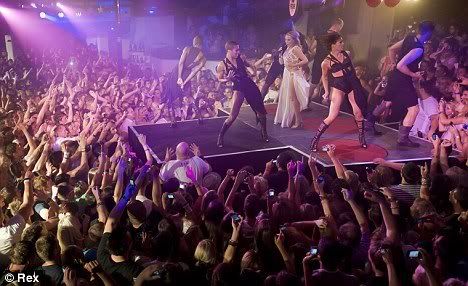 Jučer je na Španjolskom otoku, Ibizi održana press koncerencija za svjetske medije povodom izlaska Kylienog 11. studijskog albuma "Aphrodite"!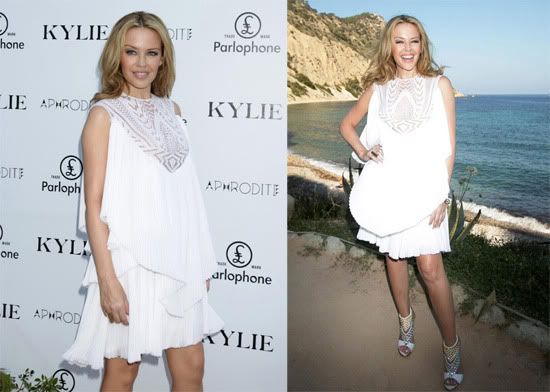 Nakon koncerencije održane na vrhu litice uz zalazak sunca, Kylie je proslavila svjetski izlazak albuma "Aphrodite" nastupom u poznatom klubu Pacha u 3h ujuto, gdje je uz svoje plesače/plesačice zabavljala prepun klub.
Dio konferencije i nastupa možete pogledati ispod na službenom kylie.com videu!
Kylie.com: GODDESS KYLIE ROCKS IBIZA!

Following a cliff top press conference at sunset with the world's media on the Spanish island of Ibiza yesterday evening, Kylie celebrated the worldwide release of her album 'Aphrodite' at the iconic Pacha Club in Ibiza Town at 3am this morning!

Like a true goddess, Kylie had the crowd in the palm of her hand as she whipped them into a frenzy during a mesmerizing performance.

'Aphrodite' is set to storm the charts the world over and is currently #1 on the UK mid-week charts.


"Aphrodite" chart update
Navodno po 'midweeks' listama "Aphrodite" se nalazi na prvom mjestu u osam zemalja!
Dok ta informacija nije potvrđena, za sada je jedno i najvažnije za Kylie sigurno, 'Aphrodite' se nalazi na prvom mjestu midweeks ljestvice u Velikoj Britaniji!
U samo jednom danu album je u UK prodan u 32,632 primjeraka što bi mu trebalo osigurati prvo mjestu u nedjelju kad službena top ljestivca bude objavljena!
Na 'dalekom' drugom mjestu je Eminem čiji se album u posljednja dva dana prodao u oko 14.000 primjeraka.
Ako 'Aphrodite' ostane na prvom mjestu biti će to Kylien peti br. 1 album u Velikoj Britaniji!
Više na forumu ->
kylie.go-forum.net
!