1. studenog, u Kolumbiji, točnije Bogoti sa početkom u 23:00 sata po lokalnom vremenu Kylie je održala svoj prvi koncert drugog dijela KylieX2008 turneje te ujedno i njezin prvi koncert u Južnoj Americi.
Ni ukradena oprema, ni kiša nije mogla pokvariti odličnu zabavu koju je Kylie pripremila za oko 8.000 prisutnih koji su pjevali i plesali zajedno sa Kylie više od 2 sata.
Za razliku od Europskog dijela turneje show je po svojoj veličini i tehničkom složenošću smanjen; nema ulaska u krugu povezanom žicama, nastupanja na velikoj kosturskoj glavi niti 'Naughty Manga Girl' dijela jer su veliki video zastori nepomični, također nema osvijetljenog poda a dvije manje pozornice za bend koje se inače nalaze sa strane, sada se nalaze na glavnoj pozornici.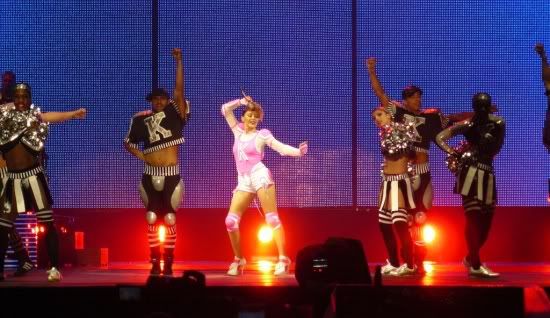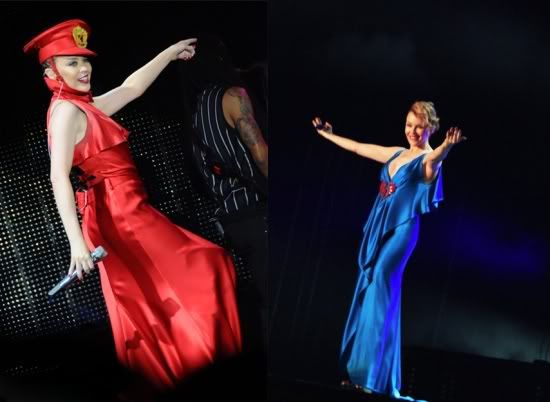 Uvedene su i promjene u listi pjesama koje Kylie izvodi te neki kostimi.
Kylie je dočekala veoma glasna i energetična publika kakvu se nemože svugdje vidjeti, iako je kiša neko vrijeme padala nije im smetalo da pjevaju i plešu uz Kylie preko 2 sata da bi i na kraju željeli još više.
Prvi dio showa, tj ulazak na scenu promijenjen je te tako sada se Kylie pojavi iza zvučnika koji se na početku razdvoje te se i kasnije se njihov raspored po sceni mijenja. Također Kylie nosi novi kostim u ovom dijelu.
U drugom dijelu kostim više nije plave nego roze boje.
Ulaz na scenu za Like A Drug je također promijenjen, Kylie i plesači se pojavljuju iza nekakvih rešetki na pozornici.
Bis je razdvojen na dva dijela te su dodane dvije pjesme, obrada pjesme 'Somewhere' te 'Better The Devil You Know' koje Kylie izvodi u novom kostimu. U 'Your Disco Needs You' dio koji se izgovara je izgovorila na Španjolskom a nakon toga je i uz pomoć i na oduševljenje publike otpjevala dio Juanesova hita 'La Camisa Negra'.
Sve ostalo je uglavnom slično sa prvim dijelom turneje, koga zanima može više pronaći u arhivi bloga u svibnju!
Setlist:
ACT1:
Speakerphone
Boombox/Can't Get You Out Of My Head
Ruffle My Feathers
In Your Eyes
ACT2:
Heart Beat Rock
Wow
Shocked
ACT3:
Loveboat
Copacabana
Spinning Around
ACT4:
Flower
I Believe in You
ACT5:
Like A Drug
Slow
2 Hearts
ACT6:
On A Night Like This
Kids
Your Disco Needs You (Spanish Version)
Step Back In Time
In My Arms
ENCORE1:
No More Rain
Love At First Sight
ENCORE2:
Somewhere
Better The Devil You Know
I Should Be So Lucky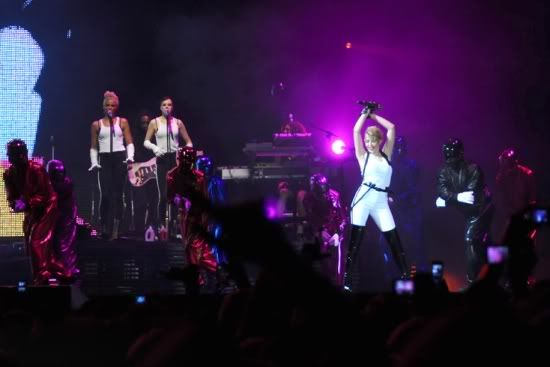 Kylie u Venezueli
Kylie je jučer stigla u Caracas, Venezuelu gdje će večeras održati koncert.
Čini se da i problemi putuju s turnejom, nakon što im je u Bogoti ukradena oprema i putovnice nekim članovima tima, jučer je greškom njihov let za Caracas preusmjeren u 150km udaljenu Valenciju, navodno zbog pogreške posade.
Pogreška je ostavila stotine obožavatelja koji su je čekali na aerodromu u Caracasu te je odgođena i press koncerencija za novinare.
Nakon lošeg početka turneje u Latinskoj Americi, Argentina, zadnja stanica Južno Američkog dijela turneje neće riskirati, obećavajući osiguranje i pažnju kao za članove kraljevske obitelji.
"Uvijek smo osiguranje smatrali veoma ozbiljnim za umjetnike kao što je Lenny Kravitz, za najbolje svjetske nogometaže, te čak za kralja Španjolske. Za Kylie neće biti ništa drugačije,"
izjavio je Marisol Koren, predstavnik Fenix Entertainment Grupe koji su organizatori događaja.
"Imamo opširne planove kako bismo osigurali da je njezin boravak siguran, zadovoljavajući i da show bude uspješan."
Za više slika, videa i ostalih informacija o turneji posjetite forum!

KylieX2008 DVD
Na stranici Play.com objavljeni su detalji u vezi DVD-a KylieX2008 turneje koji izlazi 1.prosinca.
Kako se već od prije znalo DVD će uz cijeli koncert sadržavati dokumentarac nazvan "12 Hours" no ono što će obožavatelje vjerojatno najviše od bonus stvari zanimati su video projekcije iz showa.
Uz to DVD će sadržavati konceptualne dizajne i foto galeriju.
Special Futures

- 12 Hours... in the life of Kylie Minogue - a unique taste of what goes on backstage on a Kylie tour, from waking in the morning to the final encore at the end of the show.
- Stage back-drop projections
- Conceptual Designs
- Photo Gallery

Review

Capturing Kylie Minogue in sensational live form at the end of the European leg of her spectacular KylieX2008 tour at London's O2 Arena in August 2008 and including the previously unreleased Ruffle My Feathers and Flower, this is the Princess of Pop at her very best!

Tracklisting:

1 : Speakerphone
2 : Can't Get You Out Of My Head
3 : Ruffle My Feathers
4 : In Your Eyes
5 : Heartbeat Rock
6 : Wow
7 : Shocked
8 : Loveboat
9 : Copacabana
10 : Spinning Around
11 : Like A Drug
12 : Slow
13 : 2 Hearts
14 : Sometime Samurai
15 : Come Into My World
16 : Nu-Di-Ty
17 : Sensitized
18 : Flower
19 : I Believe In You
20 : On A Night Like This
21 : Your Disco Needs You
22 : Kids
23 : Step Back In Time
24 : In My Arms
25 : No More Rain
26 : The One
27 : Love At First Sight
28 : I Should Be So Lucky