FremantleMedia Enterprises (FME) su objavili stjecanje prava za izdavanje Kyliene trenutne svjetske turneje 'KylieX2008' na DVD-u.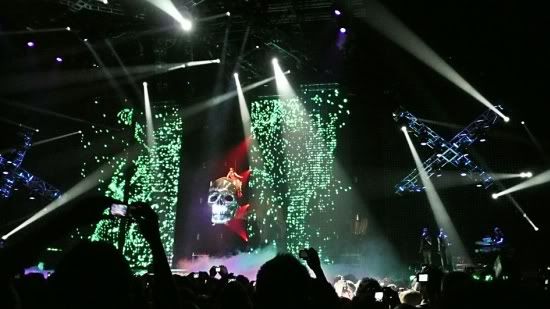 DVD će uz koncert sadržavati i 17 minuta dugi video bonus materijal nazvan "12 Hours" a u Velikoj Britaniji biti će izdan
1. prosinca
, 2008.
KylieX2008 je internacionalna senzacija, 120.000 ulaznica za koncerte rasprodano je u roku od dva sata. Razultat toga je bilo dodavanje još datuma da bi se na kraju prodalo više od pola milijuna ulaznica samo za Europski dio turneje koji je završio u kolovozu.
Uključujući nevjerojatne vizualne efekte, show je koštao 10 milijuna funti, što ga čini najskupljim Kylienim showom do sada. Koncert sadrži Kylien novi bend i 14 energetičnih plesača, plesačica i akrobata. Kylie je odjevena od glave do pete u kostimima Jean Paula Gaultiera tijekom nastupa.
Kylie u showu donosi materijal probran iz cijele karijere, uključujući hitove kao što su "Slow", "On A Night Like This" i "I Should Be So Lucky" te nove pjesme sa posljedenjeg albuma, "X" te neke iznenađujuće obrade.
"12 Hours", ekskluziva ovog paketa, je kratak pregled jednog dana u Kylienom životu, od buđenja ujutro pa sve do bisa na kraju koncerta.
Pete Kalhan, viši zamjenik predsjednika FME-a je izjavio:
"KylieX2008" je bio spektakularan show uživo, jedan od onih u kojima se može uživati više puta, ne samo od strane Kylie obožavatelja, nego od svih koji cijene glazbu uživo i kreativan nastup."
FME je također ostvario internacionalna prava za dokumentarac "White Diamond", intiman pogled na Kylienu pripremu i ponovno vraćanje na pozornicu "Showgirl Homecoming" turneje. Ovaj DVD nije izdan u Australiji iako je većina materijala kao i koncert snimljena tamo no izgleda da će se to promijeniti.
Ova objava još više povećava sumnju u tračeve koji kruže o tome kako Kylie napušta svoju izdavačku kuću Parlophone, koja je u vlasništvu EMI-a. Zadnjih nekoliko DVD-ova izdani su preko EMI-a.
"X" Tour Edition
Potvrđen je izlazak limitirane "Tour Edition" verzije albuma "X" u Australiji.
Dvostruki CD paket zadržavat će na jednom CD-u standardnu verziju albuma X a na drugom CD-u nalaziti će se remixevi pjesama 2 Hearts, Wow, In My Arms, The One i All I See koji prije nisu izdani na CD-u.
Izdanje će imati i novi cover koji je već viđen na Veliko Britanskom izdanju singla "In My Arms".
Ovo izdanje biti će dostupno samo u Australiji od
29.studenog
!
Popis remixeva na drugom CD-u:
1. 2 Hearts (Harris & Masterson Extended Mix)
2. 2 Hearts (Alan Braxe Remix)
3. The One (Freemasons Vocal Club Mix)
4. Wow (David Guetta Remix)
5. Wow (CSS Remix)
6. In My Arms (Chris Lake Vocal Mix)
7. In My Arms (Steve Pitron and Max Sanna Remix)
8. In My Arms (Sebastien Leger Remix)
9. In My Arms (Spitzer Remix)
10. All I See Featuring Mims (Remix)
Unutrašnjost pakovanja i cd...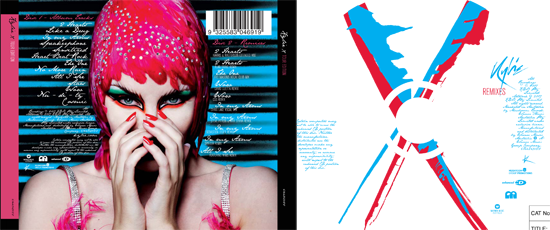 "Najzarazije pjesme"
Dva Kyliena velika hita proglašeni su jednima od "najzaraznijih" pjesama u anketi provedenoj u Velikoj Britaniji.
Na top ljestivci pjesama koje najbrže "uđu u uho" na prvom mjestu se našla Rihanna sa svojim hitom "Umbrella" dok se Kylie dva puta nalazi na ljestvici, na 5. mjestu sa "Can't Get You Out Of My Head" te na 13. sa "I Should Be So Lucky."
1. Rihanna "Umbrella"
2. Abba Dancing "Queen"
3. The Village People "YMCA"
4. Dexy''s Midnight Runners "Come on Eileen"
5. Kylie Minogue "Can"t Get You Out of My Head"
6. Queen Bohemian "Rhapsody"
7. Michael Jackson "Billie Jean"
8. Culture Club Karma "Chameleon"
9. Wham! "Last Christmas"
10. Don McLean "American Pie"
11. Queen "I Want to Break Free"
12. Tom Jones "Delilah"
13. Kylie Minogue "I Should Be So Lucky"
14. The Automatic "Monster"
15. S Club "Don"t Stop Movin""
16. Mika "Grace Kelly"
17. Duffy "Mercy"
18. Chumbawamba "Tubthumper"
19. Human League "Don"t You Want Me"
20. Spice Girls "Wannabe".
Kylie se vraća glumi?
Britanski filmski režiser John Maybury navodno želi Kylie da bude u njegovom sljedećem projektu!
Maybury, koji je ostvario svoj Hollywoodski debi sa filmom "The Jacker" je prije radio na video instalacijama za Kyliene turneje.
"John je rekao Kylie da je počeo pisati scenarij te da želi napisati i dio za nju,"
'Sunday Mirror' citirao je neimenovani izvor.
"Kylie je bila oduševljena. Voljela bi to napraviti."
Kylie je svoju karijeru započela s glumom od kojih je najzapaženija uloga u TV sapunici "Neighbours" te u nekoliko filmova koji se nisu toliko proslavili uz iznimke filma "The Deliquents" i male uloge u hitu Baz Luhrmanna, 'Moulin Rouge'.