Kako to inače biva kad je Kylie viđena s nekim muškarcem...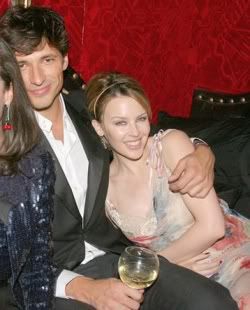 Tportal:
"Kylie zaljubljena u španjolskog supermodela"
Kylie Minogue, čini se, ponovo ljubi. Njezin odabranik je 30-godišnji španjolski supermodel Andres Velencoso.
Par je viđen zajedno na proslavi 36. rođendana Dite Von Teese u noćnom klubu Milliardaire u Parizu. Tijekom večeri nisu se odvajali, izmjenjivali su sitne nježnosti i pričali.
Sitna prelijepa pjevačica cijele večeri izgledala je kao da se vrlo dobro zabavlja što je pokazala i na plesnom podiju. Iako je deset godina starija od njega, Kylie izgleda puno mlađe od svojih 40 godina.
Velencoso je ime u svijetu mode izgradio radeći za modne kuće kao što su Chanel i Jean-Paul Gaultier, a prijateljuje s top modelima Gisele Bundchen i Dariom Werbowy.
Iako je kraljica zabave trebala biti slavljenica Dita, Kylie ju je nadmašila.
"Bila je to Ditina zabava, no Kylie je definitivno bila glavna zvijezda večeri. Ljudi su se okretali za njom i pitali se tko je taj muškarac s kojim je. Niste ih mogli ne zamijetiti"
, rekao je jedan od sudionika zabave.
The Winner Takes It All preview
Na stranici HeatWorld premijerno je objavljen jedno-minutni isječak dueta Minogue sestara, Kylie i Dannii.
Kao što je već ranije objavljeno radi se o disco obradi pjesme "The Winner Takes It All" koju u orginalu izvodi grupa Abba.
Pjesma je obrađena za BBC-evu humorističnu seriju "Beutiful People" koja se nedavno počela prikazivati.
U seriji, duet će se moći čuti u četvrtoj epizodi a prije toga, točnije 20.listopada moći će se kupiti na soundtracku serije.
Isječak možete poslušati ovdje!
Kylie sings to Alexandre de Betak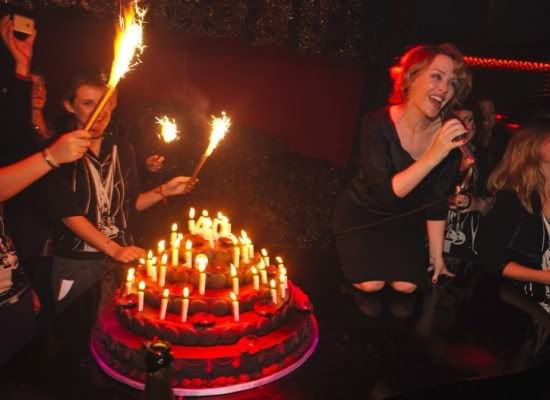 Prošlog vikenda u Parizu Kylie se pojavila na proslavi rođendana Pariškog "kralja" produkcije modnih pista, Alexandrea de Betaka, koji je rekao je je bio "presretan" što mu je "Sretan Rođendan" opjevao nitko drugi nego Kylie Minogue na njegovoj proslavi rođendana prošle nedjelje na kraju Pariškog tjedna mode.
"Kylien seksi "Sretan Rođendan" dao mi je još energije za sljedećih 10 godina,"
izjavio je de Betak.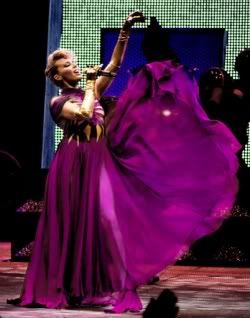 KylieX2008 update
Drugi dio Kyliex2008 turneje i dalje se širi, dodano je još datuma za Azijski dio turneje:
23.11.2008. -
Bangkok
- Impact Arena
25.11.2008. -
Singapore
- Indoor Stadium
29.11.2008. -
Shanghai
- Hongkou Stadium
04.12.2008. -
Taipei
- Soccer Stadium
Za drugi dio turneje koji obuhvaća Južnu Ameriku, Aziju i Australiju za sada je potvrđeno 19 koncerata što je sve ukupno 72 koncerta na KylieX2008 turneji ali očekuje se još novih datuma!