Kylie se jučer pojavila na proslavi 36. rođendana Dite Von Teese.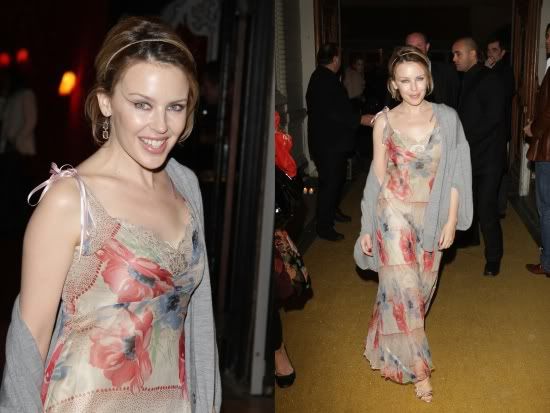 Na proslavi rođendana - koji je zapravo bio tjedan ranije - na Fendi 'O' zabavi u 'La Milliardiaire' klubu u Parizu uz Kylie su se pojavile još neke zvijezde s A liste.
"Ne izlazim često, ali Ditin je rođendan,"
izjavila je Kylie, dodavši kako njih dvije cijene jedna drugu
"kao jedna 'showgirl' drugu!"
"Puštaju neke dobre stare stvari, što je dobro za nas starije žene,"
našalila se, dodajući kako uživa u zadnjem tjednu prije nastavka njezine svjetske turneje.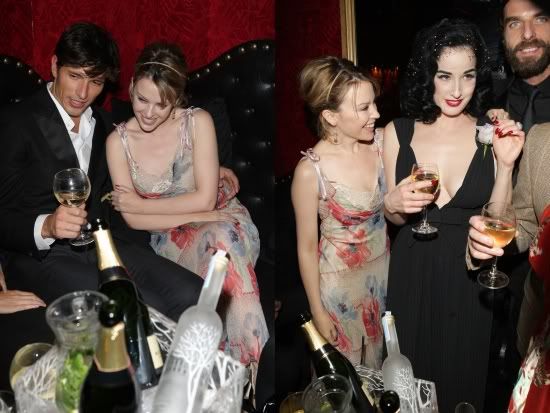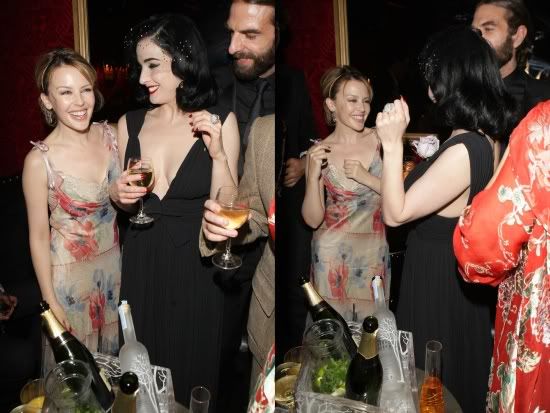 Više HQ slika na forumu -
kylie.go-forum.net
'Beautiful People' soundtrack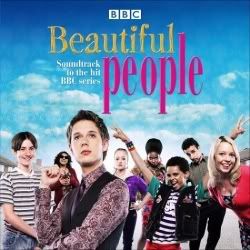 Objavljen je popis pjesama za soundtrack nove BBC-eve humoristične serije 'Beutiful People' te je tako ujedno i potvrđeno da su sestre Minogue snimile duet, kako je već ranije objavljeno radi se o obradi pjesme "The Winner Takes It All" koju u orginalu izvodi grupa Abba.
Na soudtracku koji izlazi 20.listopada će se pojaviti još jedna Kyliena pjesma a radi se o Kylienom hit singlu iz 1994., "Confide In Me".
Postoje i glasine da će se Kylie imati i gostujuću ulogu u jednoj epizodi ali ništa nije potvrđeno. "The Winner Takes It All" će se moći čuti u trećoj ili četvrtoj epizodi serije!
Tracklist:
1. Beautiful People Theme - Dan Gillespie Sells with The BBC Concert Orchestra
2. The Winner Takes It All - Dannii & Kylie Minogue with The BBC Concert Orchestra
3. Work [Freemasons Radio Edit] - Kelly Rowland
4. Jolene - Sophie Ellis-Bextor
5. So Macho - Sinitta
6. Yes Sir, I Can Boogie - Baccara
7. I Know Where It's At - All Saints
8. She's Gone - The Feeling
9. Sometimes I Need You - Sam Taylor
10. Moving On Up - M People
11. Ooh Aah... Just A Little Bit - Gina G
12. Something Better Than This - Frances Barber, Luke Ward-Wilkinson & Layton Williams with The BBC Concert Orchestra
13. I've Never Been To Me - Charlene
14. Things Can Only Get Better - D:Ream
15. Don't Cry Out Loud - Melissa Manchester
16. Confide In Me - Kylie Minogue
17. Spice Up Your Life - Spice Girls
18. Run Away - Sam Taylor with The BBC Concert Orchestra
19. Somewhere - Pet Shop Boys
20. Beautiful People - Dan Gillespie Sells
Kylie inspirirala Paris Hilton
Paris Hilton još jednom je izjavila kako je Kylien obožavatelj. Ovog puta je izjavila kako je Kylie inspirirala njezin novi album.
"Bila sam vrlo inspirirana Kylie Minogue. Obožavam je, jednostavno volim taj Europski dance zvuk.
Prošli album je bio skroz hip-hop a ovaj je skroz drugačiji,"
izjavila je Paris govoreći o nadolazećem albumu.