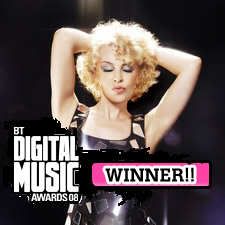 Čestitke Kylie i njezinom timu koji je zaslužan za Kylie Konnect i Kylie.com za njihovu trijumfalnu večer na '
BT Digital Music Awards
' gdje su osvojili dvije nagrade!
Kylie je proglašena 'Najboljom Pop Umjetnicom' dok je njezina stranica Kylie Konnect dobila nagradu u kategoriji za 'Najbolju inovaciju'!
Naime, njezin web site Kylie Konnect (
Kyliekonnect.com
) je bio prvi site takve vrste koji je fanovima omogućio da na njemu otvaraju i uređuju svoje profile i tako komuniciraju s njom.
Kylie se nije pojavila na dodjelama već je preko video poruke zahvalila svom timu i obožavateljima na potpori.
"Jako sam sretna što sam dobila ovakvo priznanje. Stvarno sam ponosna što sam prvi umjetnik koji ima jedan takav interaktivni site, nadam se da će te se fanovi nastaviti dobro zabavljati s njim"
, izjavila je Kylie.
Best Pop Artist in association with More magazine
Winner: Kylie
Shortlist:
Alphabeat
Sam Beeton
The Hoosiers
The Ting Tings
Best Innovation
Winner: Kylie Konnect
Shortlist:
MusicStation
People's Music Store
Sellaband
U-myx
Kylie snimila scene za 'Horne and Corden'!
Prije nekoliko dana, na lokaciji u Londonu Kylie je snimila scenu za novi BBC3 skeč show, "Horne and Corden".
U snimci paparazza, u jednoj sceni može se vidjeti kako Kylie trči za Mathew Horneom u elegantnoj odjeći sa vrećicama iz shoppinga.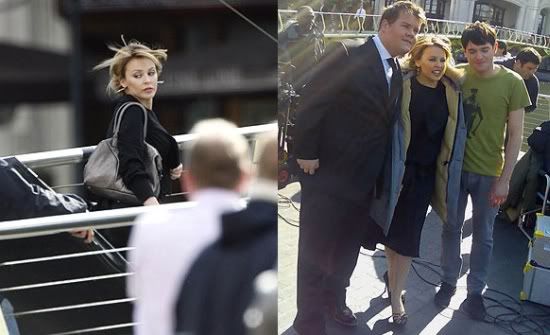 Show će biti prikazaj u veljači sljedeće godine!
Paparazzi snimku i više slika sa snimanja možete pogledati
ovdje
!
Kylie mjuzikl?
Britanski tabloid 'The Sun' nedavno je objavio članak o tome kako Kylie piše mjuzikl.
Kylie piše mjuzikl na podlozi njezinih hitova
Navodno Kylie zajedno sa Australskom spisateljicom Kathy Lette piše dialoge za West End mjuzikl za koji se nadaju da će biti pretvoren u film.
Također, kako 'The Sun' piše, Kyliena sestra - sutkinja u showu X Factor, Dannii - isto pomaže u projektu.
Kathy, 49, navodno je izjavila:
"Složit ćemo sve njezine hitove u jednu odličnu priču. Kylie nikad ne radi nešto bezveze."
Mjuzikl bi mogao stati uz bok We Will Rock You, sa pjesmama grupe Queen te Mamma Mia!, koji se temelji na glazbi Abbe.
Kylie na meti terorista???
Špijuni su navodno razotkrili plan o terorističkom napadu za vrijeme koncerta australske pjevačice Kylie Minogue u Ujedinjenim Arapskim Emiratima.
Prema pisanju Daily Stara, britanski špijuni trenutno istražuju prijetnju koncertu, koji bi se trebao održati za vrijeme otvaranja hotela Atlantis u Dubaiju - 20. studenog, gdje će Kylie nastupiti ispred 2000 gostiju na najvećoj zabavi ikada, prenosi DigitalSpy.
"Vjerujemo da teroristi planiraju izvesti napad u Ujedinjenim Arapskim Emiratima"
, rekao je glasnogovornik britanske ambasade u toj zemlju, dodavši da bi se napadi mogli dogoditi bilo gdje u bilo koje vrijeme, uključujući i mjesta koja posjećuju turisti.
Kylie će zaraditi 2 milijuna funti za nastup od 60 minuta u hotelu Atlantis u Dubaiju!