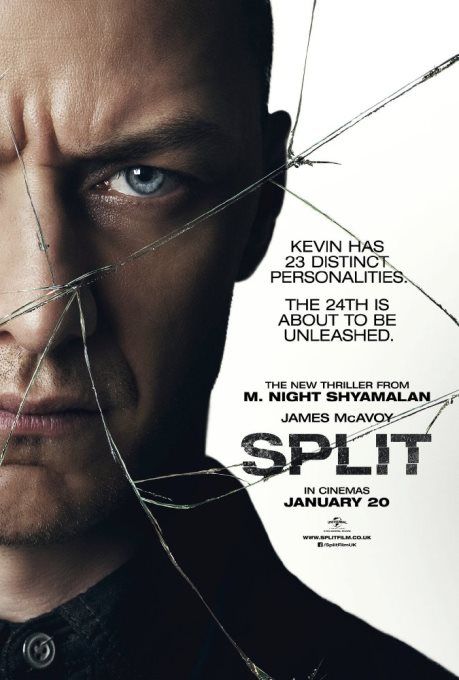 Sve u svemu: 4 / 5

Više o filmu: Imdb.com
Video

Tri mlade djevojke otete su i zatvorene na nepoznatoj lokaciji od strane osobe kojoj je dijagnosticirano 23 različite ličnosti. Provodeći vrijeme s njim, moraju skužiti koja od tih ličnosti im je spremna pomoći, prije nego se rodi nova, 24. i najgora ličnost...




Vratio nam se M. Night Shyamalan. Nakon njegovih neuspjelih pokušaja koketiranja s raznim sf podžanrovima s filmovima kao što su After Earth, The Happening, The Last Airbender i slični, dostavio nam je horor triler The Visit kojega još nisam gledao (nakon ovoga planiram uskoro), a krajem 2016. godine - Split. Marketinški prilično dobro najavljivan film, Split je dokazao kako nam Shyamalan ima još puno toga za pokazati, a na neke se svoje prijašnje uratke i vraćati. Da vam sada ne spoilam puno, reći ću vam samo da Split dijeli univerzum filma Unbreakable iz 2000. godine, dobro poznatog redateljevog uspjeha, a navodno će biti riječi i o trećem dijelu.
Zarobljene tri mlade djevojke nastoje na sve moguće načine pobjeći otmičaru (James McAvoy) koji ima poremećaj ličnosti te mu je dokazano njih 23, dok se on sam kao lik priprema na stvaranje i pojavu nove, 24. persone koja je jača, opasnija i ubojitija od svih njegovih dobrih i zlih prethodnika. Zvuči dobro, zar ne? Inovativan način prikazivanja jednog psihološkog trilera s primjesama horora (horor nije u fokusu), koji mi nekako i pristaje uz Shyamalanovo dosadašnje stvaralaštvo, gdje je bez daljnjega produkcijski film upakovan u skup projekt koji je kvalitetnim snimanjem i kvalitetom općenito opravdao sva moja očekivanja te je unatoč nekim minornijim rupama u scenariju, Split čvrst dokaz da nam Shyamalan još može puno toga pokazati u budućnosti.





Odličan James McAvoy, koji bi trebao biti nominiran za jednog od ovogodišnjih najboljih glumaca zasad, još jednom je potvrdio kako se odlično praćenje dobrog scenarija i duboko ulaženje u lika (u ovom slučaju puno više njih) uvijek može isplatiti, pogotovo kada je riječ o ovako uspješnom i talentiranom škotskom glumcu. Međutim, odličnog glavnog antagonistu, a valja pohvaliti i odličnu glavnu glumicu Annu Taylor-Joy (The Witch, Morgan) kao i Betty Buckley, treba pratiti narativno vrlo dobro osmišljen scenarij, a ni ne čudi me njegova kvaliteta, s obzirom da je redatelj skicirao ideju ovog filma još prije petnaest godina. Osim toga, film je super snimljen, dinamičan je i ni u kojem trenutku zamoran, konstantno se događaju nove situacije koje zadržavaju napetost i neizvjesnost, a dobri i pamtljivi dijalozi samo dodatno pospješuju stvar. No, postoje i oni dijelovi koji mogu biti konfuzni onima koji nisu popratili background story samog filma, no mislim da je čak i prednost da u film krenete s ne previše predznanja, budući da se određene scene stvarno ne mogu očekivati, a i Shyamalan ih je skrivao sve do poslije postprodukcije filma. Nekoliko nelogičnosti i neizvedivih trenutaka ipak su se zadržali u filmu, pa se tako na trenutke može osjetiti nerealnost koja može stvoriti dojam prebrzog slaganja finalnog koncepta, a horor scene u filmu su ustvari i one najslabije, pogotovo pred raspletom događaja.





Split je pokazao kako se kreativna ideja može pretočiti u dobar scenarij, a zatim i u više nego dobar film, dodajte još i kvalitetne glumce i ne bi trebalo biti većih problema, dok će neke mane, naravno, uvijek biti prisutne. Spojite plakate dvaju filmova i dobit ćete povezanost, kao i mnoge kojima možemo svjedočiti tijekom ovog vrlo dobrog horor trilera. Pohvale redatelju na uspješnom filmu, vidjet ćemo dalje.