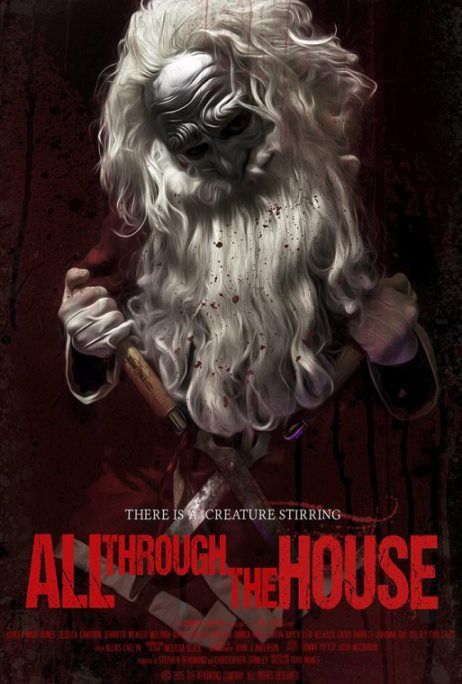 Sve u svemu: 2,5 / 5

Više o filmu: Imdb.com
Video

Uoči Božića, nepoznati ubojica s maskom i odijelom Djeda Mraza terorizira mještane i miče sve na svom putu dok ne dođe do jedne kuće koja skriva jezive odgovore...




Evo nam novi slasher u božićnom ruhu, koji mi tematski jako odgovara i po raspoloženju i po zimskom ugođaju. Ovo je slasher film jeftinijeg izgleda i B produkcije, ako ne i niže, kako sam izvukao jedan podatak da se film snimio za manje od 18 000 dolara, što je naprasno malo. Uzimajući cijelo vrijeme u obzir taj podatak dok sam gledao film, vjerujem da sam u mnogo stvari više progledao kroz prste nego što bih inače radio i mogu reći da unatoč toj jeftinoći i nekim amaterskim potezima, film ima sasvim zaslužen epitet ok slasher filma u novije vrijeme. Osvojio je i podosta nagrada, tipa za najbolji slasher film 2015. godine na RIP Horror Film Festivalu u LA, kao i za makeup, editanje i pojedinačne nagrade redatelju i glumicama. Nikako zanemariv podatak, budući da se još uvijek na internetu ne zna dovoljno za ovaj film, a vjerojatno će njegovo vrijeme baš uoči Božića tek doći. Dakle, što smo tu imali prilike vidjeti? Djed Mraz ubojica po ne znamo koji puta, ali ako bude drugačije napravljen, opet će biti podnošljiv, a mora se reći kako je ovdje i puno više od toga. Jedna klasična priča s blagim twistom koja nosi cijelu radnju i daje neki tobože razlog zašto ubojica radi to što radi, a kroz cijeli film imamo priliku vidjeti silnu količinu ubojstava isprepletenu sa bazičnom radnjom, koja mi nije ostavila gotovo nikakav dojam ili "vau" element.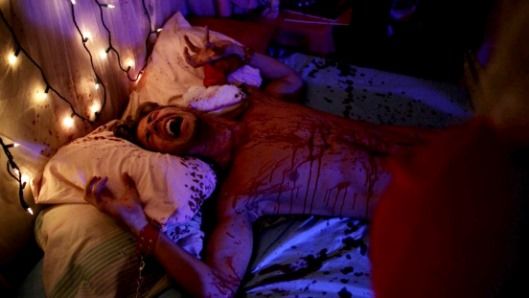 Nelogičnosti startaju odmah na početku, gdje možemo vidjeti tipične greške žrtava kao i u svim slasherima svijeta, tako da se te greške ni ne mogu pripisivati ovome filmu kao veća mana, to je jednostavno tako otkako postoje takvi horori i od toga se teško može pobjeći, u protivnom, od ubojice bi se moglo lako pobjeći. Film u uvodnim dijelovima i scenama ima i neku (ne)namjernu humorističnu notu, koja s vremenom gubi svoj intenzitet i pretvara se u pravi masakr do samog kraja. Da, film je prilično brutalan i ubojstva su možda i najsvjetlija strana cijele priče. Dobar ubojica s interesantnom maskom i škarama za travu siječe oči, vratove, zabija ih u sve pretince glave, a tematski, siječe spolne udove, zašto je tomu tako otkrit ćete na kraju filma. Dakle, neka ubojstva izgledaju jeftino, neka prilično dobro pogode atmosferu, no poanta je da ih ima jako puno i da se događaju prilično često. Krvi u potocima, brutalnost ovdje nije izbjegnuta, a s namjerom je napravljeno tako da se ubija koga se god stigne, jer se u protivnom radnja ne bi mogla razvući na dužu minutažu, a osim toga, za prave horor fanove ubojstva i predstavljaju jedan od ključnih dijelova slasher filma. Što se glume tiče, najbolje je kad u ovakvim hororima borave anonimus glumci koji moraju i ne moraju pogoditi određene scene vlastitim vještinama i gestikulacijama, primjerice, ovdje u globalu imamo ponešto lošiju, plastičnu glumu koja se u samo nekim glumcima nimalo ne odražava, dok su ostali popratili sindrom sitničavosti cijelog filma, dok neki od njih izgledaju kao pravi naturščici.




Ovaj film da je snimljen 80-ih godina bio bi pun pogodak i dugo bi bio pamćen kao jedan od predstavnika žanra uz recimo Silent Night, Deadly Night ili Black Christmas. Ovako, imam osjećaj da neće imati dobru prođu i da ga se neće previše doživljavati, što je u neku ruku i zaslužio, u neku opet nije. All Through the House je prosječan slasher božićni film.