Sve u svemu: 3,5 / 5

Više o filmu: Imdb.com
Video

Leon je mladić koji je od početka doživljavao odgojnu izolaciju svojih roditelja, a koji je veliku empatiju pronašao u lutki koja služi za anatomiju u liječničkom uredu svoga oca. Nevolje kreću kada lutka svojim interakcijama s Leonom počne utjecati na njegov život na veoma negativan način...




Pin je prava definicija psihološkog horora. Horori toga žanra, iako imaju tendenciju ozbiljno uznemiriti gledateljstvo, poznati su i po svojoj izraženijoj pasivnosti koja u nekoliko slučajeva zna prijeći i u blagu dosadu, sve dok se ne približi kraj filma, kada kulminacija događaja krene pokazivati svoju pravu narav radnje. Kod slučaja filma Pin, može se reći kako je negdje na pola između odlaska u monotoniju sadržaja i održavanja neke napetosti. Radnja je sama po sebi dosta čudnovata te postavlja mnoga pitanja, a neka od njih su: je li ovdje riječ o fantasy filmu kada anatomska lutka može govoriti, ili je posrijedi riječ o nečemu drugom? To se kroz film skladnom naracijom može otkriti i to je jedan od najbitnijih dijelova zbog kojih sam zavolio ovaj film - pametna, spora i skladna naracija koja kronološki upućuje na veoma neočekivan rasplet događaja. Ponavljam, iako je film stvarno u nekim trenutcima malo teži za gledati u smislu sporosti, niti jedna radnja nije bezveze snimljena niti je scenarij sadržavao ikakve rupe, sve je smisleno odrađeno i s krajnjim ciljem, samo je pitanje hoćete li si dati truda do toga cilja doći. Redatelj Sandor Stern je, osim ovog filma, imao i snimljen četvrti dio Amityville horror serijala te je napravio screenplay za originalni Amityville, no osim toga nisam primijetio nikakav važniji projekt u njegovom opusu. Ljudska psiha i u ovom filmu nastavlja iznenađivati psihologe svijeta, jer je sadržajnost radnje veoma dobro uputila na mentalne probleme, manjke odgoja i roditeljske ljubavi, odnose brat/sestra i na krajnje granice svjesnosti.




Budući da film teče kronološki s manjim odstupima iz retrospektivnih prikazivanja djetinjstva, ne bih se htio previše zadržavati oko radnje, najbolje je twist na kraju promotriti individualno jer upravo to čini najzanimljiviji dio filma. Svaka pojava Pina, anatomske lutke u filmu, bude zanimljiva te ju jedva čekate doživjeti. Lutka ima indisponiran ravnomjeran glas koji kroz komunikaciju zvuči još hladnije, pogotovo kada Leonu govori savjete što da radi i kako da se ponaša prema sestrinom novom dečku, svojoj djevojci itd. Postoji jedna veoma dobra scena, kada lutka u invalidskim kolicima krene ganjati jednu djevojku kroz kuću, a vi ne možete znati gura li lutku Leon u pozadini (vidimo samo da se šeće iza nje), ili se lutka uspijeva nekako sama kretati. Upravo ta neizvjesnost držala me do samoga kraja, kada sam čekao vidjeti što je u pozadini svega toga. Iako se ovo ne može u potpunosti smatrati horor filmom, što je ustvari i šteta, drago mi je da se dogodilo upravo to da je dramatičnost i korištenje psiholoških elemenata ošlo u jeziviju atmosferu koja je stvorila neke hororične elemente, iako krvi ima u decilitrima, a namjernih scary scena u malom omjeru. Osim Pinovog karaktera, valja obratiti pažnju i na odličnu karakterizaciju lika Leona kojeg je utjelovio odličan David Hewlett. Potpuna paranoja, naznaci shizofrenije i odlično odglumljena distanciranost od realnosti jako je dobro poslužilo filmu, tako da, što se tiče cjelokupne glume, možete biti jako zadovoljni.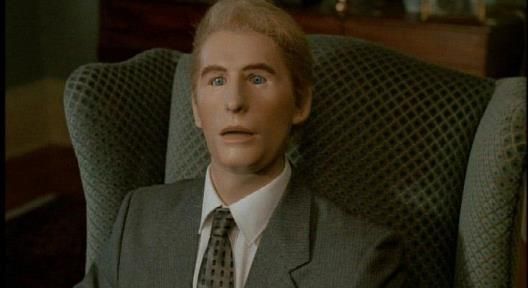 Pin je, sve u svemu, dobar psihološki film sa zanimljivom, iako usporenom radnjom, s dobrim likovima i glumcima te sa zanimljivim krajem. Moglo se nešto dinamičnosti i još ponekih intrigantnijih scena dogoditi kako bi film bio pun pogodak, no trebamo proučavati ono što nam se poslužilo. Tako da, ako volite nešto drugačiji horor osamdesetih, pogledajte ga.