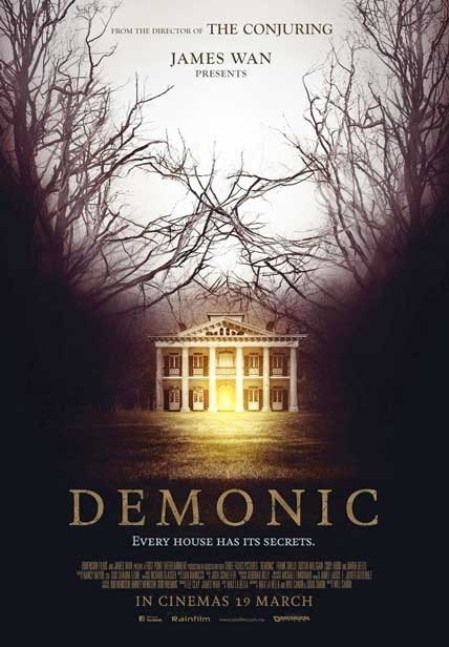 Sve u svemu: 2 / 5

Više o filmu: Imdb.com
Video

Detektiv i psihologinja pokušavaju otkriti uzrok smrti petoro mladih u napuštenoj kući koji su se bavili prizivanjem duhova, u kući gdje se nekad davno odigrao sličan scenarij...




U maniri sličnih filmova sa haunted house temeljem, Demonic upada u široko prostranstvo izgubljenih filmova slične tematike, kojih je već zasigurno u svijetu na desetke tisuća. Klasična špranca nevolja-istraživanje-nevolja-istraživanje-otkrivenje-nevolja (ili spas) već je toliko isfurana i stereotipna da sam po navedenoj šabloni pratio film otpočetka i eto - tako se i dogodilo. S toliko su žara naglasili Jamesa Wana na posteru filma, kao da je on idejni tvorac i redatelj filma, a ustvari je producent i djelo redatelja Willa Cannona krije se iza njegovog imena, dakako. No ni Wan očito nije previše razmišljao o gledateljskoj populaciji koja već ovakve oblike horora ima u malome prstu i kojima je već do grla došlo ponavljanje referenci na raznorazne starije filmove, a razvojem industrije, došli smo do inflacije sličnih ne tako skupih filmova koji kopiraju kopirante, i tu žanr generalno dolazi do problema. Nećemo nešto puno dužiti o ovome filmu, ovo je veoma viđen film koji se bavi prizivanjem mrtvih u napuštenoj kući gdje se tu i tamo pojavi koja scary utvara kako bi održala napetost i cimalice, a bezidejne cimalice su one najgore. Sve u svemu - očekivao sam ipak nešto više od filma, ne tako ispraznu radnju i tako slabo realiziranu, ipak nešto dorađenije i smislenije, no nisam dobio što sam htio i zato je ocjena adekvatna.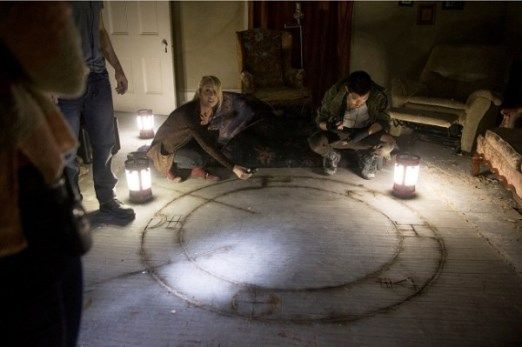 Iako se još 2011. ovaj film trebao zvati House of Horror, 2013. godine shvatili su da je čak i naziv filma preobičan i previđen pa su tako stavili u nešto puuuno interesantnije - pazite riječ Demonic, nevjerojatna složenica ničega. Kroz film se neprestano rade scare tactics tako što mladi (koji su btw jedni od bijednijih glumaca što sam vidio) nisu previše u dobrim odnosima jer su se na avanturu istraživanja kuće i pravljenja seanse uputili ni manje ni više nego cura i dečko, njen BIVŠI, jedan kao iskusniji tehnofreak i još netko, čak se ni ne sjećam više tko, i nakon što su se oni malo malo svađali i prepirali, tako jedno po jedno nestaju, a nitko ne zna točan uzrok što bi to moglo biti. I kao da nisu već dovoljno hrabri da uđu u takvu kućerinu, oni odluče nakon mnogih zatvaranja vrata, gašenja svjetla i slično - ostati. OSTATI, kako je to moguće uopće scenirati a da bude realistično odglumljeno? Tko možet biti toliko lud i hrabar da se dovede u mogućnost okončavanja vlastitog ili tuđeg života s 20 i nešto godina? Osim mnogobrojnih rupa u scenariju, moram priznati da efekti i nisu toliko loši, nisam primijetio ikakve greške na tom polju, osim isfuranosti pojave starih baba duhova koje nemaju veze s pričom ali eto neka se tu nađu, bacanja raznih stvari i podrhtavanja kuće. Sam nekakav twist filma prožet je bedastoćama koje uopće nisu dobro ni prikazane, ni nekim većim dokazima potkovane, sve se svodi na prepričavanje događaja i na klasično ponavljanje filmova početkom 2000-ih.




Demonic je stvar za zaobići, budući da nećete ništa drugačije vidjeti ako pogledate i neke poznatije i bolje filmove slične tematike, prizivanje, okultno, napuštena ukleta kuća etc...Ovo je baš tipičan primjer filmova koji nemaju svoje 'ja'.