Bedasta i slobodno rečeno loša filmska godina kakva jest, iz dobro znanih razloga, odgodila je brojne horor naslove koji su trebali biti vani i spremni za ovogodišnji Halloween. Međutim, ne treba gubiti nadu - i dalje su se pojavljivali naslovi za koje mogu reći da sam ih neko vrijeme iščekivao, a i uvijek se ima starije za pogledati ako već ne nalazite satisfakciju u gledanju ne toliko razvikanih novih naslova. Tako sam pred Hallowen 2020. odlučio pogledati još 4 naslova i tako zatvoriti listopadski krug:

Books of Blood (2020)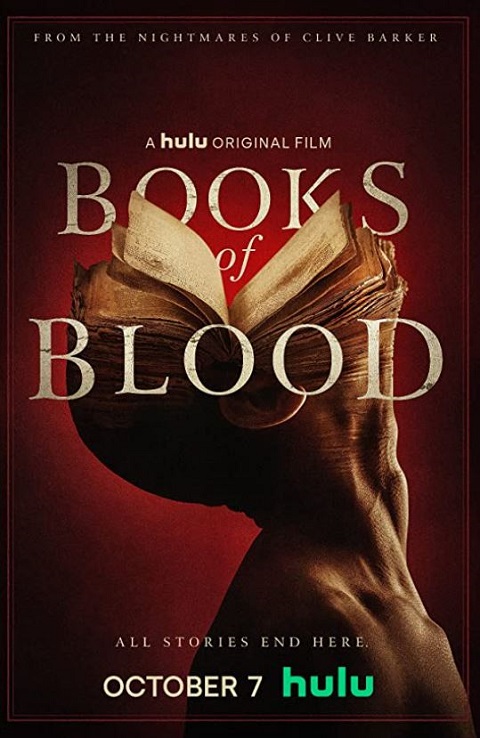 Sve u svemu: 3 / 5

Više o filmu: Imdb.com
Video

Putujemo kroz tri međusobno isprepletene priče koje otkrivaju ljudski odlazak u zabranjene sfere smrti i mortaliteta...
Druga adaptacija popularne knjige "Books of Blood" horor kreativca Clivea Barkera - prva se dogodila 2009. godine s istoimenom ekranizacijom. Ovoga je puta riječ o TV filmu, dakle nije zaživio u kinima, a kreirao ga je Brannon Braga, a sam autor novele Clive Barker uskočio je kao producent. Ovdje dobivamo na antologijski način tri priče koje stvaraju kohezivnu naraciju, iako su izmijenjene originalne priče iz knjige, nadodalo im se ponešto dodatnih supernatural elemenata (a dio se izbacio) radi što prikladnije filmske adaptacije. E sad, jesam li dobio što sam tražio od tih priča? Više ne nego da. Prva priča vrti se oko djevojke koja bježi od roditelja jer je u strahu da njeno nestabilno ponašanje i emocionalni krah pomiješan s mizofonijom ne pošalju psihijatru, a onda u bijegu dolazi prenoćiti u kuću koja krije užasne tajne u svojim zidovima...da ne nastavljam dalje, ovdje je riječ o jednoj stvarno jezivoj vožnji koja je bila zanimljiva, napeta, krvava, morbidna, s nekoliko pretjeranih scena naravno, ali dostojno da bude jak dio jedne antologije. Kako ide druga, pa treća priča koja sve uokvirava, moram priznati da sam lagano gubio interes, iako sam htio saznati na koji je način sve povezano na kraju, no mora se reći da je okosnica cijele priče po meni uvjerljivo prvi dio filma. Povezuje se sva na neki tanak način, a i pošto je TV film u pitanju - nismo doživjeli klasični barkerovski stil gorea pomiješanog s erotikom - možda ovoga puta i bolje. Books of Blood je sasvim ok filmić za pogledati oko Halloweena, s nekoliko dojmljivih scena, no ne ide dalje od toga, niti je imao taj kapacitet.

Host (2020)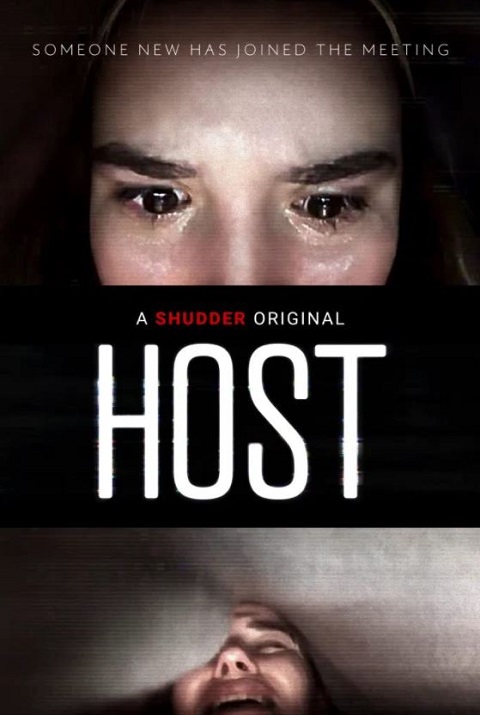 Sve u svemu: 3 / 5

Više o filmu: Imdb.com
Video

Tijekom pandemije i lockdowna šestero prijatelja nađe se na Zoom razgovoru sa ženom koja će održati seansu prizivanja duhova...pogađate - Zoomu će se brzo pridružiti neželjene pojave...
Found footage stil snimanja nikad neće dosaditi, barem kod mene, koliko god bilo loših pokušaja imam taj neki mazohistički poriv da im konstantno iznova posvećujem pažnju, još ako vidim da je nešto bolja ocjena i iznad prosjeka, pfffff pali odmah...dakle, COVID-19 karantena, dosadno ljudima, što će raditi, idu prizivati duhove putem Zooma...zvuči smiješno i glupasto, ali eto, svašta čovjeku padne na pamet u izolaciji...film traje 50 i nešto sitno minuta, taman toliko da se snimi ovakvo djelo koje inače u potpunosti montirano u Zoom aplikaciji, što je jako pohavno, inovativno i zabavno. Host je prilično creepy film jer preko više ekrana gledate što će se dogoditi u određenoj sceni, ima tu i dosta pozadinskih stvari koje se događaju...na kraju mi se ipak nije svidjela predvidljivost koja je prevladala uratkom - iako je film stvarno odlično odglumljen, ponekad se vidjela pretjeranost ili preblaga reakcija, no ajde, može proći, pošto da su ugasile laptop ili mobitel, ne bi bilo ni filma niti dojmljivo. Na kraju krajeva, ništa posebno, osim načina snimanja i korektne naracije, ali dajte priliku, 50 minuta vremena će vam ukrasti, a vidjet ćete dojmljiv način snimanja i solidnu atmosferu, pa makar ona bila prenesena online putem.

The Mortuary Collection (2019)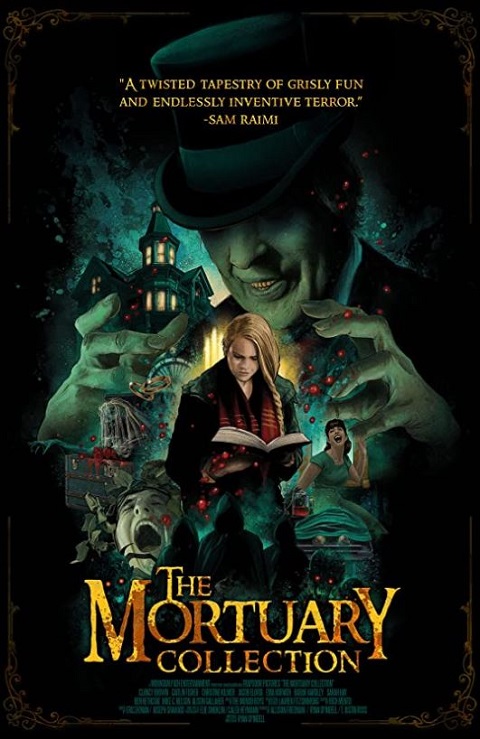 Sve u svemu: 3,5 / 5

Više o filmu: Imdb.com
Video

Kandidatkinja za posao dolazi u mrtvačnicu i upoznaje se s Montgomeryjem Darkom, pogrebnikom koji će ju uvoditi u posao pričanjem nekoliko priča o tragičnim i krvavim sudbinama ljudi koji su završili u toj mrtvačnici...
Još jedna horor antologija (veliki sam njihov pristalica) dolazi nam taman pred Halloween, u režiji Ryana Spindella, gdje creepy pogrebnik prepričava priče umrlih u Raven's End mrtvačnici. Priče idu decenijama kronološki - 50e, 60e, 70e, a sve su ispričane, moram priznati, na prilično dobar, drugačiji, morbidan i taman način. Sve su priče prilično bizarne i morbidne, možda i ne za one koji nisu navikli na ovakav pristup filma strave, a sada da ih ne opisujem redom, samo ću vam reći da ako ste ljubitelj antologija, da im date priliku. Naravno, svaka ima svoje manjkavosti, no zanimljiva je poveznica koja ih isprepliće, a to je mantranje o karmi i kako nas uvijek na kraju zadesi zlo koje sami počinimo. Poučno i interesantno, dobili smo i zanimljive efekte, likove, pa i pošten twist na kraju filma u vidu neke poetske pravde...The Mortuary Collection je mračan, morbidan, creepy, drugačiji, ali istovremeno i zabavan, dojmljiv, pa mogu slobodno reći, s obzirom na budžet, kvalitetan antologijski horor film. Dajte mu priliku, unatoč tome što uvijek postoji tanka granica između posebnosti i razočaranosti tom istom posebnošću. Na vama je.

The Wolf of Snow Hollow (2020)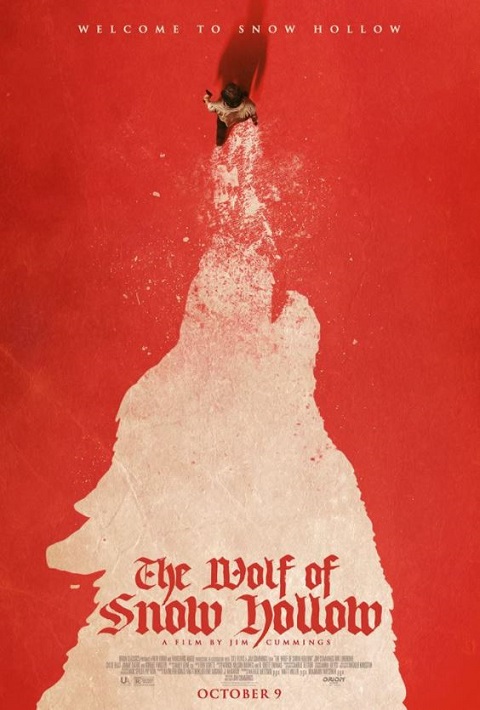 Sve u svemu: 3,5 / 5

Više o filmu: Imdb.com
Video

Snow Hollow, mjesto u kojem se u zadnje vrijeme događaju brutalna ubojstva i kasapljenja tijekom punog mjeseca...
Ovo je film koji se odnekud iznenada pojavio na svim platformama i o kojem moram priznati da nisam nigdje čitao prije toga, radnja je prilično jasna, ali nekako kao da sama po sebi otkriva da nije sve tako kako se čini, tipična ona branša - pun mjesec + ubojstva = vukodlak...redatelj Jim Cummings ovdje je istovremeno i scenarist i glavni glumac te je svoj posao odradio odlično, pa gotovo u svim poljima. Wolf of Snow Hollow uopće nije klasičan horor film, teško i da mogu klasificirati hororom...dobili smo jednu "fargastu" priču o obiteljskim dramama i neuspjesima koja neprestano šalje moralne poruke - jesu li one uspjele zaživjeti, to ovisi od gledatelja do gledatelja. Sve u svemu, preporučam i ovaj triler horor, vjerujem kako ćete barem vidjeti nešto što će vas se dojmiti, jer ponavljam, ništa nije kako se čini.