Sve u svemu: 4 / 5

Više o filmu: Imdb.com
Video

Trojica narkomana i dilera ulaze na groblje kako bi pokupili robu, gdje se susreću s misterioznim čuvarom koji im počinje pričati četiri horor priče s fokusom na (ne)život Afro-Amerikanaca u svom okruženju...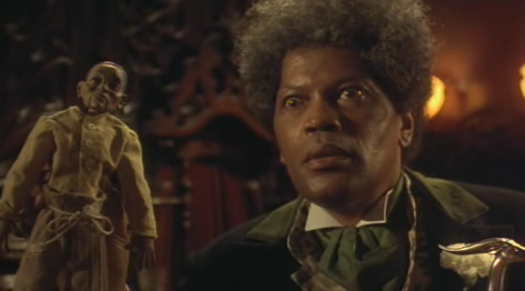 Još jedna horor antologija koju sam vremenom uvijek zaobilazio, a znao sam da nisam trebao, budući da se po plakatu filma može zaključiti kako se radi o urnebesnoj horor parodiji na neke crnačke priče "iz kraja". Međutim, čitajući malo o filmu, shvatio sam da od humora ovdje nema ni H te da je tematika filma ustvari veoma postojana, stvara mnoga pitanja, a i jedno je od temeljnih socioloških problema u svijetu, a riječ je o sveprisutnom rasizmu i ugnjetavanjem ljudi druge boje kože. Taman sam mislio da će mi 420. recenzija imati neku simboliku i da će je ovaj film savršeno moći opravdati, no nema veze - naišao sam na prilično kvalitetnu antologiju prepunu interesantnih priča, a koje se mogu tumačiti i kao direktan hommage filmu iz 1972. godine - Tales from the Crypt omnibusu. Na isti način ljudi dolaze u neko misteriozno i naizgled okultno mjesto i počnu slušati priče koje će ih na kraju ili ubiti ili im promijeniti način razmišljanja. Tales from the Hood bazira se na pričama s poukama, iako su sve priče oštrog i britkog karaktera, upravo kao takve upućuju i daju kritiku i upozorenje na stanje u svijetu devedesetih, a i naravno, danas. Da ne duljimo previše o toj dugopričajućoj tematici, osvrnut ćemo se, kako to i inače biva kad recenziram omnibuse, na sve četiri priče ukratko.




Prva priča zove se Rogue Cop Revelation i govori o mladom crnom policajcu Clarenceu Smithu koji svjedoči brutalnom napadu crnog političkog aktiviste protiv rasizma od strane svojih policijskih kolega. Da stvar bude gora, namještaju mu ubojstvo, a nakon toga mu odlaze na grob urinirati po njemu, sve dok se aktivist ne ustane iz groba i počne okretati priču u svoju korist...zabavan segment na kojemu vas uspije emocionalno dotaknuti policijska, a općenito i ljudska represija nad drugim ljudima, kao i iživljavanje, a onda se sve obrne kada krene makljaža i potoci krvi...jako dobar segment dobiva svog sljedbenika pod nazivom Boys Do Get Bruised. Priča prati malog dječaka Waltera Johnsona koji jednoga dana dolazi u školu s modricama i ozlijeđenom rukom, na što učiteljici odgovara na pitanje tko ga je to udario sa: Čudovište. No, Walter ima i neobičnu moć, a ta je da svakoga koga nacrta, a pri tom papir zgužva, učini da nacrtana osoba pati od neobičnih ozljeda. Nakon što učiteljica otkrije tko je ustvari čudovište, stvari za nekoga postanu pakao, a za nekoga idila...također jako dobar segment, zabavan, edukativan i prilično solidno osmišljen. KKK Comeuppance bazira se na rasističkom senatoru koji kupuje plantažu koja je nekoć bila robovlasnička kuća. Bahatost senatora, nekadašnjeg člana KKK-a ne prestaje, čak ni nakon upozorenja mještana koji govore kako u toj vili stanuju lutke u kojima su duše mučenih robova iz prošlosti...iako ova priča ima jaku poruku, nekako mi je ostala u slabijem dojmu nego prethodne dvije, no osim chuckyjevskih poteza koje lutke interesantno rade i tako djeluju, priča sadrži prilično neobične, ali simpatične efekte. Posljednja, no nikako ne najmanje važna priča, zove se Hard-Core Convert i prepričava priču Crazy K-ja, brutalnog ubojice i nemilosrdnog razbojnika koji nakon beefa sa suprotnom bandom ozlijeđen bude prebačen u zatvor. Tamo se upoznaje s cimerom iz ćelije koji je tvrdokorni mrzitelj obojenih ljudi, kojega Crazy K lupi šakom u lice, nakon čega mu cimer pokušava doznačiti koliko je Crazy K ustvari ljudi svoje rase pobio. Doktor ga stavlja na terapije gdje mu se ukazuju ljudi koje je ubio tražeći od njega iskupljenje i razlog, za koje Crazy K nema relevatan odgovor. Neću vam spoilati cjelokupnu posljednju priču koja je btw prilično teška za skratiti, no ova priča možda najviše udara na emocije po pitanju ljudske zlobe i patnje. Na kraju segmenta, čuvar groblja pokazuje trojici dilera stvar koju nimalo nisu očekivali, no koju, to ćete vi morati, uz blagi twist, saznati.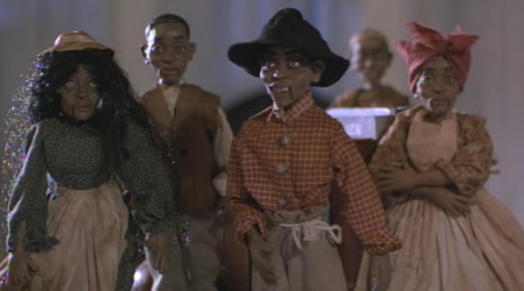 Tales from the Hood je omnibus koji nosi snažne poruke. Možda je upravo zbog toga veoma dobro prošao sa zaradom, a i zbog svoga karaktera, može se lako približiti horor ljubiteljima, ljubiteljima moralnih i socio-pozitivnih poruka i ljudima koji traže dobru scenarističku zabavu. Četvorka je po meni zaslužena, budući da je glavna priča + svaki segment jedna vrlo dobra nakupina simpatičnih i oku ugodnih scena i kadrova. Preporuka ljubiteljima omnibusa.