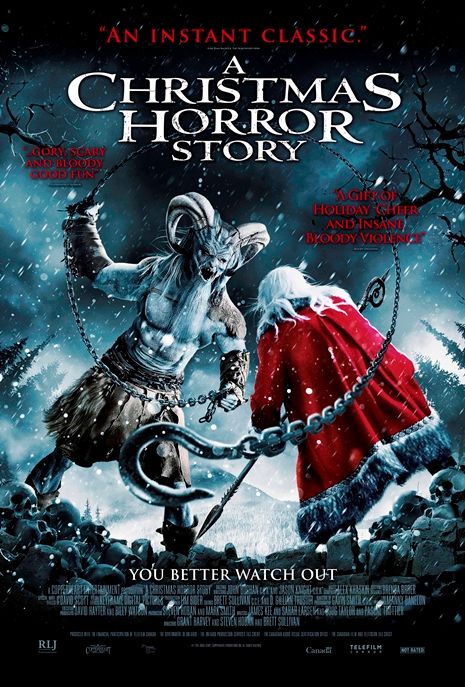 Sve u svemu: 3,5 / 5

Više o filmu: Imdb.com
Video

Hororičan Božić zahvatio je fiktivni gradić Bailey Downs (Ginger Snaps, Orphan Black) gdje nam radijski voditelj nagovještava ljepotu blagdana, dok se na različitim lokacijama događaju tri užasa: Djed Božićnjak susreće se s hordom zombie vilenjaka prije borbe s Krampusom, obitelj nakon krađe bora u šumi doživljava teror od iznenadno agresivnog sina, a ekipa učenika snima projekt u podrumu ustanove gdje se dogodilo okrutno ubojstvo...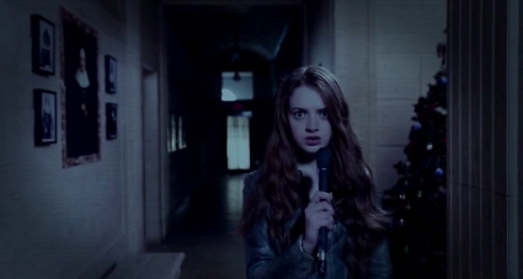 Kad već snijega nema kod nas, vrijeme je da ga barem preko filmova pokušamo doživjeti...a gdje ćemo bolje od dragih nam božićnih horor filmova? A Christmas Horror Story nekakav je oblik antološkog horor filma gdje se susrećemo s tri priče koje prikazuju božićne gadosti, odnosno fiktivne probleme s kojima se susreće praznovjerje za vrijeme blagdana, a i inače. Trojica redatelja zaslužni su za ovaj film, a riječ je o Grantu Harveyu, Stephenu Hobanu i Brettu Sullivanu, ekipi koja je i prije surađivala na već spomenutom Ginger Snaps serijalu, a i radnja ovog filma smještena je u isti gradić kao i tamo. Ako ćemo direktno pucati, mogu reći kako je ovo jedan od boljih božićnih horor filmova u posljednje vrijeme. Dakako, ima ih stvarno dobrih, iz sedamdesetih, osamdesetih, oduvijek, ali ovaj film se uvelike trudi biti poseban i u tome nevjerojatno uspijeva. Tri priče koje se na prvu čine konvencionalne i već viđene zapravo su sasvim ugodno napravljene, jezive, zabavne i snježno atmosferične. U sljedećem će se paragrafu ukratko opisati sve njih, a zatim će se navesti neke tehničke i ostale specifičnosti koje sam zamijetio tijekom gledanja. Priče nemaju narativan slijed, međusobno su isprepletene te ne možete odrediti koja je prva, druga, a koja treća, no možemo ih probati secirati jednu po jednu: počet ćemo s krucijalnom pričom s kojom počinje film, a riječ je o Djedu Božićnjaku koji ulazi u beef s neočekivanom zarazom vilenjaka koji postaju nasilni zombiji, a nakon njih, u vječnu borbu s Krampusom.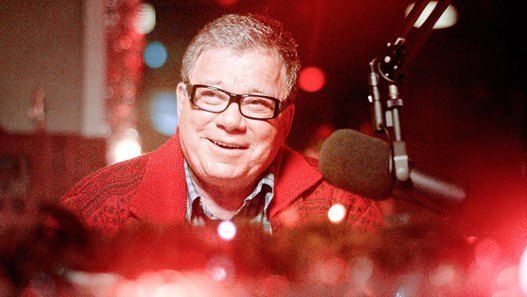 Ovo je možda najautentičnija i najposebnija priča koju sam vidio u posljednje vrijeme, scene s vilenjacima šteta što nisu duže, a i glumac George Buza odlično je odglumio Djedicu koji posjeduje raznorazne borilačke vještine, prava horor komedija iscenirana u krajnje ozbiljnom tonu, s mnoštvom krvi i odličnim splatter scenama. Kako se kroz film protežu ustvari sve priče, tako kao i u telenoveli možemo pratiti i druge, da se na neki način isprekida narativnost, što mi u nekim trenutcima i nije pasalo. Druga priča prati troje učenika kako se prikradaju u ustanovu gdje će snimiti reportažu o ubojstvu koje se tamo dogodilo. Ovo je u potpunosti ghost segment, nema tu previše rovarenja po smislu ili po nekim inovacijama, radnja je jednostavna, eventualno zatrovana već stoput viđenim klišejima, osim što je po nekom mom sudu ovo priča s najviše jezivog sadržaja, kako to i inače može biti u napuštenim podrumima. Ništa posebno nisam zabilježio za izdvojiti, koliko me interesiralo na kakve ću creepy scene naići, toliko me i odbijalo svaki put kad je ta priča došla na red. Sljedeća priča na koju ću se osvrnuti govori o na prvi pogled idealnoj obitelji koja odlazi u šumu ukrasti bor za božićno drvce, no nailaze na teror u šumi kojega ne budu svjesni sve do kulminacije događaja. Ovo je relativno zanimljiva priča i storytelling postaje dinamičniji kako se neobična pojava počinje manifestirati kroz um maloga dječaka. Dobri efekti ne okružuju samo ovaj segment, već cjelokupan film, što me posebno ugodno iznenadilo, iako sam na neki način to i očekivao zbog prethodnih recenzija što sam čitao. I posljednja priča na neki način zaokružuje kompletnu štoriju, a riječ je o obitelji koja autom odlazi od rođakinje te im se vozilo s*ebe usred šume, gdje se u dubini nalazi ogromno rogato stvorenje.




Svašta smo mogli vidjeti u Christmas Horror Story te je svašta radijski voditelj (btw William Shatner) imao za čuti oko nesreća koje su se događale. Ne mogu reći da me se sva logika filma naročito dojmila, ali film mi je unio dašak zimske krvave idile kakvu sam i očekivao, a ono što je najbitnije, zabavio sam se. Ako ste ljubitelji horora na snijegu, zaputite se u ovo novo ostvarenje.