Sve u svemu: 3 / 5

Više o filmu: Imdb.com
Video

Deset 'noćovještičkih' pričica koje se odvijaju u jednom gradiću u istoj večeri, gdje izvanzemaljci, ubojice, čudovišta i demoni napadaju mještane...




Najnoviji horor omnibus koji je izašao nešto prije pravog datuma Noći vještica, no tek sam ga uhvatio vremena prije koja dva tjedna pogledati, a tek sada recenzirati. Dakle, Tales of Halloween je komplet od 10 kratkih priča koje vam veoma brzo prođu, a kroz koje nas vodi Adrienne Barbeau sa svojim narativnim sposobnostima, potpuno slična uloga kao i u Carpenterovoj Magli. U 10 priča ću vam ukratko ispričati što možemo vidjeti u ovom vašaru raznoraznih priča, koje su u nekim trenutcima povezane te se recimo, dok kreće nova priča, u pozadini gradića može vidjeti kako NLO leti, što je naznačilo da se trenutno odvija neka druga priča koju ćemo ili vidjeti ili već jesmo. Počnimo odmah s osvrtima na priče: Sweet Tooth govori o dadilji jednog malog dječaka koja sa svojim dečkom pojede sve dječakove bombone, a dječak nemilosrdno kreće u osvetu. Kratka i brutalna priča koja na neobičan način govori o jednom mitu, a u svojoj kratkoći, možemo vidjeti dobru razradu cijele fabule. Druga priča Darrena Lynna Bousmana bazira se na dječaku koji je pokušao napraviti trick 'r' treat s jednim starijim čovjekom, za kojega se ispostavi da je vrag koji će naučiti dijete prankovskim lekcijama. Veoma simpatična i dosljedna priča, doslovno kratko ali slatko. Treća priča nije mi ostala u nekom pamćenju, osim što znam da se za mlade ljude ispostavlja da su ustvari ubojice djece, a da im se oteta djeca počinju osvećivati. Ništa preposebno, zaboravljivo i već viđeno.




The Weak and the Wicked interesantna je pričica o tipu kojem su nasilnici provalili u kuću, zapalili je, a tim činom i ubili njegove roditelje koji su tamo ostali. Pozvao je demona koji će ga moći osvetiti na brutalan način. Ovo je klasična priča o osveti s jednim prilično solidnim izgledom demona.
Grim Grinning Ghost govori o djevojci koja, preplašena pričama svojih prijateljica, odlazi kući sama, a možemo vidjeti kako iza nje neprestano korača utvara. Ovo je najjezovitiji segment koji možda i najkraće traje, ali s krajem i s preludijem stvara veoma koherentan i hororističan dio cjelokupnog filma.
Šesti segment dotiče se vještice koja proždire djecu, dok njen muž pokušava stati tome na kraj. Potpuno nebitan segment, suvišan u svakom pogledu.
Sedma priča bavi se dekoracijama za Noć vještica, nešto u čemu Ameri klasično prednjače i time se kompleksiraju, a pratimo dvojicu susjeda koji se kreću nadmetati s dekoracijama do smrti. Također, ne vidim poantu segmenta osim što je relativno ok ideja.
Osmi dio omnibusa jedan mi je od najboljih, a svjedočimo deformiranom serijskom ubojici koji ulazi u borbu s izvanzemaljcem koji nije dobio niti jedan slatkiš u svom trick 'r' treat ophođenju. Odličan segment upravo zbog makljaže i one 80s atmosfere slashera pomiješane s intrigantnim i simpatičnim efektima.
Deveta priča oda je ponovnom otimanju djece, ovoga puta dječaka kojeg su oteli pljačkaši kako bi ucijenili njegovog bogatog roditelja, no stvari kreću u drugom smjeru kada se ispostavi da je dijete izrazito ubojito i nečovječno. Ništa posebno.
Deseta i posljednja priča stavlja točku na i gdje ogromna bundeva napada grad. Ovo je nešto u vidu Chillerame i divovskog spermića, veoma dobra priča prepuna zabave i opuštene zajebancije, komedija se ovdje najviše nadzire i to mi je jako pasalo, unatoč tome što su efekti ubi bože.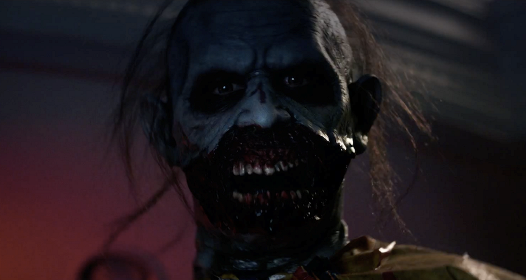 Nekakav zaključak Tales of Halloween omnibusa? Igralo se na kvantitetu, ne toliko na kvalitetu. Najveći problem svega, no inače, veoma simpatičan film prepun zabavnih dijelova, nekoliko loših, nekoliko dobrih priča, no sve u svemu, zadovoljniji sam nego što sam mislio da ću biti.