četvrtak, 31.07.2008.
The Goat experience

Back on the Island of Korcula, in the village of Lumbarda where I spent most of my childhood, I had quite an interesting experience during this summer break. Since I consume lots of goat products, I said to myself that it's about time to milk a goat! And so I went to my grandma's good friend and neighbour and gave it a try. First I observed, but I couldn't wait to give it a try! Well, what can I tell you...It's not that easy! Poor goat. I gave her and myself a pretty hard time. At least I managed to get a little bit of milk out, so I was happy :) And when the lady took cake of it, it was like a machine! You could hear the milk filling the bowl and it looked like a huge cappuccino with all that foam!
What an experience! I tried to drink it later, just as I used to as a child (okay, I would load it up with Nesquick) but...I think I need another try.


ponedjeljak, 28.07.2008.
Croatia in my heart



Even though I'm back in NY already, I feel like I'm still at home. It was a great summer this year and I'm sad it's over! Oh well...I have 6 more weeks until I graduate and my parents are coming over , I simpy can't wait! But hey, remember that I have 2 more years of management ;)

So here I am in Queens, barely keeping my eyes open since it's 4am Croatian time. I had a looong day, let me tell you. My plane had to land in Boston, because there was a big storm in NY, so we were in the plane, for 3 and 1/2 hours! And then we finally took off, but the flight to NYC was probably 1 and 1/2 hours long so now I'm completely exhausted and the ground beneath me is still shaking and my had is spinning. Wohooo, feels like on a rollercoaster!!

Tomorrow I'm off to the CIA as soon as possible, because I have lots to do and get ready for Apple Pie!



petak, 25.07.2008.
Zucchini flowers

I had a chance to pick these beauties when I was in Korčula in our neighbor's garden. I was so excited to get them freshly picked and my grandma was more then happy to prepare them for me! I had them deep fried, which is one of the few things I eat fried. They were fantastic, but I might try cooking them differently next time. You can make a frittata, pasta, sauce, risotto, soup and I don't know what not! Be creative!
I don't think I could make a dessert out of it though...Maybe ;)
If you ever get the chance, I strongly sest you to try them :)


srijeda, 23.07.2008.
Pavlova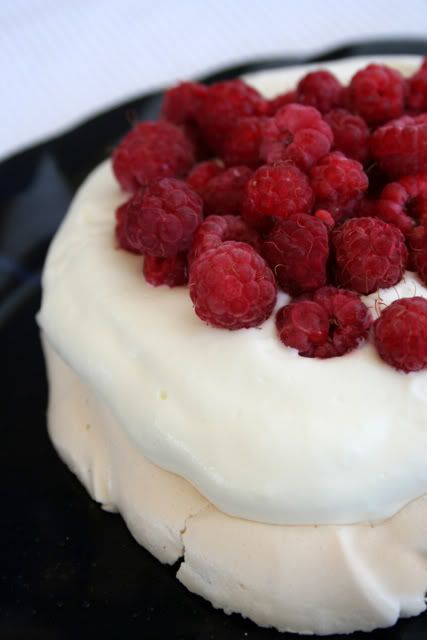 This very simple and delicious dessert is a great choice if you have left over egg whites (which we always do at home). And so I decided to make individual Pavlovas with the egg whites I had, and trust me, my mum was very happy to get rid of them + my parents adore Pavlova!

I used:
175g egg whites, room temp. (They will expand more)
250g fine sugar ( I pulsed it for a few seconds in a coffee grinder)
1 1/" tsp vinegar
1Tbsp cornstarch

Beat the egg whites on a medium-high speed until soft peaks form, start adding the sugar gradually, and continue mixing until very stiff peaks form and the meringue looks glossy. You can also check it between your fingers; if it feels gritty, continue whisking.
At the very last add the vinegar and cornstarch and give it another quick whisk.

Spread it on parchment paper, anyhow you like it! I did individual ones this time. Bake at 130C or 250F for about 1 hour, or until the outside is dry and a very pale color.

Once cooled, served it with whipped cream and fruit of your choice. I prefer berries, especially raspberries or strawberries!



petak, 18.07.2008.
Croatian coast and all its beauty



Living in the Mediterranean is something you can only wish for. I have been enjoying my vacation to the full potential, I would say more then ever! I have 3 weeks summer break now instead of 3 months as I used to have before, so I'm trying to get the most out of it. I have spent the past week on the Island of Korcula in the village of Lumbarda, where most of my family lives. I have also visited the Island Hvar which has been lovely with all its Lavender that you can find in all forms.
Hey, don't think I forgot about the sweets ;) I am always looking for something new to try and so I did!




During my stay in Hvar, me and my parents visited our friends that own a pretty little restaurant on the very coast called ''Kod Kapetana'' The dessert I had, by their sestion, was a wonderful carob cake with a scoop of vanilla ice-cream. I think that is one of the best things I had in a while. The cake was moist, cold, and full of flavor. I was pleased that the carob wasn't overpowering, but just had the right intensity, well rounded with seasonal fruit, in this cakes peaches. Oh, you have to try it! And no, I do not have the recipe, but I am working on it ;) I don't give up that easily!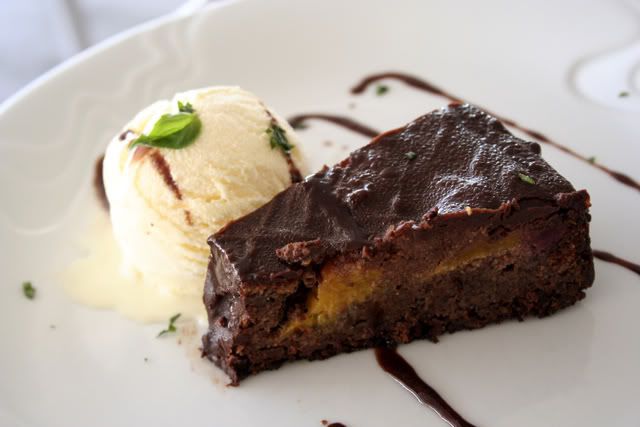 The rest of the trip was in Lumbarda (Korcula) which is like my home town and it's absolutely gorgeous and peaceful, even though there are lots of local things going on there all the time. It was just great to be there after a whole year, time really flies! It was really hard for me to leave, but 5 months isn't that bad at all, right?
I have some more crazy experiences to share with you, but right now is time to go to bed...Oh, I made Tiramisu tonight! The BEST Tiramisu! Hopefully I'll take some good shots tomorrow ;)




Happy days!


četvrtak, 10.07.2008.
H O M E



It is the time of the year when my heart is where it belongs. Coming home felt amazing and strange at the same time. I don't know if you ever experienced this kind of transition, but my life turned up side down after living 18 years here in Split.
Ohh Split...It's such a beautiful city and I really missed it! I really did! Seeing all those familiar places and dear people makes me smile :)
One thing I can tell you is that after all this time in NY, I realized and started appreciating who I am, and where I come from more then ever. Now.....After all this living and love, it's time for a dessert! ;)

One of the big benefits of living in Split is the beautiful Market we have available each day. The smell, appearance, and
taste of this fruit that we got is impeccable. That's one of the things I miss in the US, except when I get the chance to go to the farmers market. So now I just can't get enough of it!!
With all that beautiful fruit, I just had to incorporate it into one of the desserts I've been longing to make for my parents. None of us is a fan of the real NY style cheesecake, but when you do it with the ricotta cheese, it is much lighter. It goes beautifully with this apricot compote. Here is a recipe which I'm sure you're happy that I finally included it! ;)

Ricotta cheesecake with fresh apricot compote
For 4 souffle ramekins (4 oz or 113ml)

250g / 8.8oz cream cheese, room temp.
140g / 5oz ricotta cheese, room temp.
40g / 1.4oz sugar (If you're in the US you might need to increase this amount, because I noticed that sugar is less sweet there)
2 Tbsp lemon zest
2 eggs

Butter and flour the ramekins.
Preheat your oven at 180C / 350F
Paddle the ricotta cheese until smooth and blend in the cream cheese.
Add the sugar and zest and mix well. Make sure you scrape the bowl every so often!
Start adding the eggs gradually and paddle just until combined.

Place the ramekins into a baking dish, pour the filling in, and fill the baking dish with boiling water, half way the ramekin size. Bake for 30 minutes, just until firm to touch.
Once baked, take them out of the water and let them cool. Transfer them into the fridge overnight.

For the apricot compote, I just took some apricots, cut them into short strips (you can do it however you like!) and place them into a pot with some water and sugar. I used just a touch of it, in fact, I used fructose because my mum and I bought it the other day as a healthier alternative to regular sugar. I brought it up to a boil, left it for a minute or so and then took out 1/3 of the fruit out and pureed it with my magical immersion blender. Then I added the puree into the rest of the fruit that has been taken of the heat. Combine it and serve it on top of your cheesecake. Heaven! :))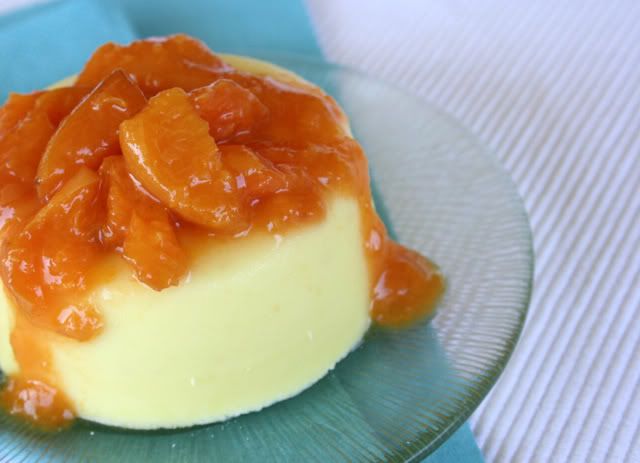 srijeda, 02.07.2008.
The Peach Sunset

Here it is, I proudly present our project - The Peach Sunset! It was a dessert we created for a seafood restaurant and it came out better then we expected; very unique and delicate. This is definitely a dessert you have to do in the last minute so plating is more difficult, but it tastes amazing.
Here are the components (starting from left) : Peach tart with a blitz dough base (similar to pie dough) with a caramel peach sauce
Sicilian almond sorbet
Peach chip napoleon with mascarpone-ginger cream (Peaches were sliced on a meat slicer and then dried in the oven)
And as a decoration, a sugar coral that Stacey came up with. It is just sugar cooked to hard crack and then poured over ice.
Cool huh? Don't act like you're not impressed!


Hope you like our presentation, it took quite a while to figure it all out. And guess what? One more day at the CIA!! I will be writing next time from Split! :))
Aaaaand....A BIG thank you for all the judges for past month's DMBLGIT for giving me my first award for a good looking blog in a creative category!!! Thank you!!