subota, 28.06.2008.
Tiramisu twist




Long time no see! I know, I know....The thing is that I lost my camera charger so I can't take any pictures :(( But guess what, I am going home in 5 days where I have another charger fortunately. Be ready for some amazing pictures from my lovely hometown Split ;)

While being gone from my blog, I was very very busy. Stacey and I worked with our breads Chef who is working on his home baking book and it was a great experience. We mixed a lots of breads, tried to bake them all in home ovens, of course tasted them, and discovered the magic of the camera and food styling!
I contributed to his book by making two traditional sweet breads from home. It was a great honour to do that and I am anticipating the year 2010 when the book comes on the market! You should too, it will be amazing!

So now I'm in restaurant production desserts class and it's great! I absolutely love plated desserts and I hope to post some of mine and Stacey's work since we're in a team.
This is a Tiramisu twist we did on Friday that we changed slightly so it tasted and looked a lot better then the Chef's original formula.
We are also working on a project that each team was assigned to and we got to do a plated dessert for a seafood restaurant. You should be looking foward to that, it will be an amazing presentation!

Sooo, starting Monday I have 3 more days of this class and then the last day of school I start the new block which is the amazing Apple Pie back back of the house. As you may remember, I posted a few Apple Pie desserts, but I chose to do breads instead of pastry, because there's a lot more going on. I am a person that likes action and breads is exactly what I am looking for. Stacey will be doing lamination (puff pastry, danishes, etc.) and I will be responsible for baking a finishing. Before starting with production we need to trail for 3 days, meaning to observe and get to know our station from the students ahead of us. That means that these last four days will be tough, because coming to Apple pie at 2:30am - 6:30 and then going to class from 7 - 1:30pm is...uhhh...
I CAN DO IT!!

You can expect posts the upcoming days - it's a promise ;)


srijeda, 18.06.2008.
Ninth Street Madness!!



For the second time I went to the Ninth Street Espresso In Chelsea Market. That is just..wow. You need to try it in order to understand, seriously! I had a cappuccino this time and Stacey had an iced mocha which was excellent as well. I usually need sugar in my coffee, but here not. It is hard to believe, but once you try it, there's no turning back. They use a blend of Arabica beans for espresso and for the French press their selection changes daily.
This place is a must! :))

Sorry for the lack of updates, but I have been working this and past week in the afternoons, really no time to write! I am currently in Restaurant production class, which is basically plated dessrts and I love it! It is also my last bakeshop class before I hit Apple Pie cafe production....


nedjelja, 08.06.2008.
Floating cookies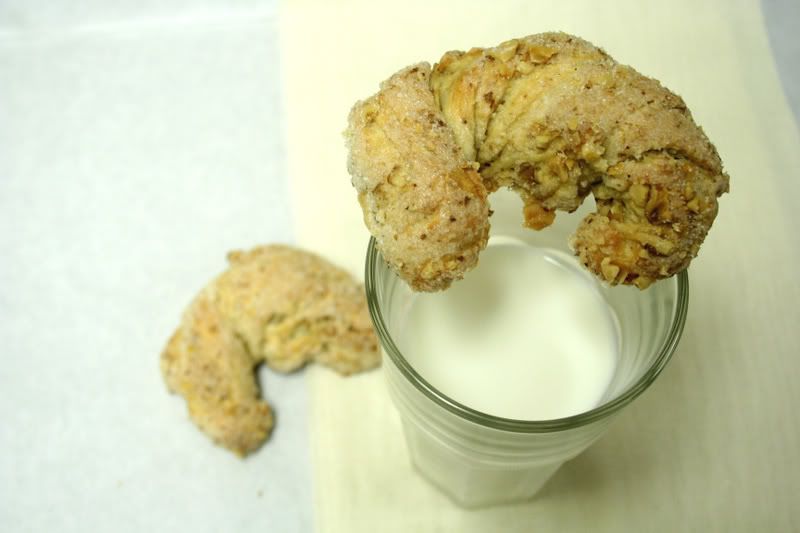 Here is a recipe alongside with the photo, finally! I am sure you are going crazy everytime I post a picture without a recipe, but sometimes I either don't have it, or it's way to complicated to write it down....This time I got one for you! It has been in my family forever and everyone loves them. They are called ''Utopljenici'' and that basically means something that has been submerged in water. After the dough's made, you wrap it up in a cloth, submerge it in cold water, and let it rise to the surface. Cool, huh?
Well, let me give you the recipe for this, try it out, it's very interesting and delicious!

And to update you, I am in Advanced baking class where baking methods and principles are from a nutritional and chemical/physical point of view. We cover diets such as vegan, diabetic, and gluten-free; nutritional labels; and preparation of desserts, breads, and cakes for persons with special dietary needs. It is quite interesting, especially now when we have to work on our own project where we need to choose a recipe and develop it into 3 categories of our choice whether it's vegan, gluten-free, etc.
I have two more days to work on it, and then we present it to the class!

Ok, back to the recipe.....You will need:

For teh dough:
- 4 eggs
- 1kg flour
- 200 ml oil
- 200 ml milk
- 40g fresh yeast, or 14g dry (then you need to add 26g of water)
- 10g of salt
- zest of one lemon
- see how your dough feels, if it's not ciming together add 40g of water. It all depends on the flour.

For the garnish:

- 150g coarsely chopped walnuts
- 250g granulated sugar

- You mix all the ingredients for the dough (for the dry yeast, you just add it in, and for the fresh, you need to dissolve it into some tepid water and a bit of flour and sugar to get it going).
- Once you have your dough mixed, place it into a cloth, make a knot at the top and put it in a bowl of cold or room temp water.
- When you see the dough floating, you're ready!
- Take little pieces from the dough (about 60g each), strech it, dip it in the garnish mixture, and twist it in a form of a crescent.
- Place it on a sheet tray covered with parchemt paper and bake it at 190C or 375F until slightly golden in color.

Best eaten fresh with a glass of milk, or next day dipped in a cup of coffee! MMMMMMMMmmmmmmmmmm



četvrtak, 05.06.2008.
Steamed delight

I noticed this new dessert at our cafe and I was like wow! It looked quite nice and since I didn't have anything in mind to post, I thought this would be interesting for you to see.
This is basically a steamed lemon pudding (cool basket, huh?!), it was more of a dense sponge cake like to me, but it balanced really well with the vanilla bean chantilly, and fresh fruits. Very light and summery! I always wonder how much they spend on all of these containers...