utorak, 23.05.2006.
Najbolje od korejskog filma

Evo moje osobne top liste najboljih korejskih filmova (ubrajaju se, naravno, samo oni koje sam pogledao). Ovo pišem da, ako se netko zanima za ovu vrstu filma, zna što ne smije zaobići. Filmovi su poredani abecedno, a ne po kvaliteti iako garantiram za svaki od filmova ispod)

2009 Lost Memories (SF akcija)
A millionaires first love (lijep romantičan film)
A Tale of Two Sisters (odličan triler-horor)
Antarctic Journey (na Sjevernom polu)
Arahan (o glupanu sa super moćim koji mora spasiti svijet)
Big Swindle (akcijska zabava)
Bittersweet Life (krimić, jako dobar)
Blue Swallow (o ženi pilotu)
Boy goes to heaven (dječak u tijelu muškarca)
Bungee Jumping Of Their Own (kontroverzna ljubavna priča)
Bystanders (solidan triler)
Cello (upečatljiv horor)
Classic (višeslojna emotivna drama)
Conduct Zero (teen komedija)
Crying Fist (drama o nesuđenim boksačima)
Dance with the wind (zgodno)
Doggy Poo (također zgodno)
Duelist (zabavno, spektakularno)
Fighter in the Wind (jedan od najboljih korejskih filmova, s japanskim glumcima)
Friend (4 prijatelja)
Holiday (borba za pravo glasa i malo pravde)
If you were me (filmići o ljudskim pravima)
Innocent Steps (ples i drama)
Joint Security Area (ratni)
Love in Magic (magičar i njegova ljubav)
Love so divine (priča o nesuđenom svećeniku)
Lovely Rivals (profesorica želi učenici preoteti profesora u kojeg je zaljubljena)
Mapado (loto listić vrijedan milijune je negdje nestao)
Mr. Handy (čovjek koji može sve)
Mr. Socrates (vrlo dobro)
Musa (nekoliko ratnika protiv vojske)
Mutt Boy (i mutt dog)
My beautiful girl Mari (bajkoviti animirani film)
My Brother (dva brata)
My Sassy Girl (jedna od najhvaljenijih korejskih romantičnih komedija)
My wife is a Gangster (boss koji se mora udati)


Natural City (ljubav u gradu budućnosti)
Never to lose (život jedne policijske stanice)
Nightmare (horor)
Oldboy (jedan od najboljih filmova o osveti)
Once upon a time in Highschool (film o srednjošklskim tučnjavama i ljubavima)
One fine spring day (romantična drama)
Oseam (crtić o dječaku koji je ušao u nirvanu)
Please teach me English (komedija o učenju engleskog)
Princess Aurora (akcijski triler)
Quiz King (muškarac pobjeđuje na kvizu domaćica)
Resurrection of the little Match Girl (čudno, ali simpatično)
Rules of Dating (zapravo glup film)
Running Wild (uzaludni pokušaji policajca da napravi nešto smisleno)
Sad Movie (tužan film s dirljivim pričama)
Samaria (maloljetna prostitutka)
Save the green Planet (komedija o izvanzemaljcima)
Sex is zero (odlična teen komedija)
Shadowless sword (nešto kao Tigar i Zmaj, samo korejsko)
Shiri (akcija)
Silmido (stroga vojna obuka i državni udar)
Someone Special (special film)
Spin Kick (o Taekwondou)
Spring, Summer, Fall, Winter and Spring (sazrijevanje jednog monaha)
Sunday Seoul (tri sasvim nenormalne priče)
Sword in the moon (ratnici i ljubav)
Sympathy for Lady Vengeance (teološki triler o osveti)
Taegukgi (jedan od najboljih (ratnih) filmova koji postoje)
The Art of Fighting (mladić trenira tučnjavu)
The Beauty and the Beast (drama komedija)
The Bow (ljubav djeda i maloljetnice)
The Coast Guard (prijateljstvo neprijatelja)
The Legend of Gingko (legenda i borbe s mačevima)
The Promise (kinesko-korejsko-japanski spektakl)
The Romantic President (predsjednik koji odgovara ženama)
The Way Home (dječak živi s bakom)
Three Extremes (tri horor priče)
Untold Scandal (tradicionalno)
Vampire cop Ricky (novi superheroj)
Welcome to Dongmakgol (veliki hit o tri neprijateljske vojske u jednom izgubljenom selu)
When I was nine (jako dirljivo o ljubavi siromašnog dječaka i bogate djevojčice iz Amerike)
When Romance meets destiny (dva brata i njihovi ljubavni jadi)
Windstruck (ljubav koja nadilazi smrt)
Wonderful days (jedan od najboljih korejskih anime)
You are my sunshine (jedna od najljepših drama uopće)
Objavljeno u 21:25 • Komentari (4) • Isprintaj • #
petak, 12.05.2006.
Gdje je Koreja?

Koreja je smještena na Korejskom poluotoku na sjeveroistoku Azije. na sjeveru graniči s Kinom i Rusijom, a s Japanom na jugoistoku. najviša sjeverna točka Koreja je Yupojin u provinciji Hamgyongbuk, a najniža južna otok Marado, provincije Cheju. Najzapadnije je otok Maando, Pyong-anbuk provincija, a najistočnije odtočići Dokdo, Gyeongsangbuk provincija. Od 1948, poluotok je podijeljen na Južnu i Sjevernu Koreju, a sveukupna površina je 99,394 kvadratnih kilometara.

Republika Koreje se satoji od devet provincija, sa seoulom kao glavnim gradom. Drugi veliki gradovi su Pusan, Daegu, Incheon, Gwangju i Daejeon. reljef zemlje je vrlo raznolik, a čak 70% zemlje su planine s više od 3000 otoka oko zemlje. Više rijeka prolazi kroz zemlju, a jedna od najvećih, rijeka Han, prolazi kroz glavni grad.

Kao i druge zemlje u toj temperaturnoj zoni, Koreja ima 4 godišnja doba, a u proljeće i jesen vrijeme je jako lijepo: ugodno, toplo i vedro. Ljeto je poprilično vruče i kišno, pogotovo za vrijeme monsuma, a zima je hladna i suha s povremenim snijegom.


Objavljeno u 11:00 • Komentari (0) • Isprintaj • #
četvrtak, 11.05.2006.
News iz Koreje

(evo novih tjednih vijesti)

S Korea confident ahead of World Cup

South Korea head to this year's World Cup Football in Germany eager to prove that their great performance as hosts in the last World Cup wasn't a fluke. The Reds made it to the semis four years ago amid allegations of host-favouritism by referees. But confidence is high in the Korean camp a month before football's showpiece event. The team is ranked 30th in the world and is drawn with France, Switzerland and Togo in Group G. The pressure is on coach Dick Advocaat to repeat the exploits of fellow countryman Guus Hiddink, who became almost a legend four years ago.
..................................

Korea 2nd Highest in Road Congestion

South Korea's roads are the second most congested among the 30 member Organization for Economic Cooperation and Development (OECD), indicating a need to further expand our road network, according to the Ministry of Transport and Construction (MOTC). In its analysis of the degrees of congestion on OECD roads, the MOTC (MOCT) said that as of 2005, South Korea has 151 vehicles per kilometer of road, the second highest rate, behind Germany, among OECD members. The number of in Germany was 194. According to the ministry, Korea has 15.4 million vehicles on 102.2 million kilometers of combined paved roads. Italy ranked 3rd with 73 vehicles per kilometer of road, followed by Portugal with 63. Japan had 62 vehicles per kilometer of road, followed by Britain with 62, the Netherlands with 58, Luxembourg with 55 and Switzerland with 54.
..................................

WMG dialing up digital deal with Korea

Warner Music Group is set to merge its South Korean arm with the country's dominant wireless operator SK Telecom to create a joint venture to sell music via mobile phones and other digital platforms. The deal, announced by Warner topper Edgar Bronfman Jr. Wednesday in Hong Kong, is the first of its kind. New company WS Entertainment will be a full-service operation covering signing, development and distribution of music. Bronfman described it as an entirely new business model.

"WS Entertainment will give us easily the ability to experiment with sophisticated windowing strategies, bundling new forms of content and supportive models for premium content. WS Entertainment will be a fertile incubator and laboratory for exciting developments we can't even imagine today, but which may become the industry standard," Bronfman said. Deal comes as music labels such as Warner Music, the world's fourth-largest record company, are betting the digital market's fast growth will outpace the lost revenue in traditional CD sales. Under the deal, Warner Music will give a 49% stake in Warner Music Korea to SK Telecom's Seoul Records to form WS Entertainment. The pair will invest 8 billion won ($8.6 million) into the venture. Warner Music will hold a 60% stake in WS Entertainment with SK holding 40%. In South Korea, sales of music to mobiles far outstrip CD sales. Mobile networks are more tightly controlled by their operators than the Internet, and are much less prone to piracy.
..................................

S. Korea Arrests 10 Anti-U.S. Protesters

Police arrested 10 anti-U.S. protesters Monday and released 27 others after violent demonstrations against plans to expand an American military base, officials said. The government vowed stern measures against future violent protests, threatening military trials for civilians who trespass on a U.S. base in Pyeongtaek, about 40 miles south of Seoul, or assault soldiers guarding the area.



Catholic women participate in a special service to demand release of arrested anti-U.S. protesters near the government complex building in Seoul Monday, May 8, 2006. South Korean police on Monday formally arrested 10 anti-U.S. activists who took part in violent protests against plans to relocate American military bases. (AP Photo/Ahn Young-joon)

The demonstrations Thursday and Friday saw protesters battling police with bamboo sticks and authorities responding with batons to evict them from the site. The violence injured more than 200 protesters, police and soldiers. Prosecutors secured arrest warrants for 10 of 37 protesters detained Thursday, and released the other 27 after the Suwon District Court's Pyeongtaek division declined to issue warrants for them, the court said. The prosecution was awaiting word from the court on whether they can press charges against 23 other protesters detained Friday and seek the re-arrest of the demonstrators who were released, prosecution spokesman Kang Chan-woo said.

For months, villagers and anti-American activists have impeded work to expand Camp Humphreys in Pyeongtaek under a 2004 agreement between Seoul and Washington to move the American military command there from its current headquarters in central Seoul. Several villages on the outskirts of Pyeongtaek, a city of 360,000 people, must be razed for the base construction. The government has offered residents financial compensation to move out, but some 70 households continue to resist, according to the Defense Ministry.

On Thursday, authorities sent more than 10,000 riot police to the site, evicting protesters and destroying an abandoned school used as a base for the protesters. Army engineers also set up wire fences around the site to keep outsiders away. But activists returned Friday to stage more protests. TV video showed stick-brandishing demonstrators cutting wire fences and beating unarmed troops guarding the site. On Monday, Defense Minister Yoon Kwang-ung said people who attack soldiers or destroy military properties pose a "direct challenge to public authority."

"We will apply related military laws accordingly in the future in keeping with law and principle," Yoon told South Korean reporters in comments confirmed by his ministry. South Korean law allows civilians to be tried in the military court when they are accused of assaulting guards on duty or trespassing on military property. About 29,500 U.S. troops are stationed in South Korea as a legacy of the 1950-53 Korean War, which ended in a cease-fire instead of a peace treaty, leaving South Korea still technically at war with the communist North. The number of troops is set to decline to 25,000 by 2008 as part of the Pentagon's worldwide realignment of its forces.
..................................

A Failing Grade for Korea's Competitiveness

The International Institute for Management Development ranks Korea 38th in terms of competitiveness, down from 29th last year and the sharpest drop among 61 evaluated countries. By contrast, China improved from 31st to 19th and India from 39th to 29th during the same period. By criteria, the nation's standing declined from the 31st to 47th in government efficiency and from 30th to 45th in business efficiency. At the same time, economic performance and infrastructure remained almost the same, from 43rd to 41st and 23rd to 24th respectively. In short, government and corporate inefficiency are eroding Korea's competitiveness.
..................................

Skype threatens S.Korea`s telecom market

Skype is set to launch its PC-to-phone service in South Korea, cutting international calling costs and threatening local telecom companies. Working with Auction, a domestic online auction site operator, Skype will launch the two-way voice over Internet protocol, or VoIP, service in two months, the Korea Times reported Wednesday. Skype began offering its free services between personal computers in South Korea in February, and quickly reached 100,000 users. The low cost of the new service is likely to pose a threat to current landline companies. Skype-Out, the downloadable PC-to-phone program, will allow users to make calls around the world at a cost of about 2 cents per minute through a pre-paid card. By comparison, local company KT currently charges about 75 cents per minute for a call to Japan, and 30 cents for a call to the United States.
..................................

Motorola stops RAZR copycat in South Korea

Motorola succeeded in stopping a South Korean manufacturer from making copycats of its popular RAZR handset model. The U.S. mobile giant said it reached an agreement in a lawsuit filed in January against KBT Mobile for infringements of patents, trademarks and design. KBT will stop making and selling RAZR look-alikes as a result, Motorola said. Motorola had filed the lawsuit in Korea against KBT Mobile under Korea's unfair competition prevention act. The act expressly prohibits the copying of another company's product designs.
..................................

Korea: New English-Language Church Seen as Unique Evangelism Tool

Pastor P.D. Chun, former president of the Adventist church in Nothern Asia Pacific spoke at the Ilsan church's inauguration. In the Ilsan district of Koyang City, Korea, northwest of Seoul, Sabbath, or Saturday, morning worship is now rather different for some Seventh-day Adventists than in the nearly 700 other Adventist churches in Korea. Instead of singing, praying and hearing sermons and Bible readings in the Korean language, church members will be immersed in the same faith rituals, but in English.

April 29 marked the official beginning of the new Ilsan English Church of Seventh-day Adventists, started with 30 members. The Ilsan district with approximately 700,000 residents, is famous for its beautiful Lake Park, as well as an annual international flower exhibition; the area produces 10 percent of Korea's floriculture exports and 70 percent of its grafted cactus exports. The Adventist church in that region has long used English-language training institutes as a means of sharing the gospel, and according to church officials this new church will do the same. Dr. Jairyong Lee, president of the Adventist church in Northern-Asia Pacific, gave the keynote address during the inauguration service. He reminded those in attendance of the plan to plant 30 new English language churches in the region within the next 10 years. The Ilsan church will be a model for additional church plantings.
..................................

S. Korea birthrate falls to record low

South Korea's birthrate fell to 1.08 last year, maintaining the lowest in developed countries, said a report of the National Statistical Office (NSO) Tuesday. The birthrate, or the average number of babies born to a woman aged between 14 and 49, last year was fewer than a quarter of the 1970 rate, which stood at 4.53, the report said. In 2005, there were 438,000 births in the country, 38,000 fewer than in 2004, the lowest figure since the NSO began tracking the date in 1970. South Korea's birthrate was the lowest among the Organization for Economic Cooperation and Development countries in 2004, when its birthrate was 1.16, lower than Japan's 1.29, Sweden's 1.71, Britain's 1.73, France's 1.89 and the United States' 2.04.

According to a poll by a Korea Institute of Health and Society, 49.9 percent of working mothers have had to abandon their jobs after having their first child, while families with two children spend more than half of the income of parents on education. "If the birthrate remains at the current level, Korea's population may fall below 40 million in 2050," Kim Yong-hyun, director of the Ministry of Health and Welfare, told local media, warning that South Korea might be an aged society earlier than expected.
..................................

MM Lee to visit China, Korea, Japan

Minister Mentor Lee Kuan Yew will be making a regional tour of China, Korea and Japan, from May 10-26. Mr Lee will be in Beijing, Shenyang and Shanghai from May 10-17 at the Chinese government's invitation. He will meet Premier Wen Jiabao, Vice-President Zeng Qinghong, Vice-Premier Hui Liangyu and other senior Chinese leaders. While in Shanghai, Mr Lee will also be launching his book "Keeping My Mandarin Alive". From China, the Minister Mentor will leave for Seoul. During his visit from May 17-20, he will attend the Citibank Legacies of Leadership Series and meet President Roh Moo-hyun, politicians, members of the Seoul Forum and corporate leaders. Mr Lee will also attend the tri-university centennial colloquium organised by Korea University, Fudan University and National University of Singapore. Mr Lee will also be conferred an honorary doctorate degree by Korea University.
..................................

South Korea's President Roh Proposes Summit With North Korea

South Korean President Roh Moo Hyun proposed a summit with North Korean leader Kim Jong Il, saying he is ready to make "considerable concessions'' to North Korea. "I am ready to meet (Kim) any time, anywhere to talk about anything,'' Roh said in Ulan Bator late yesterday, during his state visit to Mongolia, according to the presidential office's Web site. "We don't want the North Korean regime to topple. I have repeatedly said we want our relationship to gradually improve on a steady foundation.''

North Korea and South Korea remain technically at war since their 1950-53 conflict ended without a peace agreement. They are separated by one of the world's most fortified borders, with 1.7 million soldiers facing each other. Relations have been strained as North Korea is refusing to return to talks with South Korea, the U.S., China, Japan and Russia on dismantling its nuclear weapons program. North Korea has said it won't return to talks unless the U.S. lifts financial sanctions it imposed last year.
..................................

South Korea's Central Bank May Keep Key Rate at Three-Year High

South Korea's central bank will probably leave its key interest rate at a three-year high after a stronger currency helped curb inflation and consumer confidence fell to a six-month low. Bank of Korea Governor Lee Seong Tae and his fellow policy makers will keep the benchmark overnight call rate at 4 percent, the highest since July 2003, according to seven of 12 economists surveyed by Bloomberg News. Lee became governor in April. The central bank's decision is due tomorrow around 11 a.m. in Seoul.
..................................

Korea 27th in OECD Female Employment Ranking

South Korea ranked 27th among the 30 members of the Organization for Economic Cooperation and Development (OECD) in female employment, showing that women remain as the country's most under-utilized resource. Korea's female employment for women between between 15 and 64 stood at 53.9 percent in 2004, lower than the 60.1 percent OECD average, the Ministry of Finance and Economy (MOFE) said Monday, citing the OECD data.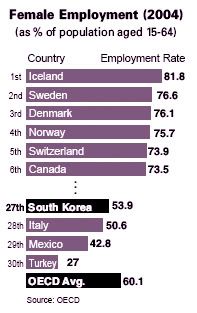 Women's participation in Korea's labor market has been growing over the past 15 years, albeit slowly. Female employment rate rose to 52.8 percent in 2003 from 49.9 percent in 1990. Despite a relatively low female employment rate, the number of female workers is growing as Korean girls are increasingly doing better than boys at school, more women are getting university degrees than men and females are filling most new jobs. Among OECD member economies, only Italy, Mexico and Turkey had lower participation by women in the labor market.
..................................

Trade between North Korea, China surges

Trade between North Korea and China rose to a record last year as the North becomes increasingly dependent on its No. 1 trade partner for food and energy, a South Korean trade agency said Monday. The volume of trade between the two countries rose 14 percent in 2005 from the year before to a record $1.58 billion, according to South Korea's state-run Korea Trade-Investment Promotion Agency, or KOTRA. Two-thirds of that trade was made up of North Korean imports from China, which grew 35.2 percent year-on-year to $1.08 billion, much of it food and energy. Trade with China accounted for more than half of North Korea's total exports and imports last year.
..................................

Mongolia, South Korea to further develop partnership

Mongolian President Mr. N.Enkhbayar and Mr. Roh Moo-hyun, the President of the Republic of Korea, made a report to the media about the current visit of Mr. Roh Moo-hyun and the development of the relations and cooperation between the two countries. The President Mr. Enkhbayar noted, ...The bilateral relations and collaboration have successfully been developing in recent years under the 1999 joint statement issued by the two countries. The talks of the two Presidents, held during the current visit of the President Mr. Roh Moo-hyun, aimed at bringing up the bilateral ties to a new level. A Mongolian-Korean intergovernmental agreement is signed during the visit on the expansion of the bilateral cooperation in social welfare sector. I am confident that achievements will be gained in the social welfare issues of the Mongolian and the Korean citizens under the agreement." Mr. Roh Moo-hyun stressed that at his meeting with the Mongolian President, they exchanged views on the issues related to the development of the bilateral relations, the current political situation of Northeast Asia, and the bilateral cooperation on the UN and international arenas. According to the 1999 joint statement of Mongolia and the Republic of Korea, the bilateral mutually beneficial collaboration has been developed rapidly in the past term. He pointed out that the two sides have reached an agreement to develop partnership relations and friendly collaboration of good neighborhood with the intention of strengthening the joint interests in all sectors.
..................................

Annan to visit South Korea

UN Secretary-General Kofi Annan will visit South Korea next week as part of a regional tour that will also include stops in China, Japan and Vietnam. Annan's three-day trip starting on Sunday comes as South Korean Foreign Minister Ban Ki-moon seeks to succeed him as head of the United Nations. During his visit, Annan will meet President Roh Moo-hyun and other South Korean officials to discuss "major international issues," including the standoff over North Korea's nuclear program and UN reform plans, the Foreign Ministry said in a statement. Annan last visited South Korea in 1998. The UN Security Council will start formal discussions this summer to choose a successor to Annan, whose second five-year term ends December 31. (AP)
..................................

Air Pollutants from China Causing Acid Rain in Korea

Data by Korea's National Institute of Environmental Research shows China is largely responsible for triggering acid rain in Korea. The institute says 55 percent of nitrogen oxides and sulfur dioxides which cause acid rain found in the country's atmosphere in March, 2002 was from China. In the case of nitrogen oxides, nearly 70 percent was generated by facilities in China. The paper shows that rainfall in Korea last year was the most acidic in more than a decade. Meanwhile, air pollutants from Korea were also found to travel to China, especially in summer. The institute says Korea, China and Japan have been conducting joint research on the movement of air pollutants since 1992.
..................................

Japan, S. Korea, Taiwan to restore 270-yr-old mural

In a rare team effort with its Asian neighbors, Japan will begin working with South Korea and Taiwan as early as June to restore a 270-year-old Buddhist mural at one of South Korea's three major temples. It is quite possibly the first time the three neighbors have had their cultural heritage restoration specialists work together for full-scale repair in one of the countries. The team of 25--most of whom are from the Gangoji Institute for Research of Cultural Property in Nara--will repair the mural in the more than 1,300-year-old Tongdo Temple in Yangsan, Gyeongsangnamdo. They also will analyze the pigments used in the painting, which dates to 1734.

The four-by-2.3 meter mural depicts the world of the Lotus Sutra, complete with images of the Buddha, bodhisattvas and a pagoda, and is the only work of its type in South Korea. However, the color is deteriorating, and the 10-centimeter-thick clay on which it was painted is cracking and flaking off.
..................................

Meesawat wins in Korea

Thailand's Prom Meesawat has won his maiden Asian Tour title with a three-shot victory at a rain-affected SK Telecom Open in Seoul. Organisers were forced to shorten the event to 54 holes after persistent rain played havoc on the third day, but Meesawat showed little concern as he fired a final round 68, finishing with 15-under 201. Meesawat was thrilled with his win and quickly dedicated the victory to his late mother. "My dream has come true. Over the couple of months I was close. This is a present to my mum (Somsri Meesawat) as she passed away three years ago. Her birthday is on the 22nd of this month," he said. "The highlight was the eagle at the third hole. I was on the tee and it was downwind. If I used a driver I might end up of the water on the right. So I decided to use a three wood and it was a good shot. I had 230 yards to the pin, hit a good two iron which landed three feet from the pin."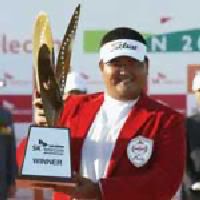 Korea's Seong-ho Lee and Jeev Milkha of India each carded a two-under 70 for the final round and finished tied for second, behind local KJ Choi who raced up the leaderboard with a spectacular 65. Teenage star Michelle Wie stumbled on the final day with a two-over 74 to finish 34th overall, while Australian Brad Kennedy, who sat in fourth after two rounds, had a miserable day as he signed for a 77 to finish tied for 27th. Michael Wright was the best placed Australian with a share of 17th on six under, while Adam Blyth was a further shot back tied for 20th.
..................................

Korea Considers Taxing Clergymen

The government is examining whether it could impose income taxes on priests, monks and other clergymen of any religious group. The National Tax Service (NTS) recently queried the Ministry of Finance and Economy (MOFE) on whether it is possible to legally collect income tax from those engaged in religious occupations, the ministry said. This is the first time for the tax authority to officially discuss imposition of income taxes on the religious community, which is regarded a "hypersensitive" issue. Presently, money paid to a person wholly and necessarily in the performance of their duty as a clergyman, minister or nun is exempt from income tax.
..................................

Refugee law aids 6 from North Korea

Six refugees from North Korea, including four women who say they were victims of sexual slavery or forced marriages, have fled to the United States, a senator said Saturday. The group is the first from North Korea to be given official refugee status since passage of a 2004 law that makes it easier for North Koreans to apply for such status. Sen. Sam Brownback (R-Kan.), a co-sponsor of the law, said the refugees arrived at a U.S. site Friday night. "This is a great act of compassion by the United States and the other countries involved," he said.
..................................

Korea win qualifier against Gulf

The Arabian Gulf went down to a 20-5 defeat in their Asia region World Cup qualifier against Korea in Al Ain on Friday evening. The home side made a slow start against a side 20 places higher in the IRB world rankings, turning around 17-0 down at the break while Korea then extended their lead with a penalty early in the second period. That was the signal for the Gulf to enjoy their best spell of the match, pinning the visitors back deep in their own half for long periods. But that pressure produced only one try, for replacement Mike Riley, and it was Korea who were celebrating at the final whistle as they secured their passage to the third and final round of qualifying for France 2007, which will take place in Sri Lanka in November.
..................................

Korea 6th Biggest User of High-speed Internet Services in the World

Koreans are the world's sixth biggest user of high-speed Internet services. This doesn't come as a surprise as Korea is a country with one of the highest broadband Internet connection rates. Figures released by comScore World Metrix, an American company for Internet audience measurement show Korea's online population stood at around 25 million as of March. The United States topped the ranking with 152-million trailed by China and Japan. In terms of spending the longest hours online per month on average, Israel has been ranked first. And Finland and Korea took the second and third place, respectively. The company also found that worldwide Internet users over the age of 15 stood at close to 700 million.
..................................

S Korea fears oil disruption

South Korea's dependence on Middle Eastern countries for oil imports remains high, spawning concerns that Asia's fourth-largest economy would be threatened by any supply disruptions in the region, as oil prices continue to climb, a report showed Friday. According to the report by Korea National Oil, South Korea imported 177.91 million barrels of oil during the first quarter of this year, accounting for 81.4% of the nation's total oil imports. In the January-March period, South Korea imported 18.39 million barrels from Iran, 8.4% of total imports from the region, the report showed.
..................................

Military training jet crashes during air show in South Korea, killing one pilot

A military training jet crashed Friday during an air show in South Korea, killing the pilot but causing no injuries to spectators, the air force said. The A-37 plane crashed shortly before noon during an aerial stunt to mark Children's Day in Suwon Air Base, 46 kilometers (30 miles) south of the capital, Seoul, the air force said in a statement. Some 1,300 people, including many parents with their children, were watching at the time but no one was injured as the plane landed almost 2 kilometers (1.24 miles) from the spectators, said Air Force Lt. Col. Lee Hyung-gul. The jet crashed between a main runway and a minor runaway inside the air base "due to unidentified reasons'' during turning after the aerobatic maneuver by two jets, the statement said. The pilot was a 33-year-old air force captain, the air force said, adding that the crash was under investigation.
Objavljeno u 10:58 • Komentari (3) • Isprintaj • #
ponedjeljak, 08.05.2006.
Dva videa

* na prvom jedna djevojčica iz Sjeverne koreje pjeva drugu Slobi (stavljam samo zato jer mi je bilo čudno, ne da mislite kako mu i ja pjevam) LINK



*na drugom jedan funny video o čovjeku kojem se nije dalo porbuditi jednog važnog dana (kratko, traje jedva minutu) LINK


Objavljeno u 14:48 • Komentari (1) • Isprintaj • #
nedjelja, 07.05.2006.
Korejski rat

Korejski rat između Sjeverne i Južne Koreje trajao je od 1950. do 1953. Početkom 1949. Sjeverna Koreja već je spremala rat, broj vojnika se brzo povećavao, a kako bi se započeo rat vojska Sjeverne Koreja radila je incidente na granici, a niti jedna od dvije države nije prihvaćala prihvaćene granice.

Iako je Korejski rat još uvijek u mnogoćemu narazjašnjen, čini se kako je početak bio u svibnju 1950 kad je oficir Kim krenuo na Južnu Koreju s 100 000 vojnih trupa. SAD je stao na stranu Južne Koreja, a Sjeverna se obratila za pomoć Staljinu iako joj je više pomagala Kina.

25. svibnja vojska Sjeverne Koreje ušla je u Seoul. Otpor Južnokorejanaca je bio slomljen jer su sve ceste južno od Seoula bila blokirane izbjeglicama u bijegu te pomoć nije mogla stići. Prva trupa SAD-a utaborila se 30 kim južno od Seoula no Sjeverna Koreja je u roku od mjeseca dana zauzela cijelu Južnu Koreju osim malenog djela na jugoistoku zemlje s gradom Pusan. Južna Koreja i SAD nisu se htjeli predati, a nisu prihvaćali niti nasilno ujedinjenje dviju Koreja kao što je želio Kim Il Sung. Kad je u rujnu general McArthur sletio u Seoul i prekinuo vezu izmežu centrale i vojske Sjeverne Koreje, vojska se raspala i ojačana Južna Koreja uspjela je istisnuti protivnike do potpunog poraza.




Kako god, Kina je bila motivirana za uspjeh Sjeverne Koreja i za mjesec dana je potisnula napade i pritisak SAD-a. Rat se nastavio još dvije godine, sve do 1953. ali događaji koji su se zbili prve godine i početkom 1951. bili su definitivni i na kraju je prihvaćeno postojanje dviju Koreja.

Kad je 1953. potpisan mir, Sjeverna Koreja je bila potpuno razrušena zbog višegodišnjih bombardiranja koji nisu ostavili praktički niti jednu zgradu neoštećenu. Obje Koreje su nakon nada rođenih 1945. proživjele noćnu moru. Kasnija povijest potpuno je odijelila te prve susjede te je Južna Koreja danas jedna od najrazvijenijih, a Sjeverna Koreja jedna od najzatvorenijih zemalja gdje niti jedan novinar ne piše bez pristanka narodnog vođe.


Objavljeno u 14:45 • Komentari (1) • Isprintaj • #
subota, 06.05.2006.
Why not N. Korea?

Objavljeno u 11:59 • Komentari (2) • Isprintaj • #
petak, 05.05.2006.
Posluživanje čaja u Koreji

U Japanu je posluživanje čaja postalo velika i komlicirana ceremonija. U Koreji je niti tako veliki niti tako komplicirana, ali je ipak ceremonija i jedini način na koji se u Koreji pije čaj. Zanimljivo je kako različite kulture pridaju važnost pijenju čaja. U Engleskoj se to radi u kasno popodne, a u Hrvatskoj... Nego Korejanci. Dok je u Japanu teško biti spontan kod pijenja čaja jer sve mora biti kako mora biti, u Koreji se inzistira na prirodnom držanju dok se s nekim pije čaj, tj. opušteno i bez glume u držanju. I Korejanski način pijenja čaja može izgledati kompicirano na početku, ali se lako nauči. Pijenje čaja, generalno, skoro uvijek je vrlo zdravo.

Kad se pije čaj, jedna osoba predsjeda pripremajući i poslužujući. Na početku se na stol postavi čajnik u koji se iz drugog čajnika (na znam kako bih to drugačije nazvao) ulijeva vruča voda. Kad voda ugrije posudu, ista se nalije u šalice kako bi i one postale tople. Zatim se baca.

Druga točka ceremonije je ulijevanje čaja u posudu s vodom smještenu na stol. Količina ovisi o ljudima koji piju. Sada se iz posude u kojoj je čaj pripremljen izlijeva u čajnik iz kojeg predsjedatelj toči čaj drugima. kad se voda ohladi, mijenja se, ali se mora paziti da se izlije prije dijeljenja čaja kako ne bi pokvarila okus.




Kod prvog posluživanja poslužuje se tako da jedino predsjedatelj radi, sipajući čaj polako i mijenjajući šalice kako bi se ravnomjerno poslužio jači čaj koji je na dnu čajnika. Šalice se polažu na one male tanjuriće (ne znam ni kak se to zove) i stavlja pred one koji će piti. Šalica se ne dodaje iz ruke u ruku, a eventualno asistent može šalice s čajem donijeti pred pojedinog gosta. Čaj se ulijeva tako da se jednom rukom drži vrh čajnika s uvinutim prstom koji bi eventualno mogao dotaknuti čaj.

Čaj se pije obično s dvije ruke. U jedno se drži tanjurić, u drugoj šalica. Kod pijenja, prvo se pogleda boj čaja, zatim se pomiriši, okusi jezikom, zatim se koncentrira na ispijanje čaja kroz grlo i na kraju ostaje okus u ustima u kojem se uživa. Vjeruje se da čaj ima pet ili šest okusa: slano, slatko, gorko, ... u različitim omjerima.




Voda za drugo serviranje može biti vručija od prve vode, a na već otopljenim listićima zelenog čaja, voda smije biti tek kratko vrijeme; zatim se čajnik dodaje ljudima da si jedni drugima toče. Time se izbjegava prebacivanje šalica nakon što su podijeljena. Zeleni čaj se može iskoristiti tri puta, ali jako dobri i kvalitetan čaj izdržat će i pet rundi... (Ako sam što uspio objasniti drago mi je)
Objavljeno u 17:08 • Komentari (2) • Isprintaj • #
četvrtak, 04.05.2006.
News from Korea

(ne umišljam si da će ovo netko detaljno čitati, ali barem da vidite naslove koji kruže o Koreji)

Women Tops in World Cup Qualifier Pool

South Korean women's field hockey team maintained its unbeaten run Tuesday in the Samsung World Cup Qualifier in Rome by routing the United States 3-0 in Pool B final match. Korea, which already secured a place in World Cup competition by beating New Zealand 5-3 on Monday, went 4-0-1 to finish in first in the group league. The United States took the second with 3-1-1. Korea will meet Japan, runner-up in Pool A, in a semifinal Thursday. In the tournament where 12 countries competed in two groups, top four teams qualified for the World Cup tournament scheduled for September in Madrid. England (5-0-0) and Japan (4-1-0) are the Pool B winners. The other ticket goes to the winner of the 5th – 8th place playoffs later in the week.
---------------------------

New ambassador of Kazkahstan to Korea assigned

Dulat Bakishev has been assigned new ambassador of Kazakhstan to Korea. Nursultan Nazarbayev, President of Kazakhstan, has signed a corresponding order today, May 3. "With this Dulat Khangereevich Bakishev is assigned Ambassador Extraordinary and Plenipotentiary of the Republic of Kazakhstan to Korea," - the order says. Mr. Bakishev has replaced Ambassador Darkhan Berdaliyev, who has been relieved of his duties by a presidential order in relation with a transfer to another job.
---------------------------

Wie battles the men in Korea

Teenager Michelle Wie will take another shot at proving she can cut it in men's golf on Thursday when she tees off in the SK Telecom Open. Wie is tightlipped on her prospects of making the cut in South Korea, her eighth attempt to do so at a men's tournament, saying only that she wanted to learn "a lot" from others. "I really wish to play well and if I manage to give it my best and at the same time try to have fun, I think I will be satisfied," the 16-year old high school student said. Wie played in the US PGA Tour's Sony Open at her home of Hawaii in January, and is scheduled to start in two more PGA Tour events - the John Deere Classic in July and the 84 Lumber Classic in September. No woman has made the cut on the US PGA Tour since Babe Zaharias in 1945. Wie last visited South Korea, the country of her parent's birth, in 2003 to contest the LPGA's CJ Nine Bridges Classic, where she finished last in the field as a 14-year-old amateur. "If I can play well, that's fine. But even if I don't play well, that's still OK," she said in perfect Korean.

Wie will tee off against over 150 men on Thursday at the Sky 72 Golf Club near Incheon on the outskirts of Seoul. Her biggest rival is defending champion and three-time US PGA winner, K.J. Choi, who claimed a five-stroke victory over Fred Couples last year. "Winning is my goal here," Choi said of his chances this week. Wie's latest appearance in the South Korea, which desperately tries to claim her as its own, has seen her flaunt her Korean ancestry like never before, including only speaking in Korean.
---------------------------

China and Korea lead way into AFC Champions League quarters

SINGAPORE: Chinese and Korean sides gatecrashed the AFC Champions League quarter-finals Wednesday but Japan's campaign collapsed with Gamba Osaka and Tokyo Verdy sent packing. Shanghai Shenhua, the Chinese Super League runners up, became the first club to join defending champions Al Ittihad of Saudi Arabia in the final eight with a last gasp 4-2 victory away to Vietnam's Dong Tam in Group G. The topsy turvey encounter looked to be heading for a 2-2 draw when Li Chengming struck twice at the death to send the Chinese outfit in the knockout stages for the first time. They were joined in the business end of the tournament by South Korean side Ulsan who overcame Tokyo Verdy 1-0 in Group F thanks to a blistering free-kick on the stroke of half-time by Korean international Lee Chun-soo. It was a miserable night for Japan with J.League leaders Gamba Osaka also sent packing, managing only a 1-1 draw at home to Chonbuk Motors of South Korea that made it impossible for them to progress.
---------------------------

North Korea loses $20m each week it avoids talks

North Korea loses at least 20-million dolars each week it stays away from multilateral talks aimed at ending its nuclear weapons drive, a top United States negotiator said on Tuesday. North Korea stood to gain that amount of money in energy aid alone in return for abandoning its nuclear weapons under an agreement reached by the negotiating parties, said Christopher Hill, the Assistant Secretary of State who headed the US team to the stalled six-nation talks. "So for every four weeks they delay, they lose $80-million, and you can do the math from here," Hill said when commenting on North Korea's boycott of the talks since November last year.
---------------------------

South Koreans Indifferent to Skyrocketing Oil Prices

Dubai crude oil prices reached a record high in Asian trade Tuesday, hitting $68.33 per barrel, as mounting tension over Iran's nuclear tension with the West amid a forecast of falling fuel stocks in the United States fueled speculative interests. Although the cash price of Dubai crude broke past $68 per barrel Tuesday, renewing the previous historic high of $67.48 on April 24, the Korean government remains impervious to criticisms warning about the impact of recent oil price hikes. Dubai crude is the benchmark crude that sets the prices of other Middle East oil on which Korea depends for more than 80 percent of its crude imports. Despite spiking oil prices, the Ministry of Finance and Economy (MOFE) is reiterating that high oil prices and a strengthening won will not dampen its hopes to achieve a 5 percent annual economic growth target this year.
---------------------------

S. Korean Police Storm U.S. Base Protest

Thousands of police armed with batons stormed an abandoned school in South Korea on Thursday to evict activists who were protesting plans to expand a U.S. military base, sparking clashes that resulted in dozens of injuries. About 3,000 police battled with hundreds of local residents and anti-U.S. protesters in the village of Pyeongtaek, about 40 miles south of Seoul, where they had occupied the school building overnight to protest the expansion plans. Some 7,000 police stood nearby. Some of the protesters were seen bleeding from the head. Police said the clash left at least 65 injured on both sides.
---------------------------

Korea to Unveil Unmanned Explorer Sub

Korea is the fourth country to develop an unmanned submarine that can probe up to 6,000 meters underwater, and is now actively pursuing exploration activities. The Ministry of Maritime Affairs and Fisheries (MMAF) announced on Tuesday that it will hold a launching ceremony of the unmanned submarine "Haemirae" attended by Vice Minister Kang Moo-hyun and about a hundred others at the South Sea Institute of the Korea Ocean Research and Development Institute (KORDI) in Jangmok-myeon, Geoje City, Gyeongnam Province. The MMAF and KORDI have spent 12 billion won since 2001 on the submarine and have finished developing and testing Haemirae and the launching mechanism, "Haenubi."

Korea is the fourth country with the technology to manufacture submarine probes that can reach 6,000 meters underwater, after the U.S., Japan, and France. Haemirae, which weighs 3,700 kilograms, uses six electromotion-propellers to move backwards and forwards, left and right, and up and down at 1.0 to 1.5 knots (1 knot equals 1,852 meters per hour). The Ultra-Short Baseline (USBL) attached to the submarine allows it to locate objects with about five-meter accuracy, and its two oil hydraulic robot arms let it collect samples underwater. The ministry is planning underwater probes in the deep oceans of the Pacific Ocean and areas near Dokdo from the second half of this year.
---------------------------

North Korea is world's most censored country

North Korea tops the world's 10 most censored countries, which include three former Soviet republics, the Committee to Protect Journalists (CPJ) said Tuesday. 'Communist North Korea is the world's deepest information void,' CPJ said in a report released at UN headquarters on the eve of the annual World Press Freedom Day. 'There is not a single independent journalist, and all radio and television receivers in the country are sold locked to government- specified frequencies,' CPJ said. North Korea is followed in the list by Myanmar (Burma), Turkmenistan, Equatorial Guinea, Libya, Eritrea, Cuba, Uzbekistan, Syria and Belarus. 'People in these countries are virtually isolated from the rest of the world by authoritarian rulers who muzzle the media and keep a chokehold on information through restrictive laws, fear, and intimidation,' said Ann Cooper, CPJ executive director.
---------------------------

South Korea to win Pyrrhic victory over foreign funds

A nationalist backlash against tax-free windfall profits made by foreign investment funds in South Korea has put multibillion-dollar deals on hold and may stymie investment in Asia's fourth-biggest economy. Mounting resentment has boiled over into raids, indictments and a raft of new tax laws and the onslaught could intensify in the run-up to the presidential election in December 2007. International investors are getting concerned about the tax and regulatory environment in Korea. In the long run, this may not be good for long-term direct investment in Korea," said Vincent Chan, managing director for North Asia at venture capital firm JAFCO Asia, which has an office in South Korea. South Korea used to be a happy hunting ground for foreign buyout funds such as Newbridge Capital, Lone Star and the Carlyle Group, which snapped up distressed assets at fire-sale prices in the wake of the 1997-98 Asian financial crisis.
---------------------------

North Korea Ranks 14th on List of Failed States

North Korea has been ranked 14th on a list of "failed states" compiled by the U.S. global policy journal Foreign Policy together with the Fund for Peace. The two gave countries number grades in areas like government authority, legitimacy, public peace and basic public services. In the results published Monday, Sudan topped the list for being in the middle of a civil war. It was followed by the similarly afflicted Democratic Republic of the Congo, Cote d'Ivoire, Iraq and Zimbabwe. Among the 148 countries, 11 in the top 20 were African nations.


---------------------------

Korea Men's Team Reach Final in Table Tennis

Korea's national men's table tennis team reached the finals at the world championship in Germany after beating Hong Kong 3:0. They now face ping pong powerhouse China for the championship title. The Korean men's team has taken third place several times, but this is the first time they have reached the final since Korea first played at the 1956 Tokyo world championships. The Korean team led by the 1988 Seoul Olympics men's singles gold medalist Yoo Nam-kyu beat Hong Kong with outstanding performances by Oh Sang-eun, Ryu Seung-min and Lee Jung-woo. (dodatak: Izgubili su u finalu 3:0 protiv Kine)
---------------------------

Korea's Exports Rise 12.7% in April


Exports grew by double-digits for the third straight month in April, coming in at 12.7 percent above a year before. High demand for auto parts, general machinery and ships contributed to the climb. Exports reached $25.77 billion last month but the amount was down from around $27 billion in March, the Ministry of Commerce, Industry and Energy said. Imports rose 14 percent to $24.23 billion, due in part to gains in crude oil prices, resulting in a trade surplus of $1.55 billion. South Korean exports of refined oil products and autos surged in April despite the steady appreciation of the Korean won versus the dollar. The won has risen about 6 percent this year.
---------------------------

Korea Ranks First in Urbanization

South Korea is one of the most rapidly urbanized countries in the world a report has showed. Citing a United Nations (UN) report, the National Statistical Office (NSO) said that 80.8 percent of the Korean population was living in cities at the end of last year, up from 56.9 percent at the end of 1980. Korea's level of urbanization in 2005 was on par with 80.8 percent of the United States, but the process of urbanization was much slower in the U.S.



"Rapid urbanization of Korea is aggravating the economic polarization in the country and deterring balanced economic growth among provinces," an official from the statistical office said. U.S. people living in urban areas rose at a much slower pace over the last 25 years, growing from 73.7 percent in 1980, significantly higher than the percentage of urbanized Koreans at that date. Only Oman and the Philippines showed faster urbanization than Korea among Asian countries, the NSO said. The percentage of the population living in urban areas spiked to 78.6 percent in 2005 from 31.5 percent in 1980 and that of the Philippines climbed to 62.6 percent from 37.5 percent.

The proportion of the population living in large urban areas in China rose to 40.5 percent last year from 19.6 percent 25 years earlier, and that of Japan rose to 65.7 percent from 59.6 percent. The percentage of urban population in Hong Kong reached 100 percent, Singapore 100 percent, Macao 98.9 percent, Kuwait 96.4 percent, Bahrain 90.2 percent, Qatar 92.3 percent, Israel 91.7 percent, Saudi Arabia 88.5 percent and United Arab Emirates 85.5 percent. However, countries that were more highly urbanized than Korea as of the end of 2005 were either small city states with limited territory or Middle Eastern countries with terrain inadequate for suitable housing.
---------------------------

South Korea to conduct survey off Takeshima

The South Korean government is planning to conduct a maritime survey in July in the waters around the Takeshima islets, known as Dokdo in South Korea, including areas within Japan's exclusive economic zone, sources said. According to the sources, the survey will be conducted by the South Korean National Oceanographic Research Institute between July 3 and 17. Researchers will observe the ocean conditions, including the current, tides and salinity.
---------------------------

Mild Earthquakes Occur Off Korea's Southeast Coast


A series of four mild earthquakes shook the area off the southeast coast of the Korean Peninsula from Friday night to Saturday morning, the Korea Meteorological Administration (KMA) said. Their magnitudes ranged between 2.5 and 3.5 on the Richter scale, the weather agency said. The latest quake occurred around 11 a.m., 58 kilometers south of Uljin, North Kyongsang Province, with a magnitude of 3.5. A magnitude 3.0 quake was reported in the same area shortly before midnight, the KMA said.
---------------------------

N.Korea: U.S. Conducted 160 Spy Flights

North Korea claimed Saturday that the United States conducted about 160 spy flights against the communist state this month. In particular, the U.S. flew dozens of reconnaissance aircraft for anti-North Korea espionage between April 21-24 when the two Koreas held high-level talks in Pyongyang, KCNA said. Some 29,500 U.S. troops are based in South Korea , which remains technically at war with the North.
---------------------------

Iran-Exports-South Korea

Over 3,000 LAB from 'Bisotun' petrochemical complex have been exported to South Korea since the beginning of the current Iranian year (March 21), the National Petrochemical Company announced here Saturday. LAB which is used as raw material in making detergents is produced with 93 percent purity, it said adding that in addition to meeting the domestic demand, it is exported to several foreign countries.
---------------------------

South Korea Arrests Chairman of Hyundai

The chairman of Hyundai Motor Co., an icon of the South Korean economic miracle, was arrested Friday for allegedly creating a political slush fund and trying to evade inheritance taxes. The sight of Chung Mong-koo, square-jawed titan of the ruling establishment, being led off to jail sent a shock wave through the country. Although there have been past campaigns to clean up South Korea's chaebol, as conglomerates are known here, rarely has anyone so prominent been arrested in such a public spectacle.

Seoul District Court Judge Lee Jong-seok said Friday that the court had granted prosecutors' arrest request because of the risk that Chung, 68, could tamper with the investigation. "The suspect is denying most of the charges and it is feared he could destroy evidence," the judge said in a statement issued by the court. Under South Korean law, Chung can be held for 20 days while the court decides whether to issue a formal indictment.

Hyundai is the world's seventh-largest car manufacturer and until recently looked to be on track to pass Volkswagen and DaimlerChrysler to become No. 5. But the investigation has twice forced the postponement of groundbreaking at a $1.2-billion Kia Motors plant in West Point, Ga. Kia is a subsidiary of Hyundai. The investigation has also delayed construction of a factory in the Czech Republic that was to become Hyundai's first European plant.

The shock factor in the case comes from the fact that a man as powerful as Chung could be arrested; the actual allegations are fairly pedestrian by the standards of South Korean big business. Chung is accused of creating a slush fund of more than $100 million used to influence the 2002 presidential election and political campaigns. He is also alleged to have embezzled hundreds of millions more by setting up an elaborate system of shell companies to avoid taxes while bequeathing his holdings to his son, Chung Eui-sun. Prosecutors say charges are also likely for the younger Chung, the head of Kia, although he has not been taken into custody.
---------------------------

N. Korea said in Tokyo it will shift energy policy to nuclear power

North Korean Vice Foreign Minister Kim Kye Gwan said at an academic conference held in mid-April in Tokyo that Pyongyang will shift its basic energy policy from coal and hydroelectric power generation to nuclear energy, conference sources said Saturday.
---------------------------

Google fails to make inroads in S. Korea

Google Inc. has seeped into many aspects of online life across the globe, but the Internet search engine has failed so far to make any notable inroads in one of the world's most-wired countries: South Korea. Users here are some of the most Internet-savvy in the world, with millions of people running their own blogs and taking advantage of omnipresent broadband hookups and Wi-Fi hotspots. South Koreans would seem like natural Google users, but the leading search engine is merely a bit player. Google referred only about 17 percent of unique visitors to other sites in March, according to the Web analytics company WebSideStory. Another research company, KoreanClick, found that Google's Korean site referred only about 10.8 percent of unique visitors in February.
---------------------------

Korea Times Builds Link With Youth

The Korea Times, the nation's leading English daily, on Friday launched a team of global student reporters to help young students enhance English writing skills in the era of globalization. Seven student reporters attending local universities were named as the first global student reporters at a ceremony in the newspaper's headquarters in central Seoul. The global student reporters' program is sponsored by KTF, one of the nation's three major mobile phone carriers. Park Moo-jong, president and publisher of The Korea Times, awarded a article-carved prize and a 3.75-gram gold to each student in honorarium.


---------------------------

Roll Over, Aibo: Meet S.Korea's Robot Dog

Roll over, Aibo, there's a new robot dog in town. A South Korean company is stepping into to the gap left by Sony's decision to end production of its mechanized canine Aibo with a new robot hound that can recognize spoken commands and act as a watchdog with a camera built into its snout. DasaTech, based in Bucheon in eastern Seoul, said it plans to put its robot -- named the "Genibo" for "genius robot" -- on the market next year for an as-yet-unspecified price, according to company official Cho Soo-hyun.

The Genibo, which stands a foot tall and weighs 3.3 pounds, understands 100 commands, including "sit," "roll over" and "wag tail." The company says it can navigate around obstacles by itself. Japan's Sony Corp. said earlier this year it was killing off the Aibo robot project to cut costs. It had sold some 150,000 Aibos since they debuted in 1999 and sparked a strong following among fans -- some of whom owned whole packs of the machines that retailed for about $2,000. Aibo also could recognize voices and the face of its owner.
---------------------------

Animax Korea Slated for April 29 Launch

Animax Korea, a joint venture between Sony Pictures Television International (SPTI) and Korean satellite TV platform SkyLife, will launch on April 29. The 24-hour animation network will be carried exclusively on SkyLife's DTH platform, which has a subscriber base of about 1.9 million. Its programming will be targeted to teens and young adults, with highlights to include God (?) Save Our King!, Monkey Typhoon, The Count of Monte Cristo, Otogi Zoshi, The Adventures of Tweeny Witches and Galaxy Angels.
---------------------------

N., S. Korea agree to seek settlement of 'missing people'

North and South Korea have agreed to try to settle the issue of those people missing during and after the 1950-1953 Korean War, according to a statement issued at the end of the 18th ministerial talks in Pyongyang on Monday. "The South and the North agreed to cooperate to actually settle the issue of those people whose whereabouts remain unknown during the war period or after the war," the statement said. The agreement on "missing people" is an oblique reference to as many as 485 South Koreans allegedly abducted to the North, and more than 500 war prisoners from the Korean conflict. North Korea has never admitted to kidnapping any South Korean, claiming South Koreans have defected voluntarily, and has steadfastly denied the existence of any South Korean prisoner of war.
---------------------------

TV phones surge ahead in Korea

TV-enabled mobile phones are already taking a 14.5 per cent share of the market for new phones in South Korea, despite being on sale for only one year, according to a local research firm. A total of 189,000 mobile phones with Digital Multimedia Broadcasting (DMB) reception capabilities were sold in the country in March, Korea IT News reported today, citing data from the Seoul-based Atlas Research Group. ws
Objavljeno u 15:10 • Komentari (4) • Isprintaj • #
srijeda, 03.05.2006.
Korea Phantom Menace

Objavljeno u 12:12 • Komentari (2) • Isprintaj • #
utorak, 02.05.2006.
Seoul

Seoul (607 km2)je glavni grad Južne Koreje i jedan od najnaseljenijih gradova na svijetu. 1948., kad je ustanovljena Južna Koreja postao je glavni grad države. Njegovo pravo ime je Seoul Teukbyeolsi.

Seoul se nalazi na severozapadu zemlje, 30 km južno od granice sa Sjevernom Korejom, na rijeci Han. Grad je politički, kulturni, društveni i ekonomski centar Južne Koreje. Također je i centar međunarodnih poslova, financija, multinacionalnih korporacija i svjetskih organizacija. Kao glavni grad jedne od najmoćnijih svjetskih privreda, njegov globalni status je u stalnom porastu. Danas je jedan on najočitijih simbola korejske privrede "Čudo na rijeci Han".




Urbano područje Seula ima 10,3 miliona stanovnika (2003), i po tome je 22. najnaseljeniji grad na svijetu. Njegova gustoća je tako velika da ga smatraju jednim od "najdigitalnijih" gradova u današnjoj globalno povezanoj ekonomiji. U gradu je registrirano više od milijun vozila koji stvaraju ogromne prometne gužve koje traju do ponoći. Veliko područje metropole Seoula, s velikim gradskom lukom Inčion, transportnim pojasom i prostranim prdgrađima, je jedno od najnaseljenijih mjesta na svijetu, tj. s 23 000 000 stanovnika je treća metropola svijeta). Skoro polovica stanovnika živi oko glavnog grada i u njemu (slično kao u Hrvatskoj). Posljednjih godina gradske vlasti su preduzele opsežne mjere za zaštitu grada od zračnog i vodenog zagađenja, što je rezultiralo čistijom atmosferom, iako je zagađenje zraka i dalje vrlo problematično.
(ukratko sada, o povijesti i drugom možda neki drugi put)
Objavljeno u 10:25 • Komentari (4) • Isprintaj • #
ponedjeljak, 01.05.2006.
Breakdance [Group "Last For One"] V1.0

breakdance / korean cultural performance
song : CANNON MIXED w/ Korean instrument "Ga-Ya-Geum"



ili kliknite LINK za V2.0 verziju iste pjesme.
Objavljeno u 08:06 • Komentari (1) • Isprintaj • #