nedjelja, 29.05.2011.
Korgoth of Barbaria (2006) Pilot epizoda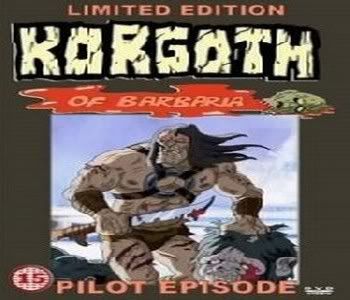 Produkcija: Adult Swim
Kreator: Aaron Springer
Glasove posudili:
Diedrich Bader........... Korgoth
Corey Burton............ Narrator / Specules
John Di Maggio.......... Stink
Craig Raisner............. Gog-Ma-Gogg

TV premijera je bila 03. lipnja, 2006 godine
Trajanje: 22 minute
Intro
I dio, II dio i III dio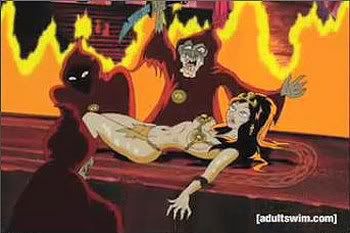 SADRŽAJ:
''- Najopakiji ratnik svog doba Korgoth je inficiran sa smrtonosnim parazitom kojeg mu je na prevaru tijekom jela podvalio pokvareni bogataš Gog-Ma-Gogg i koji našeg ratnika ucjeni da u zamijenu za protuotrov koji samo on ima da mu donese statutu znanu kao "Zlatni Goblin Četvrtog Doba" od čarobnjaka zvanog Specules, za kojeg Gog misli da je preminuo.
Kako mu pokvareni bogataš nije ostavio nikakve druge opcije Korgoth sa grupicom Gogovih plaćenika kreće na dug i put prepun opasnosti koje vrebaju iz svakog kuta prema Speculesovom zamku.''




RECENZIJA:
'' – Veliki Gradovi su ustali i pali. Civilizacijski stisak na čovječanstvo je postao slab i artritičan. Tamne sile nastoje obnoviti zaboravljene saveze a iskonske zvijeri preuzeti divljinu. Sa smrznutog sjevera čovjek dolazi...čovjek barbarskog doba, čije je nemilosrdno divljaštvo možda jedini ključ njegovog opstanka. Zovu ga Korghot!''

- Tako započinje jedan od najboljih crtića koje sam imao vidjeti u svoje sada će biti 33 godine života. Šteta je jedino što se možemo diviti ovoj jednoj pilot epizodi...šmrc.
Nastao 2006 godine za kabelsku televiziju Adult Swim (koja je dio Cartoon Networka), čija su orijetancija publika od 18 godina pa nadalje, od strane začetnika ideje Aarona Springera, kojeg znamo po animiranim serijama SpongeBob SquarePants, Dexter's Laboratory i Samurai Jack, u suradnji sa Genndyjem Tartakovskyim.




Kako vidimo iz priloženog Korgoth od Barbarije je nastao kao malo ozbiljnija parodija Conana, i to sigurno kao najbolja nakon Sergio Aragonéovog stripa ''Grooa Lutalice''.
Springer je koliko vidim veliki fan Marvelovog Conana ili je dobro proučio građu, što mu svakako ide u prilog ako je želio osvojiti ljubitelje snažnog Simerijanca, jer je pogodio bit lika i fino uspio spojiti parodiju sa krvavom akcijom i samom radnjom (prvo što sam odmah uspio primjetiti da jedan od likova nosi Hyrkanijsku kacigu).
Gledajući animaciju ona je poprilično bogata što znači da možete očekivati doista lijepe kretnje i pravu akciju kod likova kao u pravom crtanom filmu (znači zaboravite na kolažni prikaz kao recimo u originalnom He-Manu). Sam crtež je tipičan za današnju MTV generaciju, te bih ga po načinu animacije i izgledu likova (muškarci u licu ružni, žne s druge strane ljepotice) usporedio sa Mike Judgeovim serijalom Beavis and Butt-head, pa iako je Korgoth bogatiji u detaljima i stilu crtanja. Što se tiče izgleda grotesknih čudovišta najviše su me podsjetili na crtiće ''Cow and Chicken" i ''Courage the Cowardly Dog'', dok nasilje jedino mogu usporediti sa nasiljom u ''The Itchy & Scratchy Show'' crtiću u Simpsonima.
Humor je ono što je najveći adut ovog crtića i svakako ga svrstavam u sam vrh što se tiče današnjih modernih animiranih filmova.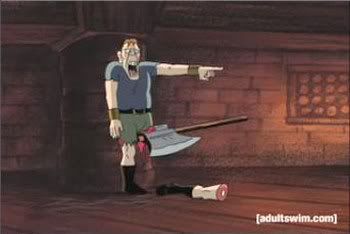 Akcije ima na pretek, krvi do koljena, a svako malo netko ostane bez glave ili uda, tako da oni koji su voljeli kanadski animirani dugometražni SF/horor film ''Heavy Metal'' (1981) znaju što bi mogli očekivati od ove crtane parodije, te bi je trabli također zavoljeti. Sam crtić prati tipičnu sword and sorcery formulu koju je još davne 1929 postavio tata Conana Barbara Rober E. Howard, a to znači imamo glavnog lika koji ide iz pustolovine u pustolovinu, bori se i ubija svakojake zvijeri, te spašava lijepe djeve u nevolji.
Baš taj Conan đir i što sam lik liči na mog omiljenog fantasy barbara sa okružjem potpuno istim kao u Howardovim pričama, ali vrlo blisko i Marvelovom Conanu čini Korgotha tako posebnim.
Ostaje žal za tim da je Korgoth of Barbaria ostao samo na toj jednoj pilot epizodi, a službeno objašnjenje zbog ukidanja je bilo da je serijal skup i slabo primljen kod publike (gledajući ocijene na IMDb-u u to je teško povjerovati jer je publika postojala). Ja kažem palac gore za crtić, jer Korgoth sam izgleda mnogo primamljivije od recimo zanimljivog ali i dalje dječijeg Thundarra Barbara (vidimo još jedna kopija Conana) sa kojim koliko vidimo dijeli isti intro....ma kvragu sve izgleda čak bolje i od Conan The Adventurer (1992)


THE SCENA:
- Korgoth vs. Scrotus - okršaj u krčmi gdje Korgoth sredi ogromnu mrcinu od čovjeka na vrlo originalan i smiješan način dostojan samog Conana + deranje mrcinih prijatelja posebice pankera čije je lice zariveno u prsate grudi lijepe konobarice