subota, 26.02.2011.
Fenomenalni trailer za nadolazeću igru "Dead Island"

Mislim da ste svi vi već shvatili koliko volim zombi filmove, no možda ne znate da također obožavam igrati video igre sa zombijima. No, na žalost kako je slučaj sa filmovima tako je i sa igrama. Omjer je sigurno jedno 25:1 gledajući loše nasuprot dobrima. Pravih video igara sa zombijima je vrlo malo za koje mogu reći da su odlične.
Naravno imamo tu "Resident Evil" serijal, no za mene vrijede samo prva tri dijela.


Trailer za "Dead Island"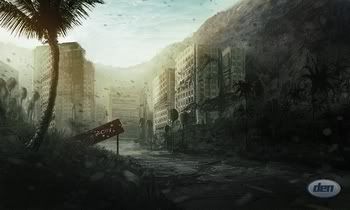 Ono što je meni privuklo pažnju prije par dana je fenomenalni trailer za nadolazeću video igru "Dead Island" koju su mnogi otpisali jer ima već par godina (zadnji put trebala izaći 2008 godine) da treba izaći a ona nikako da izađe. Sada najnovije informacije govore da izlazi ove godine sigurno i to u posljenjem kvartalu ove godine najvjerojatnije.
Već duže vrijeme nismo dobili pravu zombi video igru (osim recimo "Left For Dead" I i II, ali i to je samo grupno napucavanje zombija bez neke horor atmosfere i većinom je rađena za multiplayer makljažu), tako da se radujem njenom izlasku jer igre poput "Dead Rising" ne ljubim baš previše (samo mlatite zombije, nema priče, nema atmosfere i ugođaja).




Iako, sa guštom trenutno igram "Resident Evil 5" to ipak nije to jer zombiji odavno nisu tu već u igri, a meni stvarno treba neka igra sa atmosferom i zombijima, te prejebenim ugođajem u kojem osjećate strah sa svakim korakom, kad ostanete bez ičega za obranu od zombija.
Razloga za radovanje dala mi je upravo ova nadolazeća poslastica i to zbog odličnog foršpana koji nam govori da bi igra mogla biti prejebena. Mnogo stvari koje sam uspio primjetiti u traileru su također primjetili i momci sa sajta IGN-a, tako da ja ne trebam trošiti mnogo riječi nego je bolje da ih poslušate što sve imaju za reći, jer ima tu mnogo detalja koje izazivaju slinu na usnama:

IGN komentar na igru

Vratit ću se na sami trailer i reći da je najfenomenalniji koji sam vidio za neku videoigru, a toliko uzbuđenja viđenim nije u mom tijelu izazvano još od reklame za rimejk "Dawn of the Dead" .
U te tri minute vidjeli smo mnogo predivnih sekvenci, grafika je odlična (igru pogoni Chrome Engine 5) i diči se mnogim predivnim detaljima, a evo što se može očekivati od same igre:

- ovo je FPS iz trećeg lica sa izraženim elementima RPG-a u kojem ćemo imati nevjerojatno realističnu borbu prsa o prsa temeljenu na dinamičnim pokretima likova i posebnim kutevima kamere, a samo igranje će biti nelinearno
- igra će imati AALS (Advanced Artificial Life System) i FIE (Fully Interactive Environments)
- sa svojim ponašanjem i djelovanjem utjecat ćete i na ponašanje NPC-a, koji će imati realistično i spontano ponašanje; svaka vrsta zombija će imati svoje ponašanje tako da ćete moći to iskoristit za svoju prevagu u borbi
- imat ćete mogućnost stvaranja svog jedinstvenog oružja za eliminiranje zombija, te će te također moći koristiti bilo koji dio okolnih predmeta za odbranu od živih leševa
- istraživanje otvorenog svijeta i to po mogućnosti pješice ili u vozilima
- moći ćete birati svoje saveznike i zadatke koje ćete izvršavati, a same vaše odluke će utjecati na napredovanje u igri (multi-threaded story); u igri će se vidjeti kako epidemija mijenja ne samo ljude nego i okoliš
- zombiji će imati detaljizirane osobine na tijelu tj. vidjet ćemo oštećenu kožu, mišiće pa čak i kosti, a ako budete udarili zombija sjekirom recimo po obrazu odsjeći će te ga




Za kraj se stvarno nadam da će igra ispuniti sva naša očekivanja (kao i ove gore navode), te da ćemo dobiti prvoklasno igrače iskustvo sa odličnom igrivosti i atmosferom...u kojoj bi se opet strahovito bojali zombija.
Inače, igra dolazi na PC-u, Xbox 360 i PS3-ici.
Stoga strpite se još malo strah dolazi...