subota, 17.11.2007.
Moja teorija o - Michaelu Myersu

Zanemarit ću one ideje koje je propagirao Rob Zombie u remaku, jer se ne slažem sa njegovom teorijom kako je i zbog čega je Myers postao ono što jeste tj. obični psihopata. I za ću se otisnuti na putovanje u relativno blisku prošlost koja obuhvaća velik dio teorije urote, tajne službe pa čak i nacističke znanstvenike...


UVOD:
Nakon što je II Svijetski rat završio padom Berlina (Hitlerovim samoubojstvom) i kapitulacijom Japana (čija su dva grada Hirošima i Nagasaki bili samo poligoni za isprobavanje djelovanja atomske bombe i to bez obzira što je sam Japan bio pred predajom), Amerika je vrlo brzo započela novu borbu - protiv komunizma i novog neprijatelja SSSR-a, a za to su mu trebali najveći umovi, pa makar bili nacistički znanstvenici koji su operirali u raznim koncentracijskim logorima diljem Europe (Auscwhwitz i Dachauu su prednjačili po zloglasnosti) ili japanski stručnjaci za biološko istraživanje i ratovanje zaduženi za zvjerske zločine na područiju Mandžurije (na čijem je čelu bio dr. Shiro Ishii) u raznim postrojenjima/logorima tzv. Jedinicama (od kojih je najpoznatija Jedinica 731) gdje su scene vivisekcije (seciranje na živo bez anestetika) i slične operacije bile svakodnevnica (scene iz današnjih filmova poput "Hostela" i "Saw" su mamino mlijeko prema ovome...uz to potonje je ipak samo fantazija, dok su užasi u Jedinici 731 bili realni).
Naravno ne treba spominjati da se većina znanstvenika vrlo upiješno uspijela tajno prebaciti iz Berlina i Japana u SAD kod Ujaka Sama, koji je zanemario da su ti isti znanstvenici ubili na desetke tisuća ljudskih bića (samo u Jedinici 731 je bilo oko 3000 ratnih zarobljenika većinom vojnika SAD-a!!!, ni to im nije smetalo - što su ti isti znanstvenici radili eksperimente na njihovim vlastitim vojnicima).
Taj projek prebacivanja odabranih znanstvenika u SAD se zvao - PAPERCLIP (760 nacističkih znanstvenika i najviše rangiranih obavještajaca, te svi japanski znanstvenici iz Jedinice 731).

*sam Hitler se gnušao bioloških istraživanja na virusima, jer je sam jednom doživio napad klorom u I Svij.ratu, a Rusi kad su se dohvatili ponekog japanskog znastvenika iz drugih Jedinica su to riješili smrtnom kaznom bez ikakvih pripetija...


Niti vatra ga ne može zaustaviti

Elektronska stimulacija mozga i Telemetrička kontrola uma:
"- 50-tih godina prošloga stoljeća kontrola uma je bila u samim povojima, no kako je CIA-u to polje jako strašno zanimalo (kao i biološko istraživanje) najviše novca su upravo potrošili na takva istraživanja (LSD je samo jedan od takvih negativnih produkata tih pokusa).
Iako uz zasigurnu pripomoć nacističkih znanstvenika prvak na polju tih istraživanja je bio španjolski neurofizičar dr. Jose Delgado, koji je 1950 godine došao na nagovor svog prijatelja i uglednog psihijatra Johna Fultona na Sveučilištu Yale.

Nakon vrlo poznatog pokusa iz 1964 godine kad je u mozak bika za koridu usađena elektronska sonda u određene dijelove njegovog mozga, a na glavu mu pričvrstio mali radio-prijamnik, uspio živinu od 1000kg živog mesa svaki put zaustaviti kad je svom silinom jurišala na njega.
1966 godine je nakon mnogo uspješnih pokusa na raznim životinjama došao do zaključka (citiram):
"- Moji su pokusi potvrdili neugodan zaključak da se kretnjama, emocijama i ponašanjem može upravljati elektronski, te da se i ljudima može upravljati kao robotima pomoću tipki."

Moram napomenuti i godinu 1956 kad je električni inženjer Curtiss Shafer izjavio na Nacionalnoj konferenciji za elektroniku u Chicagu (citiram samo dio njegovog govora, za koji mislim da najbolje očitava sliku kontrole uma):
"- Kontrolirani subjekti nikada ne bi mogli razmišljati kao pojedinci. nekoliko mjeseci nakon rođenja, kirurg bi u mozak djeteta usadio utičnicu i elektrode, koje bi sezale do odabranih područja moždanog tkiva i na taj način bi se osjetilni doživljaji i mišićni rad subjekta izmjenili ili bi bili potpuno pod nadzorom bioelektričnih signala iz kontroliranih odašiljaća."

Michael Myers, projekt Übermensch koji je pošao krivo (teorija nastanka i zbog čega je ono što jeste):
" Kako znamo Myers je rođen 1957 godine (baš u vrijeme najvećih Delgadovih uspjeha i godinu nakon Shaferovog govora) i ono što se je dogodilo sa njim je slijedeće:
- on je bio prvi pokus CIA-og projekta MKULTRA (jezoviti program kontrole ponašanja) koji je pošao ukrivo istog onog trenutka kad je započet
- to znači da dok je još bio beba da su CIA-ini agenti i neurokirurzi umetnuli u Myersov mozak tzv. elektronske "stimoceivere" (nešto slično 'usadcima' ili 'implantima' koje koriste 'vanzemaljci') koji su služili kao radio-prijamnici (točnije elektromagnetske mikrovalne naprave) koji šalju radio valove u određene centre u mozgu sa ciljem planiranog ponašanja (većinom nasilno...slično kao što su znanstvenici SEI-a (CIA-in Institut za znanstveni inžinjering) radili pokuse na vijetnamskim ratnim zarobljenicima sa istim ciljevima)
- no kako svi znamo problem je taj da mozak nije još toliko znano područje da se možemo igrati sa njim kao recimo sa drugim organima poput srca ili jetre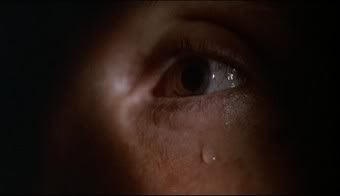 Michaelove suze - da li je to dokaz da Michael svjestan što radi, ali se ne može zaustaviti zbog toga što mu je mozak opran?

Zavšna misao:
- dakle Myersu kao malome su usadili te implante koji su mu do šeste godine pomutili razum (sigurno je jedan od tih prvotnih simptoma bio i poremećaj osobnosti) i pretvorili ga u sociopata (kao Edmunda Kempera) i psihopata
- kao većina stvarnih serijskih ubojica vrlo vjerojatno je da je implant svojim eletkronskim stimulacijama (sa njima se kontrolira raspoloženje) oštetio njegov prednji čeoni režanj (ili je bio oštećen udarcem ili padom dok je bio još vrlo mali) što ga je dodatno učinilo da ima želju za ubijanjem
- u dosta scena u serijalu Michael se doima zbunjeno što me malo podsjeća na još jedan slučaj serijskog ubojice - Davida Berkowitza, koji je govorio kako su mu glasovi govorili da ubije (za poklonike urota Samov Sin je najbolji primjer što od čovjeka za napraviti projekt MKULTRA) i da je dosta puta bio dezorijentiran (odlika ispranog mozga)
- što se tiče Myersove neranjivosti tu imamo dva objašnjenja (koja se mogu i povezati):
a) elektronske stimluacije tih implanata stimuliraju mozak tako jako da on luči velike količine raznih hormona od kojih se najviše istječe hormon testosteron (čini ljude manje suosjećajnima i osjetljivima na tuđe patnje i jedan je od ključnih sastojaka psihe) zbog kojeg ljudi lakše planu i potuču se; isto tako ti isti hormoni davaju mu dovoljno dobru moć regeneracije bez obzira na rane (nešto kao kod Wolverina samo mnogo slabije i sa sporim intervalima djelovanja u zacijelivanju...no naravno borbeni ožiljci ipak ostaju
b) kako smo rekli u predprošlom postu Samhein (Noć Vještica) koji počinje 31. listopada, jest vrijeme najslabije granice između svijeta živih i svijeta mrtvih, pa tako svako ubojstvo čini da njegovo tijelo ojača kad usisa dušu ubijenog

- što se tiče Čovjeka u Crnom on je agent CIA-e i njegov je zadatak čuvati tajnu, dok je Dr. Sam Loomis bio jedan od doktora koji su podrvgnuli Myersa eksperimentu...naravno Loomis se pokajao zbog učestvovanja u pokusu pa je odlučio ispraviti grešku tako da zatvori Michaela no glavni šef projekta Dr. Terence Wynn to nije dopustio i od tada je The Shape nepopustljiv i nezaustavljiv u svom ubilačkom nagonu

Eto ovo je bila moja zabavno-znanstvena teorija što je Michael Myers i nadam se da sam vas barem malo zabavio ovim maštovitim teoremom...