05.10.2009.
iPhone as a USB stick!!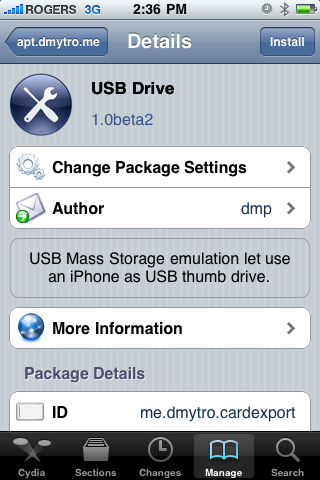 Have you ever needed to transfer a file over but realized you didn't have you USB thumbdrive with you? Well here is the solution. Dmp has created an awesome utility which makes a portion of your iPhone/iPod Touch's hard drive into a USB drive recognizable by computers without any extra software.
This does not allow you to view your iPhone/iPod Touch's filesystem.
You can even choose the size of the portion that you want to become your USB drive.

1.Press to launch Cydia from your iPhone Springboard
2.Press to select Manage from the tabs at the bottom
3.Press the large Sources button.
4.Press the Edit button at the top right of the sources list
5.Press the Add button that appears at the top left
6.Enter http://apt.dmytro.me as the Cydia/APT URL then press the Add Source button
7.Cydia will now update your sources. Press the large Return to Cydia button when finished
8.Press the Done button at the top right of the sources list
9.Press to select the apt.dmytro.me source we just added
10.Tap to select the USB Drive package from the list of packages
11.Press the Install button at the top right of the screen
12.Press the Confirm button at the top right of the screen
13.Cydia will now install your package. When it has completed successfully, press the large Return to Cydia button.
14.Press the Home Button to return to your Springboard then press to launch USB Drive from your list of applications.
15.First we must create a Virtual Disk on the iPhone. Press the Create Disk… button to continue
Enter a name for your virtual disk and use the slider to specify how much space you would like to allocate it. When done click the Create button at the top right of the screen
16.Now that we have created a disk to access we must specify the USB Mode. You have three choices:
Drive + iTunes:
In this mode USB Drive replaces Picture Transfer Protocol (PTP) interface with Mass Storage interface and lets you use the iPhone as a USB Drive. At the same time you can perform iTunes synchronization, developers can use XCode deber ,etc. In this mode USB Mass Storage will not work on Windows with iTunes or Apple USB Drivers installed.
Default:
This is the iPhone default mode. USB Drive doesn't install daemon application nor modify any USB settings. Picture Transfer Protocol (PTP) is active as well as iTunes synchronization and tethering over USB.
Drive Only:
This mode is to resolve compatibility issues with Windows and iTunes. In this mode USB Drive changes the iPhone's USB product ID. This will prevent iTunes synchronization, but USB Mass Storage will work on Windows (and other operating systems). Switch to the Default or Drive + iTunes mode will restore iTunes sync.
Press to select the mode of your choice.
17.A popup will appear asking you to reboot to apply the changes. Press the large Reboot button.
18.Once your iPhone reboots you will now be able to access the virtual disk you created using USB Drive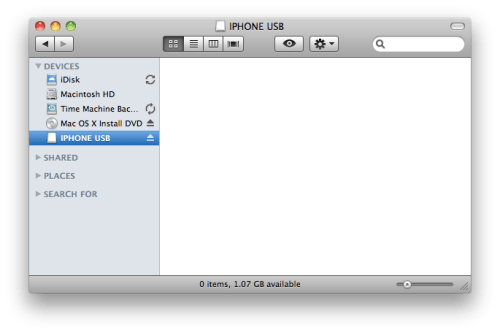 05.10.2009. at 19:13 •
0 Comments
•
Print
•
#
Description
All about Free IPA's

THIS SITE NOT CONTAIN ANY LINKS TO COPYRIGHTED MATERIAL!!!

I do not host this Files, I do not crack Software. I am not resposible for what you do with the Files or damages that may occur from them.

I am not responsible for content posted in comments, as it's not my stuff.

The "cracked" Software should only be used for testing Purposes! If you like the Software, support the Developers and buy it! If You don't like it, simply delete it after you try it!!

Curently ONLINE:

And you come from:

Logged as:

Shooooout Zone!
CASUAL TALK HERE (NO REQ):




YOUR REQUEST BOX:


RSS
Please Click ads!
The money donated from ads will be donated to humanitarian organization!
So... please click it often!