ponedjeljak, 28.04.2008.
The bold man and his chocolate

This Saturday I went to the City and met some of my hometown friends, who I was extremly happy to see. It turned out to be quite a lovely day, just right to wander around the Union Square area and look around the Union square market where I got an amazing, fresh from a farm piece of young gouda style cheese. Absolutely terrific!
Since I was there, I had to go inside one of the most fascinating places I've seen in the city; Max Brenner's chocolate restaurant. We sat down and had a few delicious desserts and beverages that I photographed for you, and believe it or not, I just couldn't have anything chocolate related! The drink that I had was a frozen mango-yogurt smoothie, with just a touch of cinnamon. Just what I needed!
The little cup was a macchiatto with a shot of Amaretto that was, surprisingly enough, served on the side. The actual dessert was a real bomb! There was a chocolate and walnut biscotti, a little cup of wafer perals covered in milk chocolate, and the glass jar had a chocolate pudding on the bottom, crushed oreos, chopped white chocolate, and whipped cream on top. Quite good I have to say, but I'm not a fan of white chocolate...and it was very hard to scoop it out of the jar!
I will definitely visit Max again, there are so many other things I'd like to try. I might go for the crepes next time.....
Make sure you visit Max as well. Pretty cool website!



subota, 26.04.2008.
Welcome to Wines class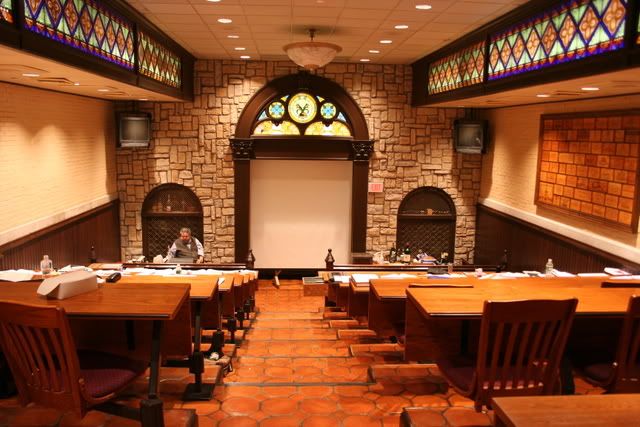 As you can see, I have been lacking in posting for a little bit, and it's because of all this wine I am learning about and tasting it of course. It is simply fascinating how complex and interesting grapes can be. This picture was taken during the first lecture on France and their amazing whites, sparkling, and real Champagne wines. I have to be honest, but I never had a real Champagne before so yesterday I finally did, and oh I did celebrate it. We usually taste (and spit unfortunately) about 11 different wines a day, and 3 of them were Champagne, lined up by age.
The last and the oldest one was a true experience; a Brut, ''Orgueil de France'', Charles Laffite from Champagne 1989.Professor had even let us drink it, because it really would've been sad not to ;)




Today was France part II, and I am pretty sure 80% of the lecture was taught in French because of all those different region, grape and other names. At one point I just gave up! As amazing they are, French really want to give us a hard time with their wines. So that was one of my amazing wine experiences, but I am still making chocolates in the morning....
Weekend is finally here, yaaay! :))


srijeda, 23.04.2008.
The man himself



Gavin Degraw was one of my favorite artists until Sunday, when I saw him in concert at Westhampton Beach performing center (Long Island, NY). Now, he is THE favorite artist of mine, no doubt about it. That was for sure one of the best experiences Stacey and I had, ever! It was a really small show, about 400 people, and being lucky enough I managed to get 2nd row tickets :)) I was happy that he did such a small performance, because anyone who bought either a shirt or a bag could meet him after the show.
I have been listening to his music for 3 years already, and you can only imagine how it felt to actually see him and talk to him. Stunning!!!

Check him out, I am sure you've heard his song Chariot before.



nedjelja, 20.04.2008.
subota, 19.04.2008.
četvrtak, 17.04.2008.
nedjelja, 13.04.2008.
Tiramisu Split!

To conclude these 3 weeks of mousse cakes, this is what I came up with. Each one of us had to create their own mousse cake and present it in class. Since I love, but like really love Tiramisu, I decided to do a variation on it and I named it Tiramisu Split!
This class was about mousses with different inserts in the middle. In this case, starting from the bottom, I had a ladyfinger circle coated in dark pate glacer (imitation of chocolate consisting of cocoa powder and vegetable fat), layer of amazing Mascarpone mousse with 72% finely grated chocolate, then a Zabaglione insert (egg yolks with sugar and Amaretto whipped on water bath until thick and then stabilized with gelatine for this purpose), again a ladyfinger circle but this one drenched in strong coffee, and all of it finished with the Mascarpone mousse that I mentioned before. Yes, I know it sounds complicated, but as you get the hang of it, it's easy. I was struggling at first, but I had THE most amazing Chef, Chef Weber, so nothing was hard and he really inspired me and made me laugh on daily bases. We even made Crepes on the last day! :))
Oh, and if you think my life is sooo amazing, sometimes it isn't at all. Since everyone was presenting their own Entremet (between meals in French)or mousse cake, and there are 20 of us...YES, I had to try all 20 of them!! Don't even tell me you'd love to do that. It's wasn't fun.

Tomorrow I start with a new block.....Chocolates!! And in the afternoon hours I will be attending the Wines class! Be ready for some exciting reviews on that!




petak, 11.04.2008.
Spice up your life!

Today was a very busy day for Bakeshop 4. Everyone was finishing their desserts for the Grand Buffet and believe it or not, we produced about 900 individual pieces. Wow.
The final outcome was more then satisfyong for both us and Chef Weber. Each station made one or more different kinds of delicious pastries, but this one caught my attention the most. Satcey's team has totally spiced up my day with this amazing ''petite'' gingerbread cake. It was just...I can't even put it in words. It was infused by various spices and citrus zests and by the time I tried it, it remained super moist and that drop of orange marmalade made it just right. And the orange marmalade itself....I could go on and on.


ponedjeljak, 07.04.2008.
The ALNUT

Last Friday I finally entered the Californian Almond Board Scholarship after a week of research and work on this little guy. The components of this dessert are : Almond brittle or croquant, cocoa frangipane, caramelized almonds covered in dark chocolate, and very rich chocolate mousse.
It had to be an original recipe, based on at least one French component. It really tastes amazing.

Wish me luck! :)


srijeda, 02.04.2008.
Planning on getting married?

This is the wedding cake Stacey and I did as a team last block and we are very proud of it.
It's a Styrofoam covered cake (because we just had to practice decorations) made with different applications of rolled fondant, royal icing, powder and liquid colors, and of course, gumpaste flowers. We chose to do Orchids and I think they turned very pretty.

If anyone needs a wedding cake....let us know ;)