Marketing
Ekskluzivni intervju s Donnom De Lory!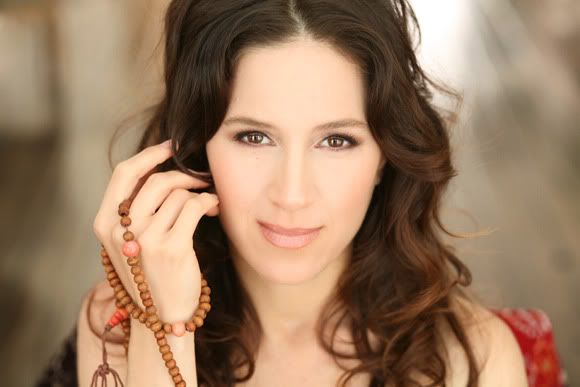 Nakon intervjua sa plesačem
Mihranon Kirakosyanom
, u nastavku slijedi moj novi intervju, ovog puta sa Madonninom dugogodišnjom pratećom vokalisticom Donnom De Lory!
Donna je u ovom intervjuu otkrila koji su joj iduću planovi, što je naučila radeći s najvećom pop zvijezdom, zašto nije nastavila turneju 'Sticky & Sweet' s Madonnom, koji joj je nezaboravni trenutak sa Madonnine turneje i mnogo toga...
Donna De Lory je svestrana umjetnica, a glazbom se bavi od osme godine kada je pjevala na albumima za Walt Disney Studios. Rođena je u glazbenoj obitelji - njen pradjed je bio profesor glazbe, violionist i pjevač, djed je bio član glazbene skupine Warner Bros Studio Oschestra, njena majka se bavila pjevanjem i plesanjem, otac je poznati klavijaturista i producent Al De Lory, a brat Alan je scenarist i pjesnik. Donna De Lory iza sebe ima nekoliko albuma 'Donna De Lory', 'Bliss', 'Sky Is Open', 'Sanctuary' i dr.
S Madonnom je počela surađivati krajem 80-ih zahvaljujući producentu Patricku Leonardu koji je čuo njen deo sminak Madonnine pjesme 'Open Your Heart' i nagovorio Madonnu da je pozove na turneju 'Who's That Girl' 1987. Donna De Lory je pratila Madonnu na čak sedam koncertnih turneja: 'Who's That Girl', 'Blond Ambition', 'The Girlie Show', 'Drowned World Tour', 'Re-Invention Tour', 'Confessons' i 'Sticky & Sweet'. Snimala je prateće vokale za nekoliko Madonninih singlova, te pojavljivala se u spotovima. Tijekom suradnje s Madonnom snimala je pjesme za soundtrack mnogih filmova, pjevala na poznatim reklama (McDonald's, Mattel, Eastman Kodak).
Kupite njene albume:
-
http://itunes.apple.com/us/artist/donna-de-lory/id4347571
-
http://www.cdbaby.com/all/donnad
-
http://www.amazon.com/Donna+De+Lory
-
http://www.youtube.com/user/DonnaDeLory
Službena web stranica:
http://www.donnadelory.com/
-
Dobrodošla na moju web stranicu, kako se osjećaš?
Odlično sam! Proljeće je stiglo i pišem tebi! Slatki miris jasmina je u zraku, poprilično opojan!
-
Što imaš u planu narednih nekoliko mjeseci?
Planiram turneju do kraja godine po američkim gradovima koja će biti dio festivala Lilith Fair koji inače slavi glazbu ženskih izvođača. Na mojoj web stranici imaš više informacija o ovome. Drago mi je što mogu priopćiti da ću u svibnju izdati remixe za svoja posljednja tri albuma uključujući i neke od Mac Quaylea. Mac Quayle je radio remixe za Madonnu, Whitney i Annie Lennox i on je moj dragi prijatelj i dugogodišnji suradnik i trenutno je u mom bendu. Remixi će biti dostupni preko moje web stranice i iTunesa.
-
Tko su ti bili glazbeni uzori tijekom odrastanja?
Veliki utjecaj na mene je imao moj otac Al De Lory. On je klavijaturista i producent, uvijek sam bila s njim kada je snimao u studiju i na koncertima. Uzori su mi također bili i legendarni Beatles, jer je moja starija sestra puštala njihove pjesme cijelo vrijeme. Mislim da sam tada po prvi put čula eklektične indijske instrumente koje sam koristila u svojim pjesmama kao što su tablas, harmonijum i sitar. Također sam slušala Fleetwood mac i druge pop/dance izvođače. Neki od mojih vokalnih uzora tijekom odrastanja su Heart, Stevie Nicks, Emmylou Harris, Pat Benetar, Sting i Peter Gabriel - moj najdraži izvođač ikada!
-
Odakle pronalaziš inspiraciju za svoje albume?
Ideje dolaze kroz moja iskustva u vezama i na koji način osjećam svoja životna iskustva. Mogu doći i iz snova. Ponekad se ustajem u sred noći da zapišem tekst ili čak da snimim pjesmu iz mog sna. Moje pjesme su inače o pronalaženju prosvjetljenja kroz ljubav, pronalaženje vlastitog načina kako ujediniti to dvoje. Mantre koje pjevam su sanskritske molitve koje sam jednom prilikom slušala i obožavam zvuk riječi. Značenje je zapravo u tome kako biti skroman i osjećati strahopoštovanje prema nečemu većem od nas. Kada ih pjevam, moje srce se povezuje sa beskonačnim mogućnosti koje se pružaju. Glazba je alat koji je s nama od našeg postanka. Može nam smiriti misli i fokusirati nas na važne stvari u životu, što nas usrećuje i povezuje s drugima. Znate kako se lijepo osjećate kada nekom pomognete zar ne? Vjerujem da nas glazba s pozitivnim vibracijam upućuje u tom smjeru.
-
Kako je rad s Madonnom utjecao na tvoju glazbenu karijeru?
Pa već u početku sam postala više traženija kao prateći vokal. Mnogi ljudi su me tražili da pjevam na njihovim albumima. Uvijek sam željela biti pjevačica, a Madonna je uvijek bila sjajan učitelj koja mi je pomagala razlučiti što želim a što ne. Njen smisao za detalje i sposobnost da osmisli svaki aspekt onog što pjeva i izvodi je zadivljujuće i daje mi zaista sjajan primjer. Za mene je bila kao starija sestra i poznanstvo s njom mi je dalo dodatnu snagu da se borim za ono što želim. 1992. potpisala sam ugovor sa MCA Universal i započela snimati pjesme. Izdavačka kuća se kladila da ću ja biti slijedeća velika pop zvijezda poput pjevačica s kojima sam pjevala Paula Abdul, Belinda Carlyle, ali iskreno nikad mi to nije odgovaralo. Samo sam željela naučiti pisati pjesme iz srca i stvarati glazbu koja me je inspirirala i učinila sretnom.
-
Što si najbolje naučila od Madonne?
Da nikad ne dopustim da me strah koči u onom što želim!
-
Što ti je ostalo u najljepšem sjećanju s Madonninih turneja?
Trenuci na pozornici su nevjerojatni. Kada budem baka jednog dana sjećat ću se tih trenutaka uz jako lijepe uspomene. Sjećam se jednom trenutka u Parizu kada smo nastupile pred 100,000 obožavatelja 1987. Madonna je pjevala -
no where to go, no where to hide
(The Look Of Love). Gledala sam publiku kako drže upaljače prema gore. Počela sam plakati, bila sam tako dirnuta. Osjećala sam kao da je publika jedan veliki ocean ljubavi a iznad njega je svjetlo titralo u zraku.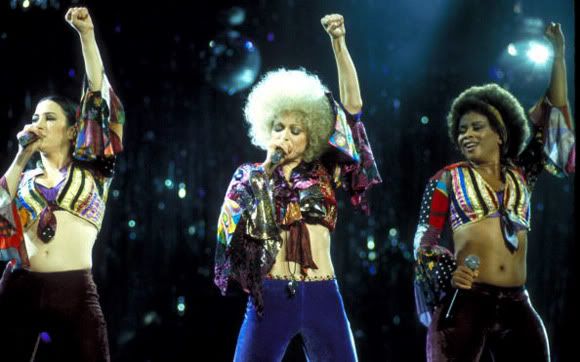 -
Zbog čega nisi išla s Madonnom na turneju 'Sticky & Sweet' prošle godine?
Te godine sam rodila djevojčicu Lucianu. Znala sam da rođenje drugog djeteta će otežati odlazak na Madonninu turneju. To je bilo vrijeme za mene da izgradim život, glazbu i viziju.
-
Jesi li još u kontaktu s plesačima i Madonnom?
S vremenom se čujemo. Nicky Richards mi je poput sestre! Volim je jako!
-
Bi li se odazvala Madonninom pozivu za njenu sljedeću turneju?
Tko zna što budućnost sprema! Sve mogućnosti su otvorene.
Zamolio sam Donnu da posveti poruku za sve fanove i čitatelje ovog bloga:
Bog vas sve blagoslovio! Šaljem mnogo ljubavi i radujem se što ću podijeliti svoju glazbu s ostalim čitateljima. Om Shanti (Peace)! Donna
English:
Welcome to Croatian Madonna blog http://madonna.blog.hr,
how are you doing?
I am great! Spring is here and I am writing to you! The sweet smell of Jasmine is filling the air, quite intoxicating actually!!!
What have you got planned for the next few months? I am now planning a tour for the rest of the year that will include many US dates including being a part of the Lilith Fair which is a festival celebrating women in music. You can go to the link on the home page of my site to learn more about it. I am also happy to announce that I will be releasing remixes from my last 3 CDs in May including some from Mac Quayle (who has remixed for Madonna, Whitney and Annie Lennox) he is my dear friend and long time collaborator and currently in my band. The remixes will be available through my site and itunes.
Growing up who have been some of your musical influences?
My Father Al De Lory was a huge influence to me. He is a keyboard player and producer so I was always around him when he worked in the studio and at concerts. I was influenced by the Beatles of coarse because my older sister used to play the records all of the time. It is probably where I heard some of the eclectic Indian world instruments that I use in my music now like the Tablas and Harmonium and Sitar. I also listened to Fleetwood mac and all of Pop/dance music. Some of my vocal inspirations growing up were Heart, Stevie Nicks, Emmylou Harris, Pat Benetar, Sting and Peter Gabriel my all time favorite artist!!!
Where do you get the inspirations for your albums?
The ideas come from my experiences through relationships and ways that I feel about my life experience. They can also come from dreams. Sometimes I have to get up in the middle of the night to write down or even record a song from my dream. The songs are usually about finding enlightenment through love, finding my own capacity to experience this oneness with another. The mantras that I sing are Sanskrit prayers that I have heard and love the sound of the words. The meaning behind them is always about being humbled and in awe of something greater then ourselves. When I sing them, they open my heart to connect to the infinite possibilities that we all have. Music is such a tool and has been since the beginning of our existence. It can quiet our minds and focus on what is important in Life, what truly makes us happy which is staying connected to one another and giving light and love to each other. You know when you are giving yourself and helping someone how good you feel, right. I believe positive music points us in that direction.
How did working with Madonna change your music career?
Well initially it made me a much more sought after vocalist. Many people wanted me to sing on there records. I always wanted to be an artist so Madonna was a great teacher for me showing me what I wanted and didn't want. Her attention to detail and her capacity to manage every aspect of her music and performance was amazing and a great example. She was a strong big sister figure to me and knowing her gave me strength in many situations to ask for what I wanted. In 1992 I signed a record deal with MCA Universal and officially started down my road as a recording artist. The company was betting on me to be the next huge pop star like many of the singers I had sung with, Paula Abdul, Belinda Carlyle. and M but honestly, that never felt like a perfect fit for me. I just wanted to learn to write songs from my heart and make the music that inspired me and ultimately made me happy.
What is the best lesson you learned from Madonna?
To not let fear hold me back!
What's your fondest memory of touring with Madonna?
All of the times on stage were amazing. I would get these feelings of peak moments that I knew I would flash back to when I was a grandmother one day and smile. I remember being in Paris at a park for 100,000 people of more in 1987. Madonna was singing, "no where to run no where to hide". I was looking out at all of the lighters that people were holding up in the warm summer air. I started crying I was so touched and it felt as if the audience was all one big ocean of love and light waving in the air.
How come you didn't go on the Sticky and Sweet Tour this year?
I had my baby girl Luciana that year. I knew that by having another child it would initially make it hard for me to do a tour like that. It was time for me to build my life, music and vision.
Are you still in touch with the dancers from the tours and Madonna?
I am in touch with them from time to time. Nicky Richards is my soul sister you know!!!! I LOVE her
Would you join Madonna on her next tour if u were asked too?
Who knows what the future holds!!! I am open to all possibilities.
Blessings to you all! Sending you all of my love and
I look forward to sharing my music with you.
Om Shanti, (Peace)
Donna
Prošli intervju:
Mihran Kirakosyan - confessions of a dancer
Post je objavljen 20.03.2010. u 20:15 sati.