Marketing
Priča o Octave One i Random Noise Generation zapravo je priča o braći Burden; Lawrence, Lenny, Lynell, Lance i Lorne.
Octave One: Lawrence Burden , Lenny Burden , Lynnell Burden
Random Noise Generation: Lawrence Burden , Lenny Burden
Kaotic Spacial Rhythms: Lorne Burden

Octave One (430 West Records, Detroit)




"It's just like brothers do, we tangle a lot. Leonard might start something and I might say, 'Hey, man, let me put something to that, let me add some percussion.' Then Lynell might say, 'Let me throw some hats and effects and the rest of the drums in there.' So it's a collage…"

Detroit techno trio, Octave One, je zamisao i projekt braće Burden koji žive i odrastaju u Detroitu gdje su i rođeni. Osnivači grupe su Lenny, Lawrence i Lynell Burden. Obitelj Burden ima petoro braće, tri gore spomenuta (Lawrence, Lenny i Lynell) te Lance-a koji se bavi dizajnom i najmlađeg Lorne-a koji je također ušao u obiteljski biznis i krije se iza projekta Kaotic Spatial Rhythm..

Braća Burden ne potječu iz glazbene obitelji nego su tek na "poticaj" svoje majke išli na satove klavira ("we didn't have a choice") u dobi od šest godina(Lawrence), a poslje prelaze na puhačke instrumente i bubnjeve. Najstariji od njih, Lawrence, prvi biva zaražen novim urbanim zvukom koji je puštan po gradskim klubovima i na radiju (Wizard, Jeff Mills, WDRQ-FM (93.1).), te počinje kao dj u kolektivu zvanom VLE Nu AGE 1987. godine, a sljede ga Leonard i Lynell. Nakon toga dolazi do kupovine njihovog prvog dijela opreme.

"We had like a Kawai R50 and a Korg DDD1," … "and once they bought those pieces, they were pretty much hooked."

1988. Burdeni su sa svojim VLE Nu AGE kolektivom postavljali rasvjetu u slavnom klubu Music Institute.

"Anyway we had a mutual friend and she introduced me to those guys when they were building the club and putting it together. They didn't have any lights so we just kind of networked We had already been doing lights and things when we were doing frat parties with our DJ company, so we spun a lighting company off of the DJ company. They were really cool guys, we got to know each other and we offered our services, man, and it was a nice marrige at that time."

Taj rad u Music Institute-u ostavlja na njih veliki utjecaj. Iste godine rade nešto s Juan Atkins-om na njegovom Metroplexu, a godinu poslije debitiraju sa svojom stvari "I Believe" na monumentalnoj kompilaciju "Techno 2: The Next Generation" izdanoj na 10 Records, zajedno s uratcima drugih artista kao što su Carl Craig, Marc Kinchen i Jay Denham. Zanimljivo je da je Neil Rushton radeći tu kompilaciju u zadnji tren izbacio s liste jednu drugu stvar, a umjesto nje ubacio Octave One "I Believe". Priča ide ovako nekako: stvar "I Believe" su Lenny, Lawrence i Lynell Burden snimili u Atkins-ovom studiju, na mixu stvari je radio Anthony "Shake" Shakir, a vokal je dala Lisa Newbury. Pošto su bili jako bliski s Anthony Shakir-om, a on s Derrick may-om, koji je u to vrijeme bio blizak s Neil Rushton-om, stvar su nabrzinu poslali u Veliku Britaniju i ona je izašla na toj kultnoj kompilaciji, te kao singl na Derrick-ovom Transmat-u.

Stvar je postigla velik uspjeh, na kompilaciji i kao singl, te se jako dobro prodavala, ali oni nisu baš previše vidjeli tog novca od prodaje, te su revoltirani time odlučili pokrenuti svoj vlastiti label pod kojim oni, a i drugi umjetnici koji budu izdavali za njih neće imati takvih problema.

"It was hunger, man, it was a real hunger. Things were selling, but money wasn't hitting our bank accounts, and that's kind of what stemmed us to go start on our own. We were like, 'Hey, man, we can be broke by ourselves, producing records that aren't selling and not making money…"

Tako je došlo do pokretanja njihovog 430 West Records-a (ime uzeto po lokaciji na kojoj se nalaze; 430 West 8 Mile Road in Detroit) u želji da na njemu promoviraju sebe i druge techno artiste iz Detroita i njihova izdanja. Na njemu su do sada radili mnogi producenti kao što su Jay Denham (Vice), Terrence Parker, Eddie 'Flashin'' Fowlkes, Carl Craig, Mike Huckaby i mnogi drugi.

Nedugo što su pokrenuli 430 West Records, krajem 1991. godine, Burdeni početkom 1992. pokreću Direct Beat label želeći nešto napraviti vezano za još popularni electro zvuk i svjetu pružiti priliku da čuje tu stranu Detroita. Prvo izdanje na njemu je bilo 'Rock So Hard' Rich MacMillan-a.

Kad govorimo o Octave One može se reći da je Lawrence osovina grupe, Lenny je tech momak zadužen za tehničke aspekte produciranja, a Lynell je pomalo od svega toga pomažući u produkciji i idejama. Od njihovog prvog izdanja pa sve do danas elementi tribal-a su sastavni dio njihove glazbe, ritmovi i zvukovi udaraljki su stvari koje ih obilježavaju. Mogli bi ga još okarakterizirati kao dark i funky.

"cos we come from the era where techno and house used to always be spun in the same set. I'm still living back in that time zone.
Now there are techno DJs and there are house DJs. Techno went so far away from house that seldom can you put them into the same set. I think that's where we really come into play, generally we're the music that DJs use to go from house to techno. We're in between the two worlds somewhere…"…"… but I do like elements from both worlds. There are pieces from house that I like, there are pieces from techno that I like. Again, it's just that natural progression for us because of the two elements which we like when we like to dance. We like hearing both of those."

Svoj debi album izdaju 1997. godine i zvao se "The Living Key" (To Images from Above). Album je dobar balans laganih melodija, jazzy i dance-flooru okrenutih stvari koje nakon svakog ponovnog slušanja sve bolje zvuče.

"The Collective" je Octave One retrospektiva koja uključuje njihove najbolje radove objavljene na 430 West labelu od početka njihove karijere 1990. godine. Za svaku stvar s te retrospektive možemo reći da je klasik. Stvari "I Believe", "Empower", "DayStar Rising", "The Symbiont" najbolji su primjer prvorazrednog, inventivnog techno funka iz Detroita. Na ploči OCTAVE ONE - Somedays (430 West) pojavljuje se i Anne Saunderson (Kevinova žena) kao vocal.

Kao grupa s live nastupom se prvi put pojavljuju 1999. godine na Electric Entourage turneji. Sada održavaju svoje live na raznim mjestima i zamljama širom svijeta (Njemačka, Španjolska, Nizozemska, Grčka, Belgija, Austrija, Velika Britanija, Irska, Malezija, Japan, Amerika, Rusija…).
Produkcijski, kada govorimo o Octave One onda govorimo o trojici braće, dok su na live nastupima samo njih dvojica, Lawrence Burden i Lenny Burden. U svojoj glazbenoj karijeri surađivali su sa mnogim umjetnicima kao što su Derrick May, Underground Resistance, Eddie Fowlkes, Juan Atkins, Anthony 'Shake' Shakir, Members of the House, Terrence Parker i The Martian (Red Planet). Remixirali su stvari za Massive Attack, Akabu (Joey Negro), DJ Rolando, Steve Bug, John Thomas, The Trampps, Rhythm is Rhythm i Inner City. Vode uspješno i svoj detroitski record label, 430 West Records, i izdaju na njemu (osoba koja stoji iza labela je Lawrence Burden). Od 1990. godine do sad braća Burden su izdala preko stotinu izdanja.

2000. godine Octave One izdaje najuspješniju ploču koju su ikad izdali, "Blackwater". Stvar Blackwater je objavljena na preko 30 kompilacijskih albuma diljem svijeta, također biva jednom od najomiljenijih stvari na deckovima mnogih svjetskih dj-a kao što su Jeff Mills, Richie Hawtin, Kevin Saunderson, Derrick May, Jonathan Peters, Laurent Garnier, Danny Teneglia i mnogih drugih.

Usporavajući s radom na labelu, 2002. godine, braća se još vise posvećuju radu u studiju. Napravili su album, "The Theory of Everything" na kojem su ponovo surađivali s vokalom Ann Saunderson (glas u Blackwater remixu). Album je izdan na Concept Music labelu 2004. godine. Krajem 2006. godine su za Tresor izdali "Off The Grid", album na kojem su obradili svoje stare stvari, ali tu su i neki neobjavljeni materijali do tada. Na njemu surađuju i s ostalom braćom.

Oni također izdaju i pod drugim imenima; Never on Sunday, Random Noise Generation (RNG) i Metro D.

Nešto od produkcije možete poslušati OVDJE
Octave One Diskografija


Evo između da kažem nešto i o ostaloj braći obitelji Burden. Četvrti po starosti, Lance Burden, je grafički dizajner i radio je sve što je vezano uz 430 West, Direct Beat i Submerge web site, te još neke stvari vezane uz label pod nickom Mook-Fu, dok Lorne (najmlađi od njih) producira za Direct Beat label i na dobrom je putu da postane jako uspješan, uzme li se u obzir da je producirao još dok je imao 12. godina. Radio je i na Underground Resistance-ovom remixu Kraftwerk-"Expo 2000" i snimio nekoliko ploča za svoj projekt Kaotic Spacial Rhythms (KSR)


Random Noise Generation (430 West Records, Detroit)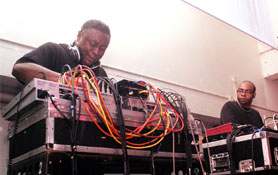 "Random Noise is just our 'I'll try it, and I don't really care if it works' type of mood…."

Nastavljajući putovanje koje su započeli s Octave One 1990. dva najstarija brata Burden klana, Lenny i Lawrence, osnivaju Random Noise Generation.
Prva stvar koju su napravili pod tim imenom bila je "Falling in Dub" s vokalima u prvom planu. To je bilu ujedno i drugo izdanje na njihovom 430 West Recordsu sredinom 1991.godine i još je simultano objavljena u tri različite zemlje, u Velikoj Britaniji na Outer Rhythm Records-u, na Buzz-u u Belgiji i u Njemačkoj na Low Spirit-u gdje su je remixirali Claude Young, Terrence Parker i Westbam.

Random Noise Generation je bio njihov novi zvuk i novi način pristupa stvaranju glazbe. Zvuk RNG, za razliku od Octave One, je bio više apstraktniji, minimalniji ali atmosferičniji. Pod tim pseudonimom (RNG) su izbacili mnoge klasike koji su naišli na dobru reakciju publike širom svijeta, kao što su recimo "Instrument of change", "Systemize" i "Echelon". 2000. godine je izdan "The Links In The Chain" LP (430 West) na kojem se između ostalog nalaze "Instrument of change" i "Echelon".

Godine 2004. Jeff Mills poziva Lawrence i Lennya da budu dio njegovog novog DVD projekta, "The Exhibitionist", što su naravno prihvatili te su na tom DVDu izveli svoj specijalni live nastup sa svoje tri nove stvari.

Rad s Mills-om ih inspirira da napokon završe tri godine ranije započet full length album "Reign". Materijale s tog nedovršenog albuma su već ranije koristili u svojim nastupima, a sada su tim materijalima dodali nove, "PMP - Power, Money, and Pain" (s "The Exhibitionist" DVD), "Rock My Soul" i "The Playground" već objavljenoj na Planet E kompilaciji "All Access (to Detroit's Music Festivals)".

"No matter what's going down," Lenny says, t's gonna make you move."

Nešto od RNG produkcije možete poslušati OVDJE
Random Noise Generation Diskografija


430 West Records; Detroit
Phone: 313.342.6425
Fax: 313.342.3587
Label Manager: Lawrence Burden


------> Octave One Sets <------


http://www.octaveone.com
www.myspace.com/octaveone

Octave One by Andrew Duke
Lawrence Burden by John Osselaer 2000.
Octave One Tresor Interview
Octave One for Clash magazine, January 2007

Post je objavljen 10.06.2007. u 12:18 sati.