Marketing
Malo linkova...
Primjetila sam da u zadnje vrime obožavate naruta :). Imam dosta stvari o njemu. Čak i ako ste čuli za naruto the movie. Pa ćeu vam dat neke linkove za igrice i za movie :
Igre:
Klikni ovdje za doznat nešto više o Narutu

Klikni tu za igru star students. Malo pričekajte da se igra učita

I na kraju Naruto the movie. Kao šta svaki film traje dugo, i ovaj isto dugo traje.
Traje 82:21 min.
Klikni tu za Naruto the movie

Evo malo stvarčica i o Teen Titansima:
Igre:
One on one - igra

target=_blank>Battle Blitz - igra

I da ne zaboravim, Yugioh GX:
Ako klikneš ovde, saznat ćeš nešto više o Yugiohu (čudovišta, likovi itd...)

Ah i malo videa na You tubeu. Stvarno super! Pjesme i videa ono za 5+ !
Anyplace, anywhere, anytime

Everytime we touch

Memories

Until the end of the time

Gonna soak up the sun

I'd do anything

I'm just a kid

Shadow games
Kad sam već tu, registrirajte se na ovaj 3D chat =)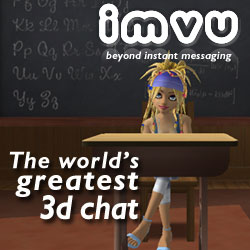 Ako vam se ne budem javljala, znači my mom je ukinila internet. Još tražin onu žicu.
Eto to je to za ovaj put.
Sayonara!

Post je objavljen 26.11.2006. u 10:29 sati.