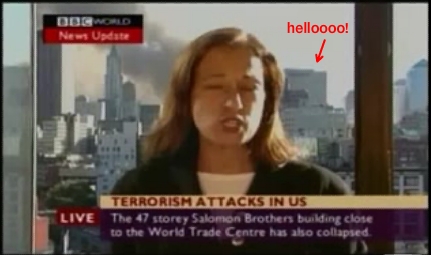 Mnogi se sjecaju onog
gafa
domacih dnevnih novina prije par godina, kad su pisale o tome kako su americki biznismeni dosli u posjetu Hrvatskoj, kako su se spustili avionom i primljeni od nasih velikodostojnika, tko je sto rekao pri pozdravu itd... da bi se poslije ispostavilo da se avion zapravo spucao (kod Zadra?), i svi poginuli, dok su novine isle u stampu i u kioske...
Dok je to s jedne strane gaf koji zorno pokazuje pouzdanost i informativnu vrijednost danasnjih mas-medija, ipak se taj konkretno slucaj jos moze objasniti/"opravdati" kombinacijom toga da novine unaprijed dobivaju pripremljene govore politicara, i deadline-a, odnosno tremina stampanja i izlaska na kioske.
Medjutim, sto da je slucaj bio drukciji - da su novine pisale
da je avion pao
- ali
prije
nego je stvarno pao? Ne bi li sve zvucalo malo drukcije? Ne bi li novinare policija pitala kako su znali da ce se avion srusiti? Ne bi li to bio povod za kriminalnu istragu, glede pada, njegovog uzroka, i toga tko je sto znao, i otkud?
Ekvivalent upravo toga se zbio na 9/11, iliti 11 rujna 2001. Snimka koja pokazuje ovaj najnoviji u nizu pokazatelja "inside joba" koji je bio 9/11 je isplivala ovih dana na internetu. (Hvala Analyseu na notificationu!)
BBC World je naime izvjestavao kako se srusila zgrada WTC7, uz Twin Towers treca i posljednja zgrada koja se srusila tog dana - punih 20 minuta prije nego se stvarno srusila!
Za one koji ne znaju, pad zgrade WTC7 - iliti
Salomon Brothers Building
- je
vec ionako
poznat kao jedan od naj sumnjivijih detalja cijelog tog dana (ne da mu fali konkurencije u sumnjivosti, eh), jer dok se prica o "popustanju celicne konstrukcije od topline" Twin Towersa jos mozda i moze prodati lakovjernijima medju nama, ova treca zgrada stvarno nije imala povoda da se srusi. Medjutim kao sto je kod nas svojedobno
"pa rat je!!!"
bio izgovor za sve i sva, tako je i dan danas "kaos toga dana (9/11)" izgovor za sve cemu izgovor zatreba.
"I was real close to Building 7 when it fell down... That didn't sound like just a building falling down to me while I was running away from it. There's a lot of eyewitness testimony down there of hearing explosions. I didn't see any reason for that building to fall down the way it did -- and a lot of guys should be saying the same thing. I don't know what the fear is coming out and talking about it? I don't know -- but it's the truth."

"I walked around it (Building 7). I saw a hole. I didn't see a hole bad enough to knock a building down, though. Yeah there was definitely fire in the building, but I didn't hear any... I didn't hear any creaking, or... I didn't hear any indication that it was going to come down. And all of a sudden the radios exploded and everyone started screaming 'get away, get away, get away from it!'... It was at that moment... I looked up, and it was nothing I would ever imagine seeing in my life. The thing started pealing in on itself... Somebody grabbed my shoulder and I started running, and the shit's hitting the ground behind me, and the whole time you're hearing "boom, boom, boom, boom, boom." I think I know an explosion when I hear it... Yeah it had some damage to it, but nothing like what they're saying... Nothing to account for what we saw... I am shocked at the story we've heard about it to be quite honest."

Craig Bartmer, NYPD Offcer

EDIT: Nesto vise detalja o samom rusenju WTC7 mozete naci kod
Run'n'Gun
a.
Sto je najsmjesnije, BBC-jeva dopisnica se javlja uzivo iz New Yorka, i prica preko 10 minuta, izmedju ostaloga i o padu WTC7, pokazujuci na
skyline
iza sebe, skyline u kojem je najvidljiviji dio upravo WTC7, koja stoji ziva i zdrava.
Par minuta prije stvarnog pada, veza sa New Yorkom misteriozno puca (ha cuj, rat je bio... ovaj..,
kaos
je bio), i kontakt se gubi.
Ako niste sigurni da se ovo zbiva upravo u opisano vrijeme, ovdje mozete vidjeti duzu snimku BBC Newsa, na kojoj se vidi kad vijesti pocinju, i stoga u koliko sati i minuta sto zbiva... Glavna akcija pocinje oko 14-e minute videa:
Ako mislite "pa mozda su znali da ce se srusiti", valja znati, da ako bi i vjerovali sluzbenim teorijama o uzroku pada, bila bi to doslovno tek treca zgrada u povijesti koja se srusila od vatre. A prve dve su se srusile par sati prije toga. Hardly povod da se zakljuci da ce sad i ova. Osim ako je 9/11 promjenio povijest i stvarnost u toj mjeri da se sad fizika drukcije ponasa. Osim toga, mnogi analiticari - ukljucujuci i bivseg njemackog ministra - smatraju da je WTC7 bio
hearquarters
cijele operacije, jer je bila upravo za to opremljena. Kad je operacija bila gotova, zgrada je srusena, zajedno sa dokazima koje je sadrzavala.
Ovaj gaf je isplivao prije koji dan, i od tad je BBC zatrpan pismima gledalaca koji opravdano pitaju
What The Fuck?!?
Elem, ne bi li stisao strasti, uklonio paranoje, i usutkao "teoreticare zavjere" (u ovom slucaju doslovno sve postene gradjane sa trunkom mozga), BBC World head-of-news
Richard Porter
je objavio "objasnjenje" :
Part of the conspiracy?
Richard Porter | 27 Feb 07, 05:12 PM
The 9/11 conspiracy theories are pretty well known by now. The BBC addressed them earlier this month with a documentary, The Conspiracy Files, shown within the UK.
Doticni "dokumentarac" sam vidio, i bio je nesto naj-lame sto sam ikad vidio na BBC-ju. Stvarno sam se razocarao u BBC kad sam to vidio; premda mi je bilo jasno da nece reci da je dogadjaj bio namjestaljka, ocekivao sam bar da ce naci mjeru kojom ce ostaviti neka pitanja otvorenima, a glavna pitanja zamazati, ne bi li tako uspjesnije zamaskirali cijelu prevaru; medjutim ovo je bilo izvedeno na stvarno debilnoj razini, nedostojnoj ove velike kuce. Umjesto bavljenja konkretnim nerazrijesenim pitanjima ovog slucaja, najvise vremena su dali ljudima poput rezisera X-Filesa, koji seru o "ma ljudi ce povjerovati u svasta". Slazem se zapravo, ljudi ce povjerovati cak i u to da je ova operacija bila prezahtjevna za CIA, a sasvim izvediva bradonjama iz pecina u Afganistanu...
Until now, I don't think we've been accused of being part of the conspiracy. But now some websites are using news footage from BBC World on September 11th 2001 to suggest we were actively participating in some sort of attempt to manipulate the audience. As a result, we're now getting lots of emails asking us to clarify our position. So here goes:
1.
We're not part of a conspiracy. Nobody told us what to say or do on September 11th. We didn't get told in advance that buildings were going to fall down. We didn't receive press releases or scripts in advance of events happening.
Ne znam sto on zove press-releasom i scriptom, a sto news-feedom i wire-om, i vjerojoatno koristi gornje pojmove jer se izraz press-release spominje u videu koji se pojavio na internetu, ali svi jasno vidimo da jesu izvjestavali in advance of events happening, pa kako god tko zvao sredstvo kojim je "vijest" dosla do novinara u studiju.
Mislim, istina - nije vam receno unaprijed da ce neke zgrade pasti. Receno vam je da su vec pale!
2.
In the chaos and confusion of the day, I'm quite sure we said things which turned out to be untrue or inaccurate - but at the time were based on the best information we had. We did what we always did - sourced our reports, used qualifying words like "apparently" or "it's reported" or "we're hearing" and constantly tried to check and double check the information we were receiving.
Bullshit. Nijedno od dvoje novinara ne upotreblljava doticne izraze kad govori o samoj cinjenici pada WTC7, vec jasno i glasno ponavljaju da je zgrada pala; a uostalom i text ispod slike jasno kaze "has collapsed". Jedini slucajevi kad upotrebljavaju doticne izraze su "apparently that's only a few hundred yards away from where the two towers used to stand" i "seems it was not a result of a new attack, it was because of...". On the contrary, voditelj kaze "Now more on the latest building collapse in New York, you might have heard a few moments ago I was talking about the Salomon Brothers building collapsing, and indeed it has.'"
3.
Our reporter Jane Standley was in New York on the day of the attacks, and like everyone who was there, has the events seared on her mind. I've spoken to her today and unsurprisingly, she doesn't remember minute-by-minute what she said or did - like everybody else that day she was trying to make sense of what she was seeing; what she was being told; and what was being told to her by colleagues in London who were monitoring feeds and wires services.
Zgrada se srusila par minuta nakon prekida veze. Ovaj hoce reci da se - u danu za koji se cesto kaze da se svatko sjeca gdje je bio i sto je radio, nekmoli profesionalna novinarka - zena ne sjeca da se zgrada od 47 katova srusila pred njenim ocima par minuta nakon prekida njene veze s Londonom? Ktome zgrada za koju je ona prije toga punih 10 min govorila da je vec srusena? Da joj je takav detalj promakao? Zeni koja je tamo sa zadatkom da prati sto se zbiva? A pazi tek ovo: u prvoj recenici tip kaze "dogadjaji tog dana zapekli su joj se u pamcenje", a u drugoj (nakon samo 5 rijeci) "naravno da se ne sjeca"...
4.
We no longer have the original tapes of our 9/11 coverage (for reasons of cock-up, not conspiracy). So if someone has got a recording of our output, I'd love to get hold of it. We do have the tapes for our sister channel News 24, but they don't help clear up the issue one way or another.
Ovo je vrhunac! BBC je izgubio (u "kaosu toga dana") svoje vlastite snimke najznacajnijeg dana u povijesti medija? No comment. Osim mozda toga da sad lijepo mogu reci da bilo cije snimke nisu autenticne, jer se to ne moze potvrditi usporedjivanjem sa sluzbenim - tj njihovim vlastitim - snimkama. How convenient...
EDIT: kao sto sam dolje spomenuo, sutradan je isplivao i snimak BBC News24 koji je srecom spomenuo - i koji ne da pomaze rasvjetliti ovaj issue "one way or another", kao sto kaze dragi Richard, nego ima timestamp, koji sad tek jasno pokazuje kad se sta zbilo; naime vijest - koju su prenosili i oni - se pojavila tocno 26 minuta prije samog dogadjaja.
5.
If we reported the building had collapsed before it had done so, it would have been an error - no more than that. As one of the comments on You Tube says today "so the guy in the studio didn't quite know what was going on? Woah, that totally proves conspiracy... "
An error?? Sta da ja nazovem televiziju i kazem da ce biti postavljena bomba tu i tu, i onda tamo explodira bomba, i ja poslije kazem "ma to je bila greska, nisam zapravo znao da ima bomba"...?

"...didn't quite know what was going on"?? Meni se cini da je naprotiv ovdje netko malo predobro znao sto se zbiva. Osim toga, malo vislje (u tocki 4) head-honcho kaze "posto smo mi svoje izgubili, volio bih vidjeti snimke, ako ih netko ima", a sad priznaje da je gledao snimke na YouTube-u. Ako smatra da nisu autenticne, valjda bi rekao da nisu autenticnem, a ne citirao apologetske komentatore na YouTube stranici. Uostalom, na samom pocetku teksta kaze "websites are using news footage from BBC World to suggest...." - dakle ne smatra ih prevarom, nego snimkama. Uz to, premda je dakle vidio snimke, i dalje se pravi lud, te govori "If we reported", "would have been an error".
Muljas braco, muljas.
Richard Porter
is head of news, BBC World
na originalnoj lokaciji,
http://www.bbc.co.uk/blogs/theeditors/2007/02/part_of_the_conspiracy.html
mozete vidjeti i komentare citalaca, ovaj put
very lacking
u apologetima koji se obicno jave/ubace da malo "ohlade" spiku.
---
Premda je 9/11 bio tocka nakon koje sam ja - prije toga conspiracy-skeptik poput vecine ljudi - po prvi put poceo zavirivati "iza" stvari koje nam se serviraju u medijima, nisam na ovom blogu puno pisao o tome, jer to vec i pticice na grani znaju (sve ako
ovcice
i kaskaju za njima)... O tome sam se napisao u svojim starim radovima,
Strategic.Competitoru
, i
Where Have Both the Towers Gone
... Medjutim ovaj novi detalj je tako zabavan i proziran da je naprosto neodoljiv.
UPDATE:
EDIT: nakon ovoga posta, imao sam još jedan u vezi WTC7:
http://ovoono.blog.hr/2007/03/1622233981/anatomija-slona-u-sobi.html
jucer je isplivala jos jedna snimka, ovaj put sa BBC News24, koja
ima
time-stamp, koji potvrdjuje da se "vijest" pojavila 26 minuta prerano. Detalji
ovdje
(News24 odlomak je na kraju clipa).
Takodjer, Alex Jones je dobio mail od arhivistice pri CNN-u, glede BBC-jevog "gubljenja snimki":
"I'm an archivist with the CNN News Library in Atlanta, and I can tell you with absolute certainty, the mere idea that news agencies such as ours would "misplace" any airchecks [op: snimke vlastitog programa] from 9/11 is preposterous. CNN has these tapes locked away from all the others. People like myself, who normally would have access to any tapes in our library, must ask special permission in order to view airchecks from that day. Multiple tapes would have been recording their broadcast that day, and there are also private agencies that record all broadcasts from all channels - constantly - in the event that a news agency missed something or needs something. They don't just have one copy... they have several. It's standard procedure, and as soon as the second plane hit, they would start recording several copies on other tapes machines all day long."