Mislim, stvarno...
Drskost i cinizam
vrijeme-kontrolora
, tko god da jesu, ne poznaje granice.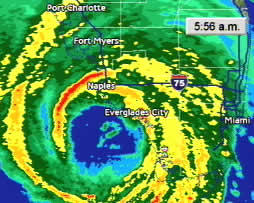 sta je ovo, pitate se vi.
NBC:
http://www.nbc-2.com/articles/readarticle.asp?articleid=4715&z=3&p=
LEE COUNTY— While watching NBC2 coverage of Hurricane Wilma about two dozen residents called the station reporting an unusual sighting. While watching a Doppler loop of Hurricane Wilma coming ashore, a number two appeared in the eye of the storm.

In going back through the recorded Doppler loop, we found exactly what viewers were talking about.

The image below [u ovom slucaju above] was not altered in any way - it's a screen capture from the Doppler system. You can click 'play' above to watch the actual Doppler loop.
Animirana verzija sredista: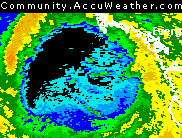 (
izvor
)
A veca animirana je ovdje:
http://vortex.accuweather.com/adc2004/pub/includes/columns/community/2005/wilma2animbig.gif
ustvari, evo vam je odmah ovdje:
Na dnu gornjeg NBC2 clancica obecani
"explanation of the event"
od strane strucnjaka, glasi:

Mysterious 2 Appears in Wilma Radar
Thursday, November 03, 2005

The Internet is abuzz this week with the appearance of a mysterious "Number Two" on the radar scope during Hurricane Wilma.

Nobody's happier than NBC-2, but this is no publicity stunt... the "2" can be seen on the actual government radar data as well.

So what's the explanation? Well, it's no government conspiracy, simply a chance formation of thunderstorms while the storm was attempting what is called "eyewall replacement."

If the government is really controlling the weather, they'd be best off to construct obvious-looking alpha-numeric characters in, say, Utah during June, where nobody's looking.
Ne trosite vrijeme na (izgovoriti vaznim glasom) 'what-we-experts-like-to-call, (pokazati duple navodnike prstima ruku) "eyewall replacement" ' link u nadi da cete tamo naci objasnjenje ili uopce spominjanje 'chance formations' koje se sudeci po prvoj recenici dogadjaju pri eyweall replacementu.
…ustvari,
naprotiv
, bas potrosite to malo vremena (nije dugo objasnjenje) da se osvjedocite da tamo toga nema; ono je samo objasnjenje eyewall replacementa, dakle neceg sto se samo zbivalo kad i ovo, i u njemu se ne spominje uobicajena pojava ikakvih artefakata ili turbulencije u oku oluje; logika je ocito "ne znamo kako ovo, ali posto se u istom trenu dogadjalo ovo drugo, evo vam objasnjenje tog neceg drugog". Naprotiv, tamo cete samo potvrditi svoju misao 'zar nisu ovdje upravo najjaci vjetrovi i najvehementnija strujanja' - jesu. I najlaminarniji tokovi zracnih masa, imam osjecaj; meteorolozi, ispravite me... U
tim
uslovima, ova brojka 2 (btw, jacina Wilme u tom trenutku, po ovoj najkoristenijoj skali) se stabilno odrzava barem
sat vremena
. Na povecanoj animiranoj verziji, iako ima samo 5 frejmova, najjasnije se vidi protok vremena, od 5:40 do 6:18, a vec na prvom frejmu je struktura brojke 2 potpuno prisutna.
Prije nego se automatski slozite sa
simply a chance formation
'objasnjenjem' onih koji (misle da) bi se s nekim drukcijim objasnjenjem mogli oprostiti s ugledom i karijerom, i viknete "ma koje stabilno odrzavanje oblika, samo u jednom trenutku se jasno vidi!", razmislite pliz o jednom aspektu:


ovdje ne samo da ne gledamo nesto sto se moze i ne mora nazvati dvojkom, neku kao rukom namrljanu figuru sumnjiva oblika i diskutabilne 'dvojčnosti';


niti nesto sto se oblikom pretapa iz neke kvake u S ili Z pa u labuda pa ne znam sto, nego fino dizajnirana i isklesana dvojka, porodica fontova kojima pripada se lako moze naci;


niti tok zbivanja nije neki nemusti oblak koji pocinje liciti na dvojku, pa se nekim krivljenjem ili spajanjem dijelova pretvori u relativno pravilnu dvojku, pa se opet iskrivi/rastavi u nesto nerazaznatljivo…


ne:


faze vece i manje ocitosti dvojke razlikuju se iskljucivo po tome koliko se vlage 'nahvatalo' na dvojku u kojem trenutku, i na kojim tocno dijelovima. Ne znam dovoljno o tome sto radarski snimak kako boja, ali vjerojatno se radi o kondenzaciji. No oblik na koji se voda 'hvata' se ne mijenja ni za dlaku barem sat vremena. Da tako kazem, kvaliteta renderinga oscilira tokom scene, ali underlying plotting je stalno savrsen. Chance formation indeed. Chance of a lifetime.


A i to 'prije i poslije dvojke' i opet nije mjenjanje njenog oblika, vec samo pojavljivanje te strukture iz niceg (odn ona ostaje dok oblaci koji 'nisu ona' nestaju), i odlazak u nista;


u oku uragana (druge kategorije);


a pri tome ta struktura predstavlja do nevjerojatnosti tocan oblik jedne od najapstraktnijih tvorevina ljudske kulture, brojku;


u poznatom i rasirenom fontu, sa lijepim ostrim vrhom na lijevoj strani, ravnim vodoravnim stopalom, bezierovim zavijutkom udesno i gore nazad kakvog se ja ne bih postidio na predmetu Pismo, na Primjenjenoj...


I rest my case.
Jedini argument koji su kolege mi-experti-strucnjaci-meteorolozi-diplomirani-inzinjeri-odslusioci-kolokvija uspjeli ponuditi osim 'ma slucajno to tako', i linka za odvracanje paznje, jest teza da kad bi vlada to stvarno radila, ne bi valjda ovako javno. Drugim rijecima dokaz da to nije umjetno je to sto nitko ne bi bio tako drzak.
Way to go, fellas. Science at it's best.
'Oni to ne bi'. 'Pa valjda ne bi bas tako ocito to radili, sakrili bi. Znaci nisu'
Zasto ne bi
, pitam ja vas, kad je vise nego ocito sto ce biti (i sto je bio) odgovor i reakcija akademskog communityja. Zasto ne bi?
Koji su sve ciljevi ove egzibicije mozemo samo nagadjati. No gotovo sigurno je ispipavanje granica do kojih se moze ici barem jedan, ako ne glavni, od njih. Bas kao vjerojatno i kod
ovog
. Sigurno nitko nikome ne javlja trenutnu jacinu oluje :)
Ovo se netko javlja nekome, a najvjerojatnije netko sam sebi; tj. testiranje equipmenta ili/i (prije i) granica podnosljivosti, lakovjernosti, autocenzure, poslusnosti.
TTCTT: Testing The Coincidence-Theory Tolerance.
"The internet is abuzz this week" kaze lezerno u uvodu lezerni strucnjak Jesse Ferrell. Ma da, to je na internetu. One stvari sto se salju internetom. Znate ono, cimpanza se pocese po supku pa padne u nesvijest. Macka skoci s kreveta pa se zabije pravo u zid. Pojavi se kilometarska dvojka u oku najjaceg ikad zabiljezenog uragana, can be seen on the actual government radar data as well. Tip skoci lastu sa visine 10 m na tlo, samo se digne malo prasine, rulja mlako zapljesce. Lancana pisma. Nagradne igre. Lijepe misli o prijateljstvu. Ono, internet.
Uostalom, sta je danas sat vremena? I jedna obicna dvojka. Nista. Dva je skoro jedan, a jedan je skoro nula, a nula je nesto poput nista. Znaci, prakticki nista.
Nista se nije dogodilo, zasto se okupljate.
Razidjite se. Nema okupljanja. Nothig happened here, move along.
DISCLAIMER:
Ne sprdam se s meteorolizma, naprotiv. Samo se malo slikovito izrazavam ;)
Svaka cast svim strucnjacima, i ja sam cijenjen strucnjak u svojoj profesiji. No sve je individualno, i titula i broj zavrsenih godina/odslusanih kolegija sam po sebi nije znak nicega, osim povecane vjerojatosti da ce doticna osoba ili kao talentirana svoj posao jos bolje znati i raditi, ili kao karijerist lakse napredovati/odrzati se u karijeri.
Trenutno nije nimalo lako biti meteorolog, u to sam siguran.
My heart goes to them, really.
Ne samo da je sve teze prognozirati vrijeme, nego nedvojbeno sve veci broj njih ima sve razdiruciju dvojbu izmedju primjecivanja stvari koje je sve teze ne primjetiti, i javne stigme koja jos uvijek garantirano istog trenutka ceka onog tko bi priznao takve misli.

Za sad nazalost najcesce pobjedjuje strah od stigme, ali to nije vjecno.
Prijatelju meteoroloze, koji si se bio javio, djelovao si kao razuman covjek. Slozio si se glede entropije, ali si poslije pripomenuo da je 'statisticki moguce da se pojavi i obrnuto' (tj red iz kaoticnog rasporeda oblaka). Tebi je jasno da je ovo pravi podvig statistickih mogucnosti, sve i kad bi one ovdje bile univerzalno primjenjive kao princip kao u svojoj 'prirodnoj' okolini, kvantnoj fizici; sto nisu. Ali i bez toga, ovakav slucaj anti-entropijske pojave mora te bar malo zamisliti. Ovdje vise ne govorimo o cetvrtastim oblicima, ovo je napredna geometrija, slozit ces se i sam. Pitanje je samo hocemo li to smatrati slucajnim ili izazvanim. Iskreno, sto mislis? Razuvjeri me, pliz. Zudim za tim, jer bih puno vise volio da sam u krivu, majke mi. Ne veseli me biti u pravu glede losih stvari. Ali "oh nista, to slucajno" kao bas jedini odgovor mi je tanko, pa me jebi. Licno, smatram da ovako tanak odgovor moze prihvatiti samo netko tanji od njeg. Dajte mi nesto bolje, pokajat cu se za brijanje i posuti se pepelom, i bit cu sretan.