četvrtak, 11.05.2006.
News iz Koreje

(evo novih tjednih vijesti)

S Korea confident ahead of World Cup

South Korea head to this year's World Cup Football in Germany eager to prove that their great performance as hosts in the last World Cup wasn't a fluke. The Reds made it to the semis four years ago amid allegations of host-favouritism by referees. But confidence is high in the Korean camp a month before football's showpiece event. The team is ranked 30th in the world and is drawn with France, Switzerland and Togo in Group G. The pressure is on coach Dick Advocaat to repeat the exploits of fellow countryman Guus Hiddink, who became almost a legend four years ago.
..................................

Korea 2nd Highest in Road Congestion

South Korea's roads are the second most congested among the 30 member Organization for Economic Cooperation and Development (OECD), indicating a need to further expand our road network, according to the Ministry of Transport and Construction (MOTC). In its analysis of the degrees of congestion on OECD roads, the MOTC (MOCT) said that as of 2005, South Korea has 151 vehicles per kilometer of road, the second highest rate, behind Germany, among OECD members. The number of in Germany was 194. According to the ministry, Korea has 15.4 million vehicles on 102.2 million kilometers of combined paved roads. Italy ranked 3rd with 73 vehicles per kilometer of road, followed by Portugal with 63. Japan had 62 vehicles per kilometer of road, followed by Britain with 62, the Netherlands with 58, Luxembourg with 55 and Switzerland with 54.
..................................

WMG dialing up digital deal with Korea

Warner Music Group is set to merge its South Korean arm with the country's dominant wireless operator SK Telecom to create a joint venture to sell music via mobile phones and other digital platforms. The deal, announced by Warner topper Edgar Bronfman Jr. Wednesday in Hong Kong, is the first of its kind. New company WS Entertainment will be a full-service operation covering signing, development and distribution of music. Bronfman described it as an entirely new business model.

"WS Entertainment will give us easily the ability to experiment with sophisticated windowing strategies, bundling new forms of content and supportive models for premium content. WS Entertainment will be a fertile incubator and laboratory for exciting developments we can't even imagine today, but which may become the industry standard," Bronfman said. Deal comes as music labels such as Warner Music, the world's fourth-largest record company, are betting the digital market's fast growth will outpace the lost revenue in traditional CD sales. Under the deal, Warner Music will give a 49% stake in Warner Music Korea to SK Telecom's Seoul Records to form WS Entertainment. The pair will invest 8 billion won ($8.6 million) into the venture. Warner Music will hold a 60% stake in WS Entertainment with SK holding 40%. In South Korea, sales of music to mobiles far outstrip CD sales. Mobile networks are more tightly controlled by their operators than the Internet, and are much less prone to piracy.
..................................

S. Korea Arrests 10 Anti-U.S. Protesters

Police arrested 10 anti-U.S. protesters Monday and released 27 others after violent demonstrations against plans to expand an American military base, officials said. The government vowed stern measures against future violent protests, threatening military trials for civilians who trespass on a U.S. base in Pyeongtaek, about 40 miles south of Seoul, or assault soldiers guarding the area.



Catholic women participate in a special service to demand release of arrested anti-U.S. protesters near the government complex building in Seoul Monday, May 8, 2006. South Korean police on Monday formally arrested 10 anti-U.S. activists who took part in violent protests against plans to relocate American military bases. (AP Photo/Ahn Young-joon)

The demonstrations Thursday and Friday saw protesters battling police with bamboo sticks and authorities responding with batons to evict them from the site. The violence injured more than 200 protesters, police and soldiers. Prosecutors secured arrest warrants for 10 of 37 protesters detained Thursday, and released the other 27 after the Suwon District Court's Pyeongtaek division declined to issue warrants for them, the court said. The prosecution was awaiting word from the court on whether they can press charges against 23 other protesters detained Friday and seek the re-arrest of the demonstrators who were released, prosecution spokesman Kang Chan-woo said.

For months, villagers and anti-American activists have impeded work to expand Camp Humphreys in Pyeongtaek under a 2004 agreement between Seoul and Washington to move the American military command there from its current headquarters in central Seoul. Several villages on the outskirts of Pyeongtaek, a city of 360,000 people, must be razed for the base construction. The government has offered residents financial compensation to move out, but some 70 households continue to resist, according to the Defense Ministry.

On Thursday, authorities sent more than 10,000 riot police to the site, evicting protesters and destroying an abandoned school used as a base for the protesters. Army engineers also set up wire fences around the site to keep outsiders away. But activists returned Friday to stage more protests. TV video showed stick-brandishing demonstrators cutting wire fences and beating unarmed troops guarding the site. On Monday, Defense Minister Yoon Kwang-ung said people who attack soldiers or destroy military properties pose a "direct challenge to public authority."

"We will apply related military laws accordingly in the future in keeping with law and principle," Yoon told South Korean reporters in comments confirmed by his ministry. South Korean law allows civilians to be tried in the military court when they are accused of assaulting guards on duty or trespassing on military property. About 29,500 U.S. troops are stationed in South Korea as a legacy of the 1950-53 Korean War, which ended in a cease-fire instead of a peace treaty, leaving South Korea still technically at war with the communist North. The number of troops is set to decline to 25,000 by 2008 as part of the Pentagon's worldwide realignment of its forces.
..................................

A Failing Grade for Korea's Competitiveness

The International Institute for Management Development ranks Korea 38th in terms of competitiveness, down from 29th last year and the sharpest drop among 61 evaluated countries. By contrast, China improved from 31st to 19th and India from 39th to 29th during the same period. By criteria, the nation's standing declined from the 31st to 47th in government efficiency and from 30th to 45th in business efficiency. At the same time, economic performance and infrastructure remained almost the same, from 43rd to 41st and 23rd to 24th respectively. In short, government and corporate inefficiency are eroding Korea's competitiveness.
..................................

Skype threatens S.Korea`s telecom market

Skype is set to launch its PC-to-phone service in South Korea, cutting international calling costs and threatening local telecom companies. Working with Auction, a domestic online auction site operator, Skype will launch the two-way voice over Internet protocol, or VoIP, service in two months, the Korea Times reported Wednesday. Skype began offering its free services between personal computers in South Korea in February, and quickly reached 100,000 users. The low cost of the new service is likely to pose a threat to current landline companies. Skype-Out, the downloadable PC-to-phone program, will allow users to make calls around the world at a cost of about 2 cents per minute through a pre-paid card. By comparison, local company KT currently charges about 75 cents per minute for a call to Japan, and 30 cents for a call to the United States.
..................................

Motorola stops RAZR copycat in South Korea

Motorola succeeded in stopping a South Korean manufacturer from making copycats of its popular RAZR handset model. The U.S. mobile giant said it reached an agreement in a lawsuit filed in January against KBT Mobile for infringements of patents, trademarks and design. KBT will stop making and selling RAZR look-alikes as a result, Motorola said. Motorola had filed the lawsuit in Korea against KBT Mobile under Korea's unfair competition prevention act. The act expressly prohibits the copying of another company's product designs.
..................................

Korea: New English-Language Church Seen as Unique Evangelism Tool

Pastor P.D. Chun, former president of the Adventist church in Nothern Asia Pacific spoke at the Ilsan church's inauguration. In the Ilsan district of Koyang City, Korea, northwest of Seoul, Sabbath, or Saturday, morning worship is now rather different for some Seventh-day Adventists than in the nearly 700 other Adventist churches in Korea. Instead of singing, praying and hearing sermons and Bible readings in the Korean language, church members will be immersed in the same faith rituals, but in English.

April 29 marked the official beginning of the new Ilsan English Church of Seventh-day Adventists, started with 30 members. The Ilsan district with approximately 700,000 residents, is famous for its beautiful Lake Park, as well as an annual international flower exhibition; the area produces 10 percent of Korea's floriculture exports and 70 percent of its grafted cactus exports. The Adventist church in that region has long used English-language training institutes as a means of sharing the gospel, and according to church officials this new church will do the same. Dr. Jairyong Lee, president of the Adventist church in Northern-Asia Pacific, gave the keynote address during the inauguration service. He reminded those in attendance of the plan to plant 30 new English language churches in the region within the next 10 years. The Ilsan church will be a model for additional church plantings.
..................................

S. Korea birthrate falls to record low

South Korea's birthrate fell to 1.08 last year, maintaining the lowest in developed countries, said a report of the National Statistical Office (NSO) Tuesday. The birthrate, or the average number of babies born to a woman aged between 14 and 49, last year was fewer than a quarter of the 1970 rate, which stood at 4.53, the report said. In 2005, there were 438,000 births in the country, 38,000 fewer than in 2004, the lowest figure since the NSO began tracking the date in 1970. South Korea's birthrate was the lowest among the Organization for Economic Cooperation and Development countries in 2004, when its birthrate was 1.16, lower than Japan's 1.29, Sweden's 1.71, Britain's 1.73, France's 1.89 and the United States' 2.04.

According to a poll by a Korea Institute of Health and Society, 49.9 percent of working mothers have had to abandon their jobs after having their first child, while families with two children spend more than half of the income of parents on education. "If the birthrate remains at the current level, Korea's population may fall below 40 million in 2050," Kim Yong-hyun, director of the Ministry of Health and Welfare, told local media, warning that South Korea might be an aged society earlier than expected.
..................................

MM Lee to visit China, Korea, Japan

Minister Mentor Lee Kuan Yew will be making a regional tour of China, Korea and Japan, from May 10-26. Mr Lee will be in Beijing, Shenyang and Shanghai from May 10-17 at the Chinese government's invitation. He will meet Premier Wen Jiabao, Vice-President Zeng Qinghong, Vice-Premier Hui Liangyu and other senior Chinese leaders. While in Shanghai, Mr Lee will also be launching his book "Keeping My Mandarin Alive". From China, the Minister Mentor will leave for Seoul. During his visit from May 17-20, he will attend the Citibank Legacies of Leadership Series and meet President Roh Moo-hyun, politicians, members of the Seoul Forum and corporate leaders. Mr Lee will also attend the tri-university centennial colloquium organised by Korea University, Fudan University and National University of Singapore. Mr Lee will also be conferred an honorary doctorate degree by Korea University.
..................................

South Korea's President Roh Proposes Summit With North Korea

South Korean President Roh Moo Hyun proposed a summit with North Korean leader Kim Jong Il, saying he is ready to make "considerable concessions'' to North Korea. "I am ready to meet (Kim) any time, anywhere to talk about anything,'' Roh said in Ulan Bator late yesterday, during his state visit to Mongolia, according to the presidential office's Web site. "We don't want the North Korean regime to topple. I have repeatedly said we want our relationship to gradually improve on a steady foundation.''

North Korea and South Korea remain technically at war since their 1950-53 conflict ended without a peace agreement. They are separated by one of the world's most fortified borders, with 1.7 million soldiers facing each other. Relations have been strained as North Korea is refusing to return to talks with South Korea, the U.S., China, Japan and Russia on dismantling its nuclear weapons program. North Korea has said it won't return to talks unless the U.S. lifts financial sanctions it imposed last year.
..................................

South Korea's Central Bank May Keep Key Rate at Three-Year High

South Korea's central bank will probably leave its key interest rate at a three-year high after a stronger currency helped curb inflation and consumer confidence fell to a six-month low. Bank of Korea Governor Lee Seong Tae and his fellow policy makers will keep the benchmark overnight call rate at 4 percent, the highest since July 2003, according to seven of 12 economists surveyed by Bloomberg News. Lee became governor in April. The central bank's decision is due tomorrow around 11 a.m. in Seoul.
..................................

Korea 27th in OECD Female Employment Ranking

South Korea ranked 27th among the 30 members of the Organization for Economic Cooperation and Development (OECD) in female employment, showing that women remain as the country's most under-utilized resource. Korea's female employment for women between between 15 and 64 stood at 53.9 percent in 2004, lower than the 60.1 percent OECD average, the Ministry of Finance and Economy (MOFE) said Monday, citing the OECD data.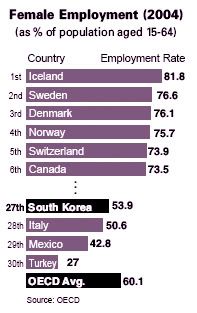 Women's participation in Korea's labor market has been growing over the past 15 years, albeit slowly. Female employment rate rose to 52.8 percent in 2003 from 49.9 percent in 1990. Despite a relatively low female employment rate, the number of female workers is growing as Korean girls are increasingly doing better than boys at school, more women are getting university degrees than men and females are filling most new jobs. Among OECD member economies, only Italy, Mexico and Turkey had lower participation by women in the labor market.
..................................

Trade between North Korea, China surges

Trade between North Korea and China rose to a record last year as the North becomes increasingly dependent on its No. 1 trade partner for food and energy, a South Korean trade agency said Monday. The volume of trade between the two countries rose 14 percent in 2005 from the year before to a record $1.58 billion, according to South Korea's state-run Korea Trade-Investment Promotion Agency, or KOTRA. Two-thirds of that trade was made up of North Korean imports from China, which grew 35.2 percent year-on-year to $1.08 billion, much of it food and energy. Trade with China accounted for more than half of North Korea's total exports and imports last year.
..................................

Mongolia, South Korea to further develop partnership

Mongolian President Mr. N.Enkhbayar and Mr. Roh Moo-hyun, the President of the Republic of Korea, made a report to the media about the current visit of Mr. Roh Moo-hyun and the development of the relations and cooperation between the two countries. The President Mr. Enkhbayar noted, ...The bilateral relations and collaboration have successfully been developing in recent years under the 1999 joint statement issued by the two countries. The talks of the two Presidents, held during the current visit of the President Mr. Roh Moo-hyun, aimed at bringing up the bilateral ties to a new level. A Mongolian-Korean intergovernmental agreement is signed during the visit on the expansion of the bilateral cooperation in social welfare sector. I am confident that achievements will be gained in the social welfare issues of the Mongolian and the Korean citizens under the agreement." Mr. Roh Moo-hyun stressed that at his meeting with the Mongolian President, they exchanged views on the issues related to the development of the bilateral relations, the current political situation of Northeast Asia, and the bilateral cooperation on the UN and international arenas. According to the 1999 joint statement of Mongolia and the Republic of Korea, the bilateral mutually beneficial collaboration has been developed rapidly in the past term. He pointed out that the two sides have reached an agreement to develop partnership relations and friendly collaboration of good neighborhood with the intention of strengthening the joint interests in all sectors.
..................................

Annan to visit South Korea

UN Secretary-General Kofi Annan will visit South Korea next week as part of a regional tour that will also include stops in China, Japan and Vietnam. Annan's three-day trip starting on Sunday comes as South Korean Foreign Minister Ban Ki-moon seeks to succeed him as head of the United Nations. During his visit, Annan will meet President Roh Moo-hyun and other South Korean officials to discuss "major international issues," including the standoff over North Korea's nuclear program and UN reform plans, the Foreign Ministry said in a statement. Annan last visited South Korea in 1998. The UN Security Council will start formal discussions this summer to choose a successor to Annan, whose second five-year term ends December 31. (AP)
..................................

Air Pollutants from China Causing Acid Rain in Korea

Data by Korea's National Institute of Environmental Research shows China is largely responsible for triggering acid rain in Korea. The institute says 55 percent of nitrogen oxides and sulfur dioxides which cause acid rain found in the country's atmosphere in March, 2002 was from China. In the case of nitrogen oxides, nearly 70 percent was generated by facilities in China. The paper shows that rainfall in Korea last year was the most acidic in more than a decade. Meanwhile, air pollutants from Korea were also found to travel to China, especially in summer. The institute says Korea, China and Japan have been conducting joint research on the movement of air pollutants since 1992.
..................................

Japan, S. Korea, Taiwan to restore 270-yr-old mural

In a rare team effort with its Asian neighbors, Japan will begin working with South Korea and Taiwan as early as June to restore a 270-year-old Buddhist mural at one of South Korea's three major temples. It is quite possibly the first time the three neighbors have had their cultural heritage restoration specialists work together for full-scale repair in one of the countries. The team of 25--most of whom are from the Gangoji Institute for Research of Cultural Property in Nara--will repair the mural in the more than 1,300-year-old Tongdo Temple in Yangsan, Gyeongsangnamdo. They also will analyze the pigments used in the painting, which dates to 1734.

The four-by-2.3 meter mural depicts the world of the Lotus Sutra, complete with images of the Buddha, bodhisattvas and a pagoda, and is the only work of its type in South Korea. However, the color is deteriorating, and the 10-centimeter-thick clay on which it was painted is cracking and flaking off.
..................................

Meesawat wins in Korea

Thailand's Prom Meesawat has won his maiden Asian Tour title with a three-shot victory at a rain-affected SK Telecom Open in Seoul. Organisers were forced to shorten the event to 54 holes after persistent rain played havoc on the third day, but Meesawat showed little concern as he fired a final round 68, finishing with 15-under 201. Meesawat was thrilled with his win and quickly dedicated the victory to his late mother. "My dream has come true. Over the couple of months I was close. This is a present to my mum (Somsri Meesawat) as she passed away three years ago. Her birthday is on the 22nd of this month," he said. "The highlight was the eagle at the third hole. I was on the tee and it was downwind. If I used a driver I might end up of the water on the right. So I decided to use a three wood and it was a good shot. I had 230 yards to the pin, hit a good two iron which landed three feet from the pin."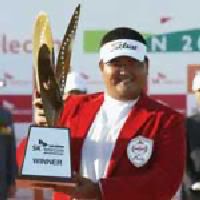 Korea's Seong-ho Lee and Jeev Milkha of India each carded a two-under 70 for the final round and finished tied for second, behind local KJ Choi who raced up the leaderboard with a spectacular 65. Teenage star Michelle Wie stumbled on the final day with a two-over 74 to finish 34th overall, while Australian Brad Kennedy, who sat in fourth after two rounds, had a miserable day as he signed for a 77 to finish tied for 27th. Michael Wright was the best placed Australian with a share of 17th on six under, while Adam Blyth was a further shot back tied for 20th.
..................................

Korea Considers Taxing Clergymen

The government is examining whether it could impose income taxes on priests, monks and other clergymen of any religious group. The National Tax Service (NTS) recently queried the Ministry of Finance and Economy (MOFE) on whether it is possible to legally collect income tax from those engaged in religious occupations, the ministry said. This is the first time for the tax authority to officially discuss imposition of income taxes on the religious community, which is regarded a "hypersensitive" issue. Presently, money paid to a person wholly and necessarily in the performance of their duty as a clergyman, minister or nun is exempt from income tax.
..................................

Refugee law aids 6 from North Korea

Six refugees from North Korea, including four women who say they were victims of sexual slavery or forced marriages, have fled to the United States, a senator said Saturday. The group is the first from North Korea to be given official refugee status since passage of a 2004 law that makes it easier for North Koreans to apply for such status. Sen. Sam Brownback (R-Kan.), a co-sponsor of the law, said the refugees arrived at a U.S. site Friday night. "This is a great act of compassion by the United States and the other countries involved," he said.
..................................

Korea win qualifier against Gulf

The Arabian Gulf went down to a 20-5 defeat in their Asia region World Cup qualifier against Korea in Al Ain on Friday evening. The home side made a slow start against a side 20 places higher in the IRB world rankings, turning around 17-0 down at the break while Korea then extended their lead with a penalty early in the second period. That was the signal for the Gulf to enjoy their best spell of the match, pinning the visitors back deep in their own half for long periods. But that pressure produced only one try, for replacement Mike Riley, and it was Korea who were celebrating at the final whistle as they secured their passage to the third and final round of qualifying for France 2007, which will take place in Sri Lanka in November.
..................................

Korea 6th Biggest User of High-speed Internet Services in the World

Koreans are the world's sixth biggest user of high-speed Internet services. This doesn't come as a surprise as Korea is a country with one of the highest broadband Internet connection rates. Figures released by comScore World Metrix, an American company for Internet audience measurement show Korea's online population stood at around 25 million as of March. The United States topped the ranking with 152-million trailed by China and Japan. In terms of spending the longest hours online per month on average, Israel has been ranked first. And Finland and Korea took the second and third place, respectively. The company also found that worldwide Internet users over the age of 15 stood at close to 700 million.
..................................

S Korea fears oil disruption

South Korea's dependence on Middle Eastern countries for oil imports remains high, spawning concerns that Asia's fourth-largest economy would be threatened by any supply disruptions in the region, as oil prices continue to climb, a report showed Friday. According to the report by Korea National Oil, South Korea imported 177.91 million barrels of oil during the first quarter of this year, accounting for 81.4% of the nation's total oil imports. In the January-March period, South Korea imported 18.39 million barrels from Iran, 8.4% of total imports from the region, the report showed.
..................................

Military training jet crashes during air show in South Korea, killing one pilot

A military training jet crashed Friday during an air show in South Korea, killing the pilot but causing no injuries to spectators, the air force said. The A-37 plane crashed shortly before noon during an aerial stunt to mark Children's Day in Suwon Air Base, 46 kilometers (30 miles) south of the capital, Seoul, the air force said in a statement. Some 1,300 people, including many parents with their children, were watching at the time but no one was injured as the plane landed almost 2 kilometers (1.24 miles) from the spectators, said Air Force Lt. Col. Lee Hyung-gul. The jet crashed between a main runway and a minor runaway inside the air base "due to unidentified reasons'' during turning after the aerobatic maneuver by two jets, the statement said. The pilot was a 33-year-old air force captain, the air force said, adding that the crash was under investigation.
Objavljeno u 10:58 • Komentari (3) • Isprintaj • #