petak, 14.11.2008.
Nevermore to feel the pain ...the heart collector sang and I won't be feeling hollow for so long

Strange fruit


Southern trees bear strange fruit,
Blood on the leaves and blood at the root,
Black bodies swinging in the southern breeze,
Strange fruit hanging from the poplar trees.

Pastoral scene of the gallant south,
The bulging eyes and the twisted mouth,
Scent of magnolias, sweet and fresh,
Then the sudden smell of burning flesh.

Here is fruit for the crows to pluck,
For the rain to gather, for the wind to suck,
For the sun to rot, for the trees to drop,
Here is a strange and bitter crop.


ja se nadam da ljudi kuže ovu pjesmu.. u prenesenom je značenju.
strašno je tužna, a još je tužnije što se to i dešavalo :(





pogledajte




- 15:39 -
utorak, 11.11.2008.
Down where I am





Isn't it great to see how life begins ?

Things may change, let the joy begin

Can you hear this new life crying

Breed it out, it will be worth it

Show me your newborn smile








(Please tell me why)

I don't wanna hold you

(Please tell me why)

I don't wanna see you

'Cause even your smile hurts

Oh it hurts like hell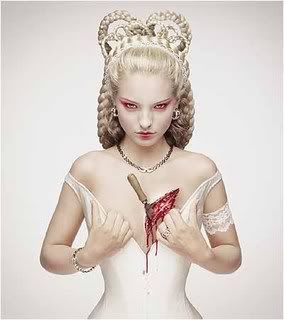 volje sam čudne danas...
ne znam šta mi je
možda me ova prva smjena ubi..
prenaporno mi je to..
al zato u petak fino van
nisam dosta dugo bila
valjd će bit dobro
=)
pozdravljam vas malobrojne koji čitate
- 19:34 -
srijeda, 05.11.2008.
opet

povijest...
eh... kojeg sam vraga učila ako sam zaboravila kad su ubili jebenog kneza Bornu

kak sam to mogla zaboravit...
uglavnom...
moram dobit makar 2..
u protivnom ...ne znam XD ubit ću se ?... jea rajt...

Jučer mi je otac bio na informacijama i razgovarao s razrednicom u vezi problema koji imam kad trebam odgovarat
,
ona je to skroz drukčije protumačila... reć će to svim profesorima... iss...
kad nitko to ne kuži...

a jebe mi se....
učit ću za 5, dobit ću 3 jer će profesori reć da ne djelujem sigurno



već duuugo nisam vani bila..
ono za helovin ne smatram izlaskom...
bila sam 1 sat vani XD


kad društvo nije bilo raspoloženo...
valjda..
neki..
štajaznam...


a u derbiju tako ljepo bilooo juuuj,
puno ljuuudi


reko mi je ćaća da će popizdit ako još jednom spomenem samojeda

a nekad me hvataju manije za nekim stvarima (ili bićima)
s tim da ove što se tiču pasa duže traju XD
moji mali mede juuuj


i et..

pa pa
- 10:27 -
subota, 01.11.2008.



Imala sam davno blog.. Pisala sam svašta , i pametno i glupo .
Sad mi je čudno pisati nešto, osjećam se starije i ozbiljnije nego tad hehe XD .
Trenutno mi pada na pamet da si kosu počupam
strašno sam bijesna
na sve
na glupe ljude koji imaju predrasude
na osobe koje ne shvaćaju nešto tako očito.
Žao mi je svega, prvenstveno sebe, jer dopuštam da mi drugi ljudi maltene upravljaju životom.
Ne želim se svađati s budalama ...

Zašto na ovom svijetu postoje osobe koje tako jako mrzim?
Mrzim ih toliko jako da mislim ako nastave s tim ponašanjem da bi ih ubit mogla.
Ne čine konkretno meni ništa nažao, ali tako se odvratno ponašaju
tako odvratno pričaju
odvratan ton imaju..
ah.
mislim na jednu osobu XD
uglavnom...
bolje da prestanem pisati sad

pozdravljam vas
- 22:46 -
nedjelja, 05.10.2008.
I wrote this novel just for you, It sounds pretentious but it's true, I wrote this novel just for you, that's why it's vulgar ...that's way it's blue

Come, my love, and take the wings of night

To catch the sprinkled stars along thy flight.

The high road,

The blood road,

From the world's beginning.

Come ride the wind with me

Until the stars are dimming.












- 19:27 -