Reina Sofía
S kraljevskih dvora: dok je kralj Juan Carlos jezdi Madridom na crnom motoru obučen u crnu kožu i bari ženske nesritna krajica Sofía je bila dobrotvor. Tako su i muzeju moderne i suvremene umjetnosti dali ime po njoj. Punim imenom El Museo Nacional Centro de Arte Reina Sofía (klik). Tamo smo završili skroz slučajno jer smo zakasnili na vlak, ali to je druga priča. Popili smo kafu, izili churros i išli vidit Guernicu, drugo nan se ni dalo puno obahodit. A i bili smo obučeni u jednu vestu za plažu/putovanje po vrućini, pa se nismo osjećali primjereno standardima Gollyh&Bossyh za posjet hramu kulture. Reina Sofía ima super restoran, tamo smo slikali našu kafu iz poglavlja Cafe con leche (klik)
.


We visited El Museo Nacional Centro de Arte Reina Sofía (
click
) by chance, but that is another story. We had a coffee, ata a churros, went to se Guernica. We didn't feel like seeing the rest of the museum because, among others, we had a beach/travell dress and it wasn't up to Golly&bossy standards for visiting a temple of culture.
Ovo je restoran i naši oćali.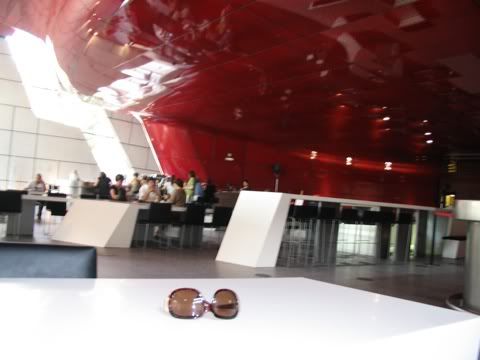 Dok smo se vrtili tamo u atriju su niki mladi umitnici testirali svoju instalaciju od bambusa i plastičnih boca u obliku nekega zmaja koji se kreće na stranu kad u njega pustu komprimirani zrak (zmaj nas je podsjeti Gilliama). Ovo smo snimili kako ga vraću, ali možete vidit kako se miču noge i otprilike zamislit kako to izgleda.
While we were there in the atrium of the museum some young artists tested their art installation made of bamboo sticks and plastic bottles and in the shape of a dragon that moves when they let compressed air into it (the dragon reminded us of Terry Gilliam). We took the shot of them pulling it back, but you can see the way the legs are moving and imagine how it looks like when it moves by it self.
Suveniri/souvenirs
Ovo je jedna butiga suvenira nasuprot Prada ispunjena plastičnim čudima made in jeftina radna snaga na Dalekom Istoku. Ništa posebno. Osim fasade na kojoj su 3D likovi kao s Velázquezovih slika. Fora.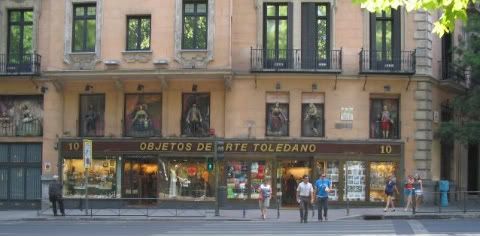 This is a souvenire shop across the Prado museum. It is filled with plastic stuff made in sweat shops on Far east. Nothing special. Besides the facade where are sort of sculptures that look like they've steped out of Velázquez's paintings.
Šoping/Shopping
Kupili smo dvi burse, postole, pandil i vestu. Super su madridske butige, svega ima, a najviše su nan se svidile butige od postoli. Španjolska ima jaku proizvodnju postoli od kojih do nas dođe Camper i ništo malo u Gullivera.
Što smo Vama kupili? Vama smo donili novine iz aviona, salvetu iz restorana i sapun iz hotela.
A ono što smo van hotili pokazat je kako je ugodno šopingirat u Madridu, čak i po zvizdanu.

We've bought two bags, a pair of shoes, a skirt and a dress. Madrid shops are great and we liked the most the shoe shops. Spain has a strong shoe production and all we get is Camper.
What we wanted to show you on this photo is how pleasant it is to shop in Madrid, even when the heat is on maximum.
Španjolci
Španjolci su jedan jadno lipi narod. Lipo su obučeni, nisu onako pičkasto kako Talijanci, a iznenadilo nas je što smo mislili da su niži, ali uopće nisu.
Tapas
Tapas je u biti predjelo, toplo ili hladno, ali koje se poslužuje su svaken kafiću. To su masline, frigane hubotinice, salate, tortilje, juhe... Iako se može poć vanka, jist samo tapas i lipo se najist od tega to isto ni pravi obid/večera.
Evo što smo Min mezili: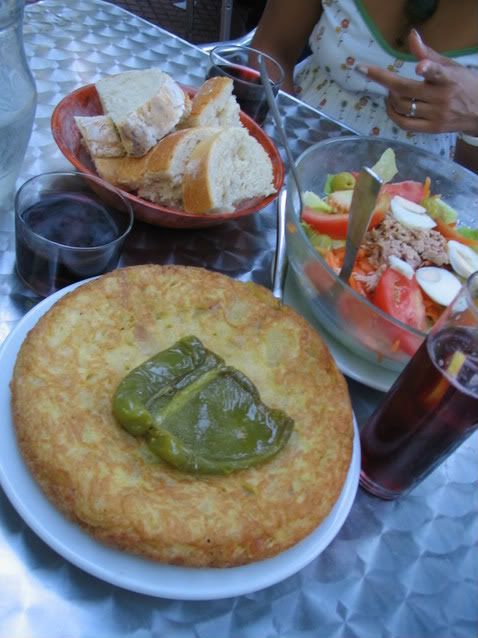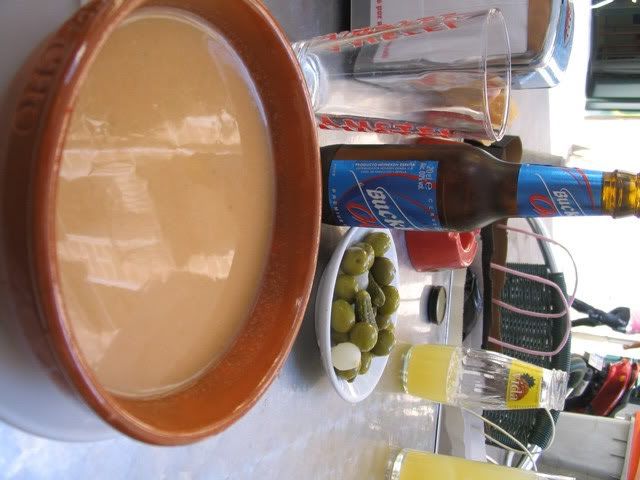 Tortilla de patatas, gazpacho, mješana salata s plodovima mora. A ovo u visoken žmulu kun tortille je gemišt od crnega vina. Tako oni to tamo piju. Eto, dodali su i fetu limuna.
Terminal 4
Terminal 4 je novi terminal na madridskem aerodromu Barajas. Isto kako i željeznička stanica Atocha i ovo nan je diglo rič.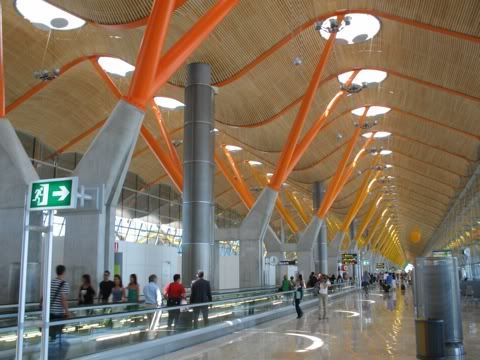 Terminal 4 is a new terminal of the Madrid airport Barajas. And just like the Atocha train station this took our breath away.
trompe-l'oeil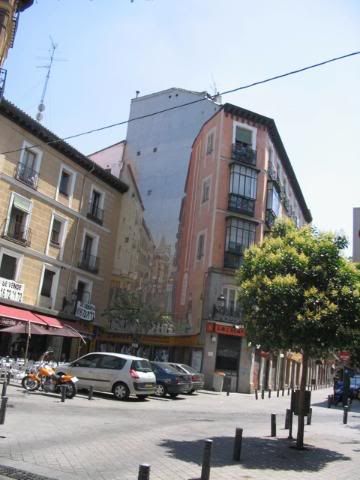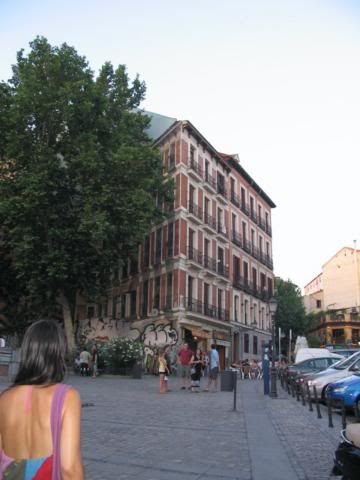 Na ovoj zgradi bočna fasada je nacrtana. Stvarno.
The side facade of this building is painted. It is not real. Really.
Žega/The heat
Ne da je bilo vruće, nego je bilo vruće. Spasi nas je rečeni bazen. A drugi put kad gremo u Madrid to će bit u kojigo normalniji misec tipa 4. ili 9. Rekli su nan i da zimi ni puno zima.
It was fucking hot. Luckily we could refreshi in the mentioned pool. And next time we go to Madrid it will be at some reasonable month like April or September