srijeda, 19.12.2012.
Undead (2003)

Živi Mrtvaci (2003)




Produkcija: Spierigfilm
Režija i scenarij: The Spierig Brothers
Glazba: Cliff Bradley

Uloge:
Felicity Mason (Rene Chaplin)
Mungo McKay (Marion)
Rob Jenkins (Wayne)


Film je izašao u kina 27. veljače, 2003 godine (Fantasporto Film Festival)
DVD premijera: 23. travnja, 2004 godine
Trajanje: 104 minute
Budžet: oko 1 000 000 A$
Zarada u SAD-u: 41 196 $
Zarada u prvom vikendu (SAD): 17 027 $ (u 13 kino dvorana)
Zarada u Australiji: 149 590 A$
Nagrade:
2002 godina - osvojio Queensland & Northern Territory Gold Award (Andrew Strahorn) za kameru
2003 godina - osvojio Technical Achievement Award (Tony Vaccher) za zvuk i FIPRESCI Prize, te zaradio nominaciju za - Sitges nagradu za najbolji film, Independent Spirit Award i International Fantasy Film Award za najbolji film (Fantasporto)
2004 godina - nominacija za nagradu Narcisse Award za najbolji film
Foršpan filma...
Službena stranica filma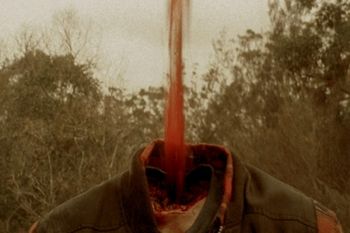 SADRŽAJ:
"- Tihi ribarski gradić Berkeley bude poprištem čudne meteorske kiše koja većinu njegovih stanovnika pretvori u mesožderne žive mrtvace, koji se pokušavaju dočepati i nahraniti manjom grupicom neinficiranih, koja traži spas dalje od mjesta započete infestacije."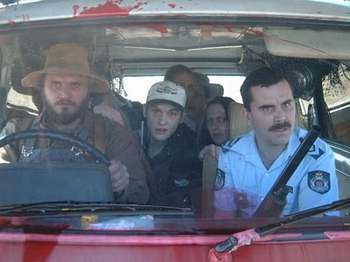 RECENZIJA:
- Australski filmovi imaju svoje mjesto u horor žanru. Sjetimo se samo - "Razorback" (1984), "Storm Warning" (2007) ili "Wolf Creek" (2005). Današnji film je također po svojoj prilici poseban... Ako se ne varam mislim da je ovo prvi australski zombi film. Kako bilo evo izraženih djelova pozitive i negative koje film nudi:


Što valja kod filma:
- uloženi trud braće Spierig (sami sve svojom lovom financirali)
- početni dio priče
- specijalni efekti i šminka
- glazba i montaža
- nekoliko odličnih gore scena (kad babu pogodi meteor, kad se zakrvavi ekran od prvog napada zombija, te zombijeva donja polovica koja pijano šeta dok iz trupine viri dio kičme) u kojima je potrošeno 600 litara lažne krvi
- kamera (u početku je slika veselo žučkasta, dok kad krene sve naopako boja se mijenja u depresivno plavu)


Što ne valja kod filma:
- dio režije, scenarij i dijalozi
- gluma i čudna kombinacija SF i horora (vanzemaljci i zombiji u jednom filmu)
- 2/3 priče i kraj filma
- ostavio isti dojam na mene kao i "Doghouse" (2009) Jake Westa




Završna riječ:
- "Undead" je mali nezavisni horor film, koji je u svoje vrijeme dobro potresao žanr jer su ga mnogi uspoređivali sa ranim filmovima Petera Jacksona "Bad Taste" i "BrainDead". Komparacija je dobra, no potonje spomenuti filmovi su daleko bolji i kvalitetniji u mnogim stvarima, te ja sam ne mogu reći da je ovaj film nasljednik "BrainDeada".
Priznajem da su braća Spierig napravila lavovski dio posla (zaslužni za montažu, zvuk i specijalne efekte, kojima je za poliranje u postprodukciji trebalo 9 mjeseci...a sve su sami radili na kućnim kompjuterima) i snimili nazovimo ga tako solidan film, no njegov najveći problem je mršavi scenarij sa slabim dijalozima među likovima, te sama karakterizacija tih likova.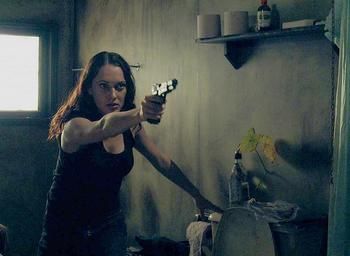 Još jedan od minusa filma su i neinspirirana gluma, koja je bolja nego kod nekih drugih filmova slične kvalitete ali to je opet ispod neke normalne i prihvatljive razine. Šteta što se bratski dvojac nije malo bolje potrudio oko scenarija, jer bi sam film bio mnogo zamamniji u svojoj radnji. Ovako imamo mnogo praznog hoda i dijelova gdje je sve pomalo usporeno, kao da se nije znalo što dalje.
To se najbolje vidi po po tome što se film sastoji od reda akcije i humora pa onda dolazi taj tzv. dosadni dio gdje se ništa ne dešava, nego ta dionica samo služi samo kao poveznica između dvije akcijske scene.




Što se tiče tih akcijskih scena u kojima prevladava crni humor on dobro poprilično dobro funkcionira (posebno u scenama kad gl. junak Marion puca naopačke sa stropa dok se pridržava mamuazma ili kad gl. junakinja Rene cirkularnom pilom na štapu ima sjekački obračun sa par zombija) no tih scena je stvarno malo, te je humor ipak previše forsiran. Još jedan problem kod filma mi je što su ubacili mnogo posveta drugim filmovima iste ili slične tematike:

"Night of the Living Dead" - ekipa u zaglavi u jednoj kolibi gdje se nakratko bore sa zombijima
"Evil Dead 2" - u jednom trenutku jedan od zombija uzvikne (!!!) "Join us!", a sam izgled zombija je nalik onom Evil Ed-a u Raimijevom remek djelu, te se i kretnjama tako ponašaju (to se najviše vidi u okršaju u kući)...tako da zaboravite standardni izgled i ponašanje zombija: te glavni junak po kretnjama i herojstvu pokušava biti Ash
Bad Taste - pojava vanzemaljaca, početni dio krvoprolića

Skoro zaboravih da su braća u scenarij uspjela ubaciti i vanzemaljce, a to je ujedno bila posveta i SF filmovima 50-tih (uvodni intro počinje kao jedan od tih klasika) tako da to uvodi i jednu malu zbunjozu tijekom gledanja. Američki filmski kritičar Roger Ebert, kojeg baš ne ljubim rekao je o filmu sljedeće:
"- "Živi Mrtvaci" je vrsta filma koji želi biti tako loš da je dobar, samo što nije dovoljno loš da bi bio dovoljno dobar."
Isto bih se složio i sa Rotten Tomatoes izjavom:
"- Ova niskobudžetna posveta zombi podžanru teško posuđuje od svojih superiornijih predhodnika i zabavlja se svojom jeftinoćom - koja je niti originalna niti dovoljno gledljiva da bi bila zabavna."




Ova dva kratka mišljenja dvije različite strane (jedne koja ne razumije i druge koja razumije horor žanr) najbolje opisuju kakav je film. On se da pogledati, no reći da ga preporučujem to svakako ne mogu napraviti, jer sam film ima nekoliko negativnosti (scenarij, gluma, karakterizacija likova) preko kojih nikako ne mogu prijeći. Radije bih vam preporučio po mnogo tome sličan film, no mnogo kvalitetniji po humoru i akciji i svemu - Jake Westov "Evil Aliens" (2005).

p.s - zanimljivo je da su braća Spierig tek nakon 6 godina snimili svoj sljedeći film i to obećavajući vampirski "Daybreakers" (2009), koji je unatoč odličnim efektima i šminkom, te dobroj glumačkoj postavi, koju su sačinjavali Ethan Hawke, Williem Defoe i Sam Neill, ispao ispodprosječni SF/horor uradak...