četvrtak, 08.11.2012.
Spontaneous Combustion (1990)

Spontano Sagorijevanje (1990)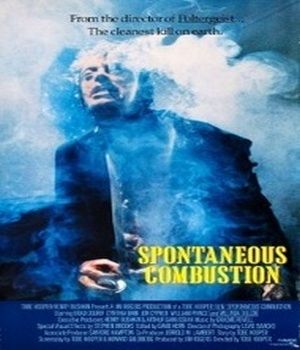 Produkcija: Black Owl Productions / Project Sampson / VOSC
Redatelj: Tobe Hooper
Scenaristi: Tobe Hooper i Howard Goldberg

Uloge:
Brad Dourif (Sam)......................Cynthia Bain (Lisa Wilcox)
Jon Cypher (Dr. Marsh)..............William Prince (Lew Orlander)

Film je izašao u kina: 23. veljače, 1990 godine
Trajanje filma: 97 minuta
Budžet: oko 5 500 000 $
Zarada: 50 367 $ (prvi vikend u SAD-u u samo 50 kina)
Foršpan filma...
Monster Madness 2009 Review No.28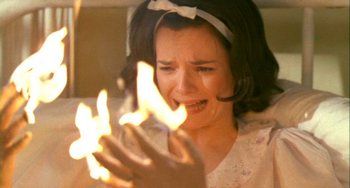 SADRŽAJ:
"- Mladić Sam saznaje da su njegovi roditelji, koji su umrli dok je bio još mala beba sudjelovali u jednom nukleranom eksperimentu netom prije njegovog rođenja, te da rezultati tog eksperimenta imaju vrlo negativan učinak na njegovo tijelo i psihu."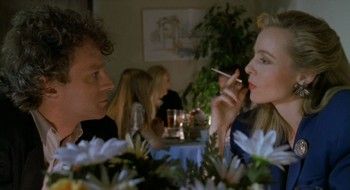 RECENZIJA:
"- Mnogo ljudi govori da se film sličan ovom pojavio 6 godina prije ("Firestarter" redatelja Marka L. Lestera), te da je nesretni Tobe Hooper kopirao radnju. Može biti da je i radnja ista, no razlikuje se po jednoj vrlo važnoj stvari, a to je da se u tom filmu sa tad malom Drew Barrymore govori o telekinetici i pirokinetici, dok Hooperov film u središte pažnje stavlja vrlo zanimljivu i slabo spominjanu temu - spontano sagorijevanje (opširnije o tome možete pročitati u knjizi Arthura C. Clarkea "Kronika Čuda i Misterija"). No, kao prvo vidimo dobre i loše stvari samog filma:

Što valja kod filma:
- Brad Dourif (Billy Bibbit iz "One Flew Over the Cuckoo's Nest" i Doc Cochran iz serije "Deadwood"), koji svojom glumom spašava film barem malo
- zanimljiva osnovica priče
- cameo pojava Johna Landisa

Što ne valja kod filma:
- nefokusirani i scenarij i režija
- specijalni efekti, besmislena radnja
- osjećaj da gledate niskobudžetni TV film
- neki gledatelji će imati osjećaj da gledaju "Firestarter" klon (inače Lesterov film je rađen prema istoimenoj priči Stephena Kinga)




Završna riječ:
"Spontano Sagorijevanje" je jako dosadno i nezanimljivo filmsko ostvarenje (ali je ipak uspio zaraditi nominaciju za najbolji film 1991 godine na filmskom festivalu "Fantasporto") koje ako se treba gledati ona je to jedino zbog karizmatičnog Brada Dourifa (Grima iz "Lord of the Rings" trilogije, te dao glas Chuckyju iz "Child's Play" serijala), koji je i u ovom filmu pokazao glumački karakter vrijedan divljenja i to unatoč jako loše napisanom scenariju.
Ostali glumci nisu uopće za spomen. Problem je u Tobe Hooperu, koji je sada to mogu reći drugorazredan redatelj, kojem se "TCM" slučajno dogodio, jer svi ostali filmovi koje je snimio su ili jako loši ("Toolbox Murders" rimejk) ili uopće ne valjaju ("Mortuary", "Crocodile"), dok naravno "Poltergeist" ne računam zbog uplitanja Spielberga.




Upravo kod ovog filma se vidi Hooperova netalentiranost, jer ne samo da je imao redateljsku slobodu nego je sam osmilsio priču i uz malu pomoć Howarda Goldberga napisao scenarij (drugi kojeg je Tobe napisao i prvi u kojem je on sam imao 100% učešća u pisanju) koji je za samu priču i radnju totalno besmislen, pa je stoga i sam film takav. Uz sve to spomenut ću da je i sam dijalog bljutav.
Jeftin set i manjak budžeta, nije izlika da film izgleda kao televizijska B produkcija u kojem se jedino možemo smijati žalosnim specijalnim efektima. Ipak, moram pozdraviti cameo pojavu uvijek rado viđenog Johna Landisa (redatelj "Američkog Vukodlaka u Londonu" i "Nevine Krvi"). Ostalo je jedva gledljivo nizanje nerazumljivih scena i situacija (čak sam primjetio neke nebuloze u kontinuitetu radnje). Kako rekoh Dourif je odličan glumac, ali ni on koliko god se trudio nije mogao spasiti ovu katastrofu od filma. Mogu samo reći da nikako ne preporučam gledanje...

THE SCENA:
- cameo pojava Johna Landisa