nedjelja, 21.10.2012.
Hypothermia (2010)

Hipotermija (2010)




Produkcija: Dark Sky Films / Glass Eye Pix / Off Hollywood Pictures
Redatelj i scenarist: James Felix McKenney

Uloge:
Michael Rooker (Ray Pelletier)..................Blanche Baker (Helen Pelletier)
Amy Chang (Gina).......................................Don Wood (Steve Cote)

Film je izašao ravno na DVD 02. studenog, 2011 godine (American Film Market)
Trajanje: 73 minute
Foršpan filma...




SADRŽAJ:
"- Ray Pelletier je čovjek koji želi provesti ugodan ribički vikend sa svojom obitelji u njihovoj kolibi, koja se nalazi pokraj velikog zaleđenog jezera na kojem misle pecati ribu.
Rayove planove pokvari dolazak dvojice muškarca oca i sina, koji svojim 'velikogradskim' ponašanjem kvare miroljubivi i strpljivi ribolov obitelji Pelletier. No, sve će se promjeniti za obje obitelji kad ih u jednom trenutku napadne opako i krvožedno jezersko biće, kojem će oni doći kao dobar zalogaj."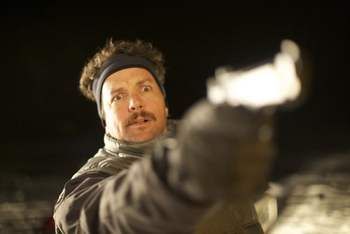 RECENZIJA:
- Zamislite "Ralje" ispod leda, zamislite užas na -20 stupnjeva... Hypothermia je klasični monster movie u tradiciji "The Creature From the Black Lagoon"...
Dobra reklama zar ne? Da se naježiš zar ne?
Tužna je činjenica da je ovo sve gore navedeno čisto reklamno preseravanje i to pojačano na maksimum. Ali prije nego krenem drvljem i kamenjem na ovaj niskobudžetni hororčić...dopustite da vam predstavim njegove mane i vrline:


Što valja kod filma:
- u njemu glumi Michael Rooker
- povremeno ugođaj zime i pustoši
- kratko trajanje
- ima odlična 2 promotivna postera

Što ne valja kod filma:
- režija i gluma svih ostalih glumaca osim Rookera
- jeftin izgled čudovišta
- radnja i karakterizacija likova
- scenarij i dijalozi
- mnogo POV čudovišta
- finiš filma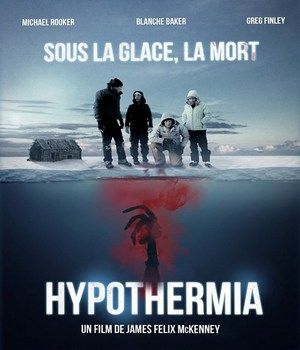 Završna riječ:
- Zamislite horor film iz domene creature feature podžanra u kojem se ništa ne događa i još nećete znati koliko je ovaj film dosadan. Dakako film ima jednog Michaela Rookera, ali moram reći da je ovu ulogu prihvatio uglavnom zbog love (dobio poziv usred noći, te su ga valjda na prepad pridobili dok je čovjek još spavao)...no bez obzira i tu je iako se nije trudio da nešto odglumi najbolje glumačko ime....svi ostali su čista jedinica iz zalaganja.

Osim ugođaja zime i ledene pustoši film nema ništa što bi mu bio pravi plus, ako ne računamo da kratko traje (iako i tako kratko trajanje izgleda kao vječnost kad se ništa važnoga u filmu ne događa).
Režija je totalno amaterska zbog čega i sam film tako izgleda. Redatelj James Felix McKenney (poznat jedino po tome što je bio jedan od producenata "I Sell the Dead") je ujedno i scenarist, te je na oba polja dobrano podbacio:
- scenarij je blijed, bez zanimljivog dijaloga i što je gore bez napetosti u potrebnim horor scenama (cijelo vrijeme ih ganja vodeno čudovište, a oni u prikolici imaju potpuno lovačko naoružanje, a takvih gluparija ima tu i tamo)
- režija je 'vodena', bljeđa od scenarija...dok tu ni kamera ne pomaže jer se redatelj i kamerman previše zajebavaju sa crvenim POV (pogledom) čudovišta, a zadnjih 10 minuta kad i vidimo čudovište kamera se tako trese da to niste vidjeli i u najgorim foun fotage hororima




Kad sam već kod čudovišta dugo nisam vidio u modernim hororima tako jednije i smješnije čudovište (nalik je vanzemaljcu iz "It! The Terror from Beyond Space") jer je i Gil-Man iz "Stvorenja iz Crne Lagune" bolje izveden i mnogo strašniji.
Sa svojih 73 minute, film je predug i predosadan (prevladava loša gluma, te se vidi da je stvor samo čovjek u gumenom odijelu čudovišta, no još je gore što to odijelo izgleda gumeno, pa je i samom gledatelju također vidiljivo da je sve od gume (i zubi i oči i sve ostalo)) da bi bio vrijedan vaše pažnje....te bih ovaj film preporučio samo za okorijele ljubitelje Michaela Rookera... Svi ostali, bolje vam je pogledati crno bijeli klasik "Creature From the Black Lagoon", jer je remek djelo Jacka Arnolda sigurna karta za gledanje i uživanciju.