nedjelja, 30.09.2012.
Orca: The Killer Whale (1977)

Orka: Kit Ubojica (1977)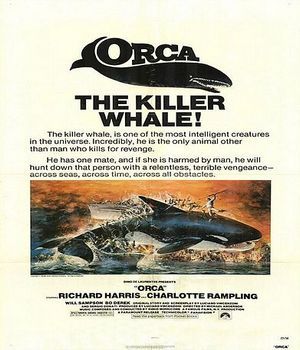 Produkcija: Dino de Laurentiis Cinematografica / Famous Films
Redatelj: Michael Anderson
Scenarij: Luciano Vincenzoni (priča), Sergio Donati i Robert Towne (nekreditiran)
Glazba: Ennio Morricone

Uloge:
Richard Harris (kapetan Nolan).................Charlotte Rampling (Rachel Bedford)
Will Sampson (Umilak)..............................Bo Derek (Annie)
Keenan Wynn (Novak)...............................Robert Carradine (Ken)

Film je izašao u kina 15. srpnja, 1977 godine
Trajanje: 92 minute
Budžet: 6 milijuna $
Zarada u SAD-u: 14 717 854 $
Foršpan filma...





SADRŽAJ:
"- Kad zbog dobre zarade, koje dajun morski zabavni parkovi za ulovljenu orku, a od koje bi platio hipoteku na svoj brod kanadski irac kapetan Nolan pokuša uhvatiti mužjaka. No, nakon što lov krene neočekivanim tokom u kojem Nolan sa svojom posadom uhvati skotnu ženku, koja u nesretnim okolnostima pogine...njen mužjak kreće u usvetnički pohod. Za Nolana i njegove ljude stižu teški i krvavi dani, jer pametni sisavac je sve samo ne još jedna glupa životinja."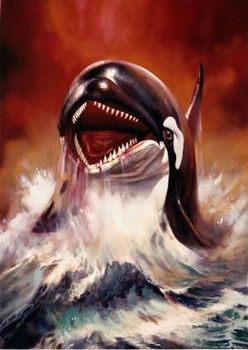 RECENZIJA:
- Jedan od filmova koje stvarno dugo nisam gledao, ali mi je ostao u dobrom sjećanju. Dakako nakon ponovnog gledanja došao sam do nekih zaključaka, koje ćete saznati nakon dobrih i loših strana filma:


Što valja kod filma.
- režija i glazba
- glumačka postava
- fetus scena
- efekti vezani uz mehaničku orku
- promocija ekologije
- Velika bijela psina vs. orka 0:1 scena


Što ne valja kod filma:
- puno sličnosti sa Spielbergovim "Raljama" (Nolan = Quint osjećaj)
- nedovoljno stravičnosti
- zadnji obračun Nolana i orke


Završna riječ:
- Od vodenih životinje napadaju filmova "Orka" je svakako pri vrhu najbojih, no nedovoljno hororičan da bi ugrozio filmove poput "Ralja" ili Danteovih "Piranja".
Jer ovo se doimlje poput nekog "National Geographic" igranog dokumentarca, nego pravog horor filma. Tako da se ovaj film može smatrati ostvarenjem koji promovira ekologiju (tj. u smislu čuvajmo prirodu da ne bude neželjenih posljedica po nas same).




Sam film ne bi nikada ugledao svijetlo dana da se stari prdonja Dino de Laurentiis (da to je onaj koji je usrao Milliusovu Conan trilogiju i koji je u jednom trenutku razmišljao da se King Kong bori protiv orke?!??, ali i onaj koji je producirao "Army of Darkness", "Conan the Barbarian", "The White Buffalo", "Serpico", "The Shootist"...) gledao "Ralje" i nazvao Luciana Vincenzonija jedne kasne noći 1975 godine, "da pronađe opakiju i strašniju ribu od Velike Bijele Psine".
Vrlo brzo nakon što je scenarij bio napisan, pronađen je i redatelj, a to je bio Michael Anderson (redatelj "Logan's Run", i prve filmske inačice "Around the World in 80 Days" i "1984") koji kako vidite po kratko spomenutoj filmografiji ima dara što će se kasnije vidjeti i u samom filmu.
Anderson ima sigurnu režiju i od ovakve vrste filma i same radnje je izvukao najviše, no problem najviše leži u pomalo slabom scenariju inače odličnog scenarističkog dvojca Vincenzoni / Donati (surađivali na "A Fistful of Dynamite", dok je prvi radio scenarij "Once Upon a Time in the West", drugi je napisao scenarij za "For a Few Dollars More" i "The Good, the Bad and the Ugly") koji po radnji i nekim likovima jako podsjeća na "Ralje".




I bez obzira što se legendarni glumac Richard Harris ("A Man Called Horse", "Major Dundee", Englez Bob u "Unforgiven", Marko Aurelije u "Gladijatoru" i naravno Albus Dumbledore u prva dva Harry Pottera) ljutio na usporedbe "Orke" i "Ralja" uspredba postoji, jer je mnogo stvari kopirano iz Spielbergova filma.
Prvo glavni lik kapetana Nolana je ublažena verzija kapetana Quinta (dijele istu sudbinu ako se smijem tako izraziti) no sličnost je očita, drugo cijela zadnja trećina filma nalikuje onoj u "Jaws" (čak u jednoj sceni orka gricne jednog od važnijih likova na način kako je to morski pas napravio u svom filmu, jedina razlika je u tome što je to orka napravila na santi leda).
Harris je u ovom filmu opet na najviše rangu glume, no to mu ipak neće biti od onih THE uloga koje se na žalost pamte. Ostali glumci koji su se našli u ovom filmu su:

Charlotte Rampling - "Angel Heart", "Spy Game"..., Will Sampson - "One Flew Over the Cuckoo's Nest", "The Outlaw Josey Wales", "The White Buffalo"..., Bo Derek - "10", "Tarzan, the Ape Man"..., Keenan Wynn - "Piranha", "The Mechanic"..., Robert Carradine - "The Long Riders", "Revenge of the Nerds"...

Impresivna ekipa zar ne. Oni su svoj posao odradili u srazu sa svojim glumačkim sposobnostima, tako da tu nema nikakvih problema i zamjerki.
Dakako film ima nekoliko zanimljivih i odličnih scena poput fetus scene, koja je stvarno žalosna i mučna, te do onih akcijskih gdje orka tu i tamo gricne nekoga. Spomenut ću i dobru glazbu koju je radio Morricone, te specijalne efekte koji su za ovakvu vrstu filma teško izvedive (Spielberg najbolje zna kakve su to poteškoće), no ovdje izgledaju jako dobro (posebice krupni planovi orke poput zuba i očiju...svaka čast Alexu Weldonu, majstoru spec. efekata na tome).

"Orka: Kit ubojica" je sasvim dobar film, no fali mu jezovitosti da bi bio savršen animal attack film, no i tako malo se današnjih filmova (recimo "Deep Blue Sea" ili "Shark Night 3D") može u stvarnosti mjeriti sa njim...no opet to je ipak daleko od najboljih uradaka u podžanru kao što su recimo već spomenute "Piranje" i "Ralje".

Meni osobno film je zabavan, no u ne tolikom žaru kakav je bio prije 20 godina kad sam ga gledao, stoga prvenstveno preporučam ovaj film mlađim horor gledateljima...pogotovo ako su svježi u žanru i to prije nego pogledaju Spielbergovo najbolje ostvarenje što se tiče filmova strave i užasa, jer je "Orca" dobar uvod "Ralje" (pogotovo prva dva dijela).


THE SCENA:
- Malo Youtube zanimljivosti o Orkama


Oznake: kit ubojica, animal attack, film katastrofe, Richard Harris