nedjelja, 08.07.2012.
Piranha (1978)

Piranja (1978)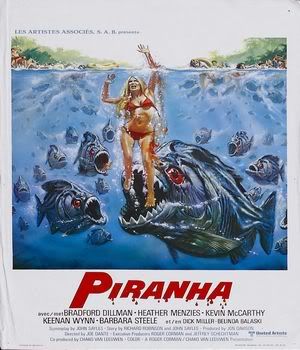 Produkcija: New World Pictures
Režija: Joe Dante
Scenarij: John Sayles
Muzika: Pino Donaggio
Spec. efekti: Jon Berg
Šminka: Rob Bottin i Vincent Prentice

Uloge:
Bradford Dillman (Paul Grogan)..................Heather Menzies-Urich (Maggie McKeown)
Kevin McCarthy (Dr. Robert Hoak)..............Keenan Wynn (Jack)
Dick Miller (Buck Gardner)...........................Barbara Steele (Dr. Mengers)


Film je izašao u kina 03. kolovoza, 1978 godine
Trajanje: 94 minute
Budžet: između 600 i 770 000$
Zarada u SAD-u: 6 milijuna $
Svjetska zarada (bez SAD-a): 10 milijuna $
Foršpan filma...
Nagrade:
1979 godina - zaradio nominaciju nagrade Saturn u konkurenciji najboljeg horor filma, te osvojio nagradu saturn za najbolju montažu (Mark Goldblatt i Joe Dante )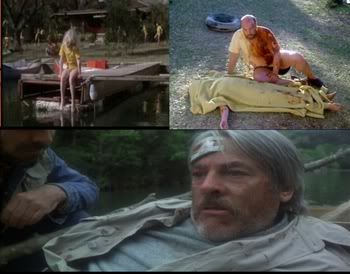 SADRŽAJ:
"- Kad krvožedne piranje genetički modificirane da mogu preživjeti i u morskoj i u slatkoj vodi budu igrom slučaja puštene u jezero i potoke vodenog parka ''Izgubljena Rijeka'', gosti tog ljetnog odmarališta uskoro postanu njihov sljedeći obrok."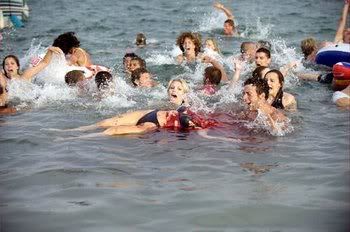 RECENZIJA:
- U jeku kad u kinima već igra nastavak rimejka Ajinih"Piranja" vrijeme je da se malo vratimo u prošlost, točnije 34 godine unatrag kad su se originalne "Piranje" pojavile. Godina je 1978, a ja još nisam bio rođen kad se taj mali niskobudžetni filmić Rogera Cormana iz domene 'životinje napadaju' počeo prikazivati u kinima (3 tjedna nakon što su izašle "Ralje 2") i malo po malo zahvaljujući usmenoj predaji postao pravi mali filmski hit. Nekoliko godina poslije zaradio je i etiketu - kultni film. I to s pravom.
Koliko sam primjetio ima mnogo ljudi koji znaju za njega no nisu ga imali prilike gledati (kod nas se je prikazao samo jednom na TV-u ako se dobro sjećam i to prije nekoliko godina) što je svakako velika šeta, pogotovo ako se ide prvo pogledati Ajin film. Mlađi gledatelji i ljubitelji horora nisu sigurni što mogu očekivati, pa ga zbog toga nemaju volje pogledati...pa se nadam da će ih moja recenzija razuvijeriti. Stoga osvrnimo se na njegove dobre/loše strane:



Što valja kod filma:
- jednostavan scenarij, dijalozi, režija
- zvuk kad piranje kreću u napad
- napetost i 'animal attack' ugođaj
- epizodne pojave nekoliko jako poznatih horor glumaca (Dick Miller, Barbara Steele, Kevin McCarthy)
- sporedne uloge još nekih poznatih glumačkih imena (Keenan Wynn, Paul Bartel)
- stop-motion animacija guštera u laoboratoriju
- scena napada piranja na djecu
- Rob Bottin radio specijalne efekte (tad imao samo 17 godina!!!)
- glazba Pina Donaggia


Što ne valja kod filma:
- 2-3 scene koje su ispale više neozbiljne nego smiješne
* u dva tri kadra kad imamo prilike bolje vidjeti izgled piranja...pa one izgledaju kao frigani podbuhli glavoči (lat. Gobiidae)





Završna riječ:
- Vidimo da kod mene film ima samo jedan minus što se tiče te 2-3 stvarno neozbiljne scene (tu se najviše ističe ona kad Heather Menzies-Urich pokaže svoje gole grudi dok tim činom zadržava vojnika koji čuva nju i Bradforda Dillmana, da bi ovaj utekao pažnji zabezeknutog vojnika kako bi na vrijeme sredio piranje) sve ostalo jako dobro izgleda gledajući da je Roger Corman u samu produkciju utukao između 600 i 770 tisuća zelembaća.
Kad kažem da je Rob Bottin (efekti na Carapenterovu "Stvoru") radio šminku mislim da sam sa tim sve rekao (slika ispod je njegovo ruku djelo), dok je za glazbu bio zadužen Pino Donaggio (njegova najpoznatija tema) koji je za taj posao dobio 10 000$. Sam redatelj Joe Dante prihvatio se i montaže, koja je jako dobro odrađena pogotovo u scenama krvoprilića tj. kad ribe krenu u prežderavanje.




Samo snimanje je trajalo jedan mjesec, tako da se postprodukcija odradila još i brže. No, tako se radi kod svih Cormanovih filmova. Što manje love i vremena, ali da to ipak bude prihvatljivo gledatelju i naravno da zarada bude što veća. Stoga niti ne čudi da je film zaradio 16 mlijuna $ u sveukupnoj svjetskoj kino distribuciji (a tek koliko je zarade došlo od VHS-a), te da se i danas diči kao No.1 hit Cormanove producentske kuće New World Pictures-a.
Ujedno po mojoj ocjeni ovo je uz "A Bucket of Blood", "The Little Shop of Horrors", "Humanoids From the Deep", "Galaxy of Terror" i "Forbidden World" najbolji film u dugogodišnjoj Rogerovoj filmskoj karijeri.

Što se tiče filma on spada u 5 najboljih ikad snimljenih 'animal attack' filmova. Zašto?
Film jeste jeftin i ima taj treš izgled, no gledajući ostale filmove slične tematike produkcijiski izgleda mnogo bolje nego neki današnji filmovi (a bogme je definitivno bolji nego recimo "Ralje 3 i 4" ili jebeni "Shark Night 3D").
Kao prvo nije zamoran i dosadan, jer u njemu nema praznog hoda i uvijek se nešto događa i to u napetom tonu. Piranje ostvaruju svoju normu napada na svoje žrtve u pravilnim razmacima (kao da sljede dobru slasher formulu), a njihov izgled je sasvim solidan (dobra montaža prikriva sve njihove nedostatke).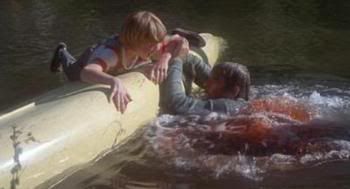 Što se tiče šminke i specijalih efekata iznimno sam zadovoljan viđenim, jer se ništa bolje nije moglo napraviti i ostvariti za 50 000$ koliko su meštri za efekte imali na raspologanju.
Kako sam već gore spomenuo bilo je stvarno lijepo vidjeti tu sporedno-epizodnu glumačku ekipu (Miller, Steele i Kevin McCarthy), koji su svoj dio posla odradili vrlo ugodno po gledatelja. Glavni glumci filma Bradford Dillman i Heather Menzies-Urich također su se glumački lijepo uklopili u samu radnju i tijek događanja, tako da kao jedinu žal u pogledu toga mogu reći da šteta što nismo vidjeli Petera Fondu u ulozi Grogana (odbio ulogu, a također je morao odustati i Eric Braeden, koji je već bio aganžiran, ali je morao odustati zbog boljeg filmskog projekta).
Joe Dantea ("Gremlini", prvo "Urlikanje") ne treba mnogo predstavljati, no on i scenarist John Sayles (jedan od boljih scenarista B filmova) su svako malo surađivali i svakako treba spomenuti da je Sayles od jedne jednostave priče napisao zanimljiv scenarij, koji se najviše iskazuje u djelovima poput:

Maggie McKeown: "- That guard is still out there."
Paul Grogan: "- Fine, I need you to distract him."
Maggie McKeown: "- What for?"
Paul Grogan: "- So I can get away."
Maggie McKeown: "- So YOU can get away? What about me?"
Paul Grogan: "- Well suit yourself. Just come onto him, tell him what an admirer you are of Army or something like that."
Maggie McKeown: "- What if he's gay?"
Paul Grogan: "- Then I'll go and distract him!"

Dumont: "- People eat fish, Grogan. Fish don't eat people."

Whitney: "- The piranhas... "
Buck Gardner: "- What about the goddamn piranhas?"
Whitney: "- They're eating the guests, sir."


"Piranje" (riječ je o Brazilskim piranjama jelte) su mi svakako jedan od dražih 'animal attack'' filmova to je sigurno i svakako bih se složio sa konstatacijom Stevena Spielberga koji kaže: "- Najbolji 'Jaws' rip-off" (kasnije je upravo Steven pogurao Danteovu karijeru aganžirajući ga na "Gremlinima"), no koliko god to bila istina (sam Corman o filmu govorio kao homage "Raljama", a glavna junakinja Maggie na samom početku filma igra video igru "Jaws", dok prve žrtve također na početku filma budu ubijene slično kao prva žrtva u "Raljama") "Piranha" je na svoj osobiti način poseban film u nekim svojim dijelovima...i to bez obzira što je on sam nastao upravo na uspijehu i fami Spielbergovih "Ralja".
Ne trebam ni reći da se ovaj film obavezno mora pogledati i to u ovim ljetnim danima...jer je onda štih stvarno poseban.


THE SCENA:
- kad piranje krenu papati malu dječicu
- Betsyina smrt