ponedjeljak, 04.06.2012.
Blood and Chocolate (2007)

Krv i Čokolada (2007)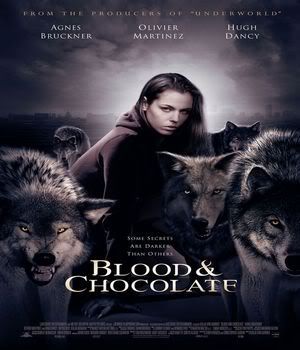 Produkcija: Berrick Filmproduktion / Blood & Chocolate Productions Ltd. / Metro-Goldwyn-Mayer (MGM) / Lakeshore Entertainment / Daniel Bobker Productions
Redatelj: Katja von Garnier
Scenarij: Ehren Kruger i Christopher Landon
Film je snimljen prema istoimenoj knjizi iz 1997 godine, autorice Annette Curtis Klause

Uloge:
Agnes Bruckner (Vivian)..............Hugh Dancy (Aiden)
Olivier Martinez (Gabriel).............Katja Riemann (Astrid)

Film je izašao u kina 25. siječnja, 2007 godine
Trajanje: 98 minuta
Budžet: 15 milijuna $
Zarada u SAD-u: 6 311 117$
Zarada u SAD-u prvog vikenda: 2 074 300 $ (u 1200 kina)
Foršpan filma...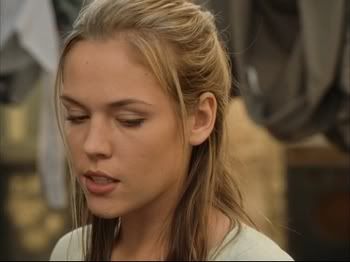 SADRŽAJ:
"- Kao djevojčica Vivian je svjedočila ubojstvu svoje obitelji koja je uništena zbog tajne koju je nosila u krvi. Ona je uspjela pobjeći sakrivši se u šumu i pretvorivši se u vuka. Sada, dvadeset godina kasnije, Vivian (Agnes Bruckner) živi u Bukureštu, gdje se nalazi i jedini preostali čopor "loup garoua", ljudi koji se mogu pretvarati u vukove. Istražujući upravo taj fenomen, u grad dolazi umjetnik Aiden (Hugh Dancy) i nakon što upoznaje Vivian ne može je više zaboraviti. Ali ostali "loup garoui" neće dozvoliti da zbog ljubavi budu otrkiveni..."




RECENZIJA:
- "- Od producenata "Underworlda" stiže novi napeti triler o vukodlacima.": tako se film reklamirao kad je izašao u kina. Kako da ne...


Što valja kod filma:
- kemija dvaju likova i samih glumaca koji ih tumače
- prolog filma i intro u film


Što ne valja kod filma:
- ovo nije film o vukodlacima
- horor element prisutan u 1% filma
- dijalozi i sama radnja
- karakterizacija likova i jako loši negativci
- loša ekranizacija popularnog tinejđerskog romana
- ako ste iznimno romantična osoba...ovaj film će vam ubiti romantiku u vama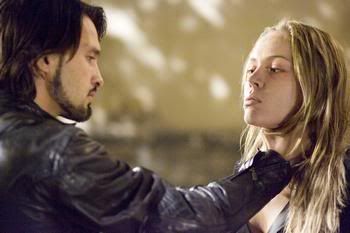 Završna riječ:
- Nakon što sam odgledao ovaj film mogu reći dvije stvari - nije mi se svidio i sad znam odakle je Stephenie Meyer dobila ideje za svoju "Sumrak Sagu", tj. pošto je film rađen prema knjizi američke autorice Annette Curtis Klause. Na žalost knjigu nisam čitao, pa o njoj još ništa ne mogu reći, no znam da je Klause bila jako nesretna finalnom verzijom filma.
Kako i ne bi bila kad su producenti i scenaristi izbacili većinu radnje koja se događa u filmu (k vragu od onog naslova Čokolada imamo samo 3-4 bezvezne scene, a mišljenja sam da taj dio ima veću važnost u samoj knjizi), te ostavili samo imena i činjenicu da se glavni ženski lik zaljubi u mladića bez ikakvih 'moći'.

Najveća glupost i mana samog filma (problem koji muči i samu "Sumrak Sagu") jest da se film reklamira kao film o vukodlacima...u filmu nema vukodlaka nego su u igri Mjenjoliki (Shapeshifters), tj. ljudi imaju sposobnost da se pretvaraju u obične vukove (ovdje su normalne veličine, bez onih Hulkoidnih vukova iz "Sumrak Sage").

Od glumačke ekipe od poznatih lica izdvajam Oliviera Martineza ("Unfaithful", 2002;
"S.W.A.T.", 2003) i Hugh Dancy ("The Jane Austen Book Club", 2007; "King Arthur", 2004).
Gluma je ništa zanimljivo, no ne može se nazvati ultralošom...jednostavno svi su glumci svoje uloge odradili bez neke izražajnosti. Izdvojio bih samo Dancyja i Agnes Bruckner (Vivian) koji su korektno sve odradili, te se bez problema uspjeli izdvojiti od drugih glumaca. Isti slučaj je i sa samim likovima. glavni dobri, sporedni dosadni.
Scenarij je bezkrvan i nezanimljiv, dok su dijalozi pretežno banalni i dosadni. Jedino je režija solidna, no ništa više od toga.

Za kraj ću reći da mi je film totalno za zaborav, jer nije u niti jednom svom dijelu imalo zabavan i romantičan (dvoje glavnih likova imaju tu romanitčarsku stranu ali je to nezadovoljavajuće naspram nekim drugim filmovima slične tematike).
Stoga ako hoćete romantiku i Mjenjolike sa malom dozom vukodlaka pogledajte "Vuka" Mike Nicholsa koji je pravi film na tu temu ili čak "Teen Wolfa" sa Michelom J. Foxom. Ovo slobodno preskočite u gledanju, te se bolje okrenite samoj knjizi....jer sam siguran 100% da je i ovaj put knjiga Annette Curtis Klause zanimljivija od filma.