srijeda, 16.05.2012.
Humanoids from the Deep (1996)

Humanoidi iz Dubine (1996) TV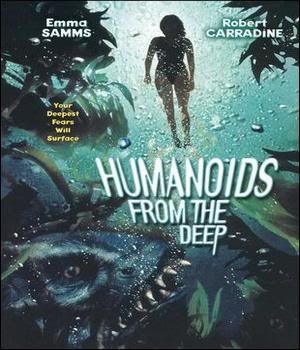 Produkcija: Concorde-New Horizons / Showtime Networks
Redatelj i scenarist: Jeff Yonis
Prema kratkoj priči Martina B. Cohena

Uloge:
Robert Carradine (Wade Parker).................Mark Rolston (Bill Taylor)
Emma Samms (Dr. Drake)..........................Clint Howard (šerifov zamjenik)

Film je imao TV premijeru 14. rujna, 1996 godine
Trajanje: 86 minuta
Cijeli film...




SADRŽAJ:
"- Kad tajni eksperimenti američke vojske krenu ukrivo, prvi koji će zbog toga ispaštati su građani malenog ribarskog mjestašca, jer mutirane spodobe, rezultat genetičkog inženjeringa u projektu stvaranja savršenog amfibijskog vojnika, se vrlo brzo organiziraju te počnu napadati svako živo biće...a primarna meta im postanu žene, sa kojima žele parenjem poboljšati svoje brojčano stanje.
Jedini koji može stati na put tom paklenom planom su vlasnik ribogojilišta Wade Parker i doktorica Drake."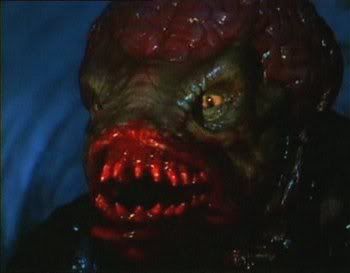 RECENZIJA:
- Jedan od najdražih filmova nastalih u 80-tima, je upravo B-filmić u produkciji starog mačka Rogera Cormana "Humanoids From the Deep", koji je 16 godina kasnije dobio i svoj rimejk u obliku TV filma. Nakon pogledanog materijala, ovo su moji dojmovi:

Što valja kod filma:
- glume poznata glumačka imena
- izgled monstera
- Alien chestbuster rip off scena


Što ne valja kod filma:
- nema sisa ni guzica
- gore element jako slab
- previše se vrti oko same radnje bez da su monsteri u prvom planu
- kraj filma (predvidljiv i otvara mjesta nastavku)




Završna riječ:
- Mogu reći da je redatelj Yonis odradio solidan posao (najbolji film u kratkoj filmskoj karijeri) te da "Humanoidi iz Dubine" izgledaju doista pristojno za jedan TV hororac, no unatoč tome ovo je također jedan dosta mlaki rimejk, ali i jako mlaki film strave i užasa.

Zašto to kažem? Pa, ovako slabašno bi izgledao i Cormanov klasik iz 1980-te kad bi iz njega izbacili svu onu lijepu golotinju (čitaj: sise i guzice) i gore scene. Jednostavno rečeno rimejk upravo pada gledatelju u očima upravo zbog nedostatka ta 2 elementa, jer kroz tih 86 minuta imamo samo tri gore scene (rađanje Humanoida, kad jedan tip ostane bez noge i kad vojnom zapovjedniku jedan monster pojede lice), a od gologuziranja ne dobijemo niti g. Iako, je film rađen za TV to mu nije nikakvo opravdanje (čak se monsteri ovdje off screen pare sa ženama na nama neznan način, za razliku od onih monstera iz originala gdje su jednostavno silovali i bili veća prijetnja za ljude).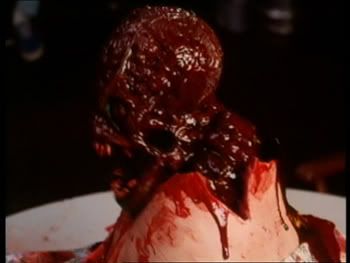 Rimejk totalno ide putem originala i ne uvodi neku omanju novotariju, no zato možemo vidjeti da film posuđuje i krade od nekih drugih filmova poput:
"Creature From Black Lagoon" (1954) - mnogo podvodnih snimaka monstera kako vrebaju iz velikih algi
"It's Alive" (1974) - kad vidimo bebu monstera i sav taj ugođaj mi pogotovo baca na treći dio serijala
"Alien" (1979) - rađanje bebe monstera je totalno ista kao kad Chestburster izleti iz Johna Hurta dok jede

Glumačka ekipa je dobra, no nisu baš imali mnogo volje za nekom lijepo glumom. U filmu glume Robert Carradine ("The Long Riders", "Revenge of the Nerds"), Mark Rolston (vojnik Drake iz "Aliensa", Bogs Diamond iz "The Shawshank Redemption"), Clint Howard ("Ice Cream Man", "Tango & Cash", "Apollo 13") i Emma Samms (iz "Dinastije").
kad se sve zbroji ovo nije ni loš film za ubiti kišno nedjeljno popodne, no šteta ja da ovaj film puno ide u dubinu priče, tako da se gubi onaj osjećaj zabavnog creature fetture uratka.
Da ovo je rimjek koji ima istu radnju kao original ali sa drugim glumcima, te ne uvodi neke novotarije u samu priču i razvoj događaja. Šteta, ovako vam preporučam original iz 80-te ako ga još niste gledali (jednostavno je zabavniji od rimejka)...jer ovo se može a i ne mora pogledati...dakako na vama je da odlučite, jer ja jednostavno nisam impresioniran viđenim.